Why Supernatural's Series Finale Is Being Handled Like An 'Old-School Episode', According To The Showrunner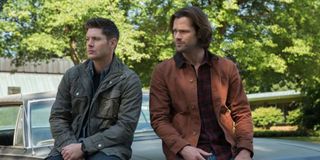 Supernatural is fast approaching its long-awaited series finale. After 15 seasons of fighting angels, demons, vampires, shapeshifters, and a plethora of other supernatural entities, the CW show is handling the series finale a bit differently than more recent episodes. Showrunner Andrew Dabb recently revealed why Supernatural's final episode will have more of an "old-school" feel.
The long-running series has always been mythology-heavy, but the earlier seasons of Supernatural definitely had more of a road trip vibe than anything else. The show's penultimate episode offered a sense of closure, closing the book on the God/fate storyline that has been an overarching part of the show since Season 4. So what's in store for the series finale? Here's what Andrew Dabb told EW about what fans could expect:
When Andrew Dabb alludes to the finale being an old-school episode, my mind immediately goes to Sam and Dean in their 1967 Chevy Impala (AKA, Baby), driving through various towns and states. It would be a great way to wrap up the show because the penultimate episode certainly had a lot of complicated storylines to close out, and I think Supernatural's ending should be simple so that viewers can really absorb the fact that this is goodbye.
In addition, Andrew Dabb explained the reason for why he and the writers treated the penultimate episode and the series finale more like a two-parter than individual episodes. Now that Episode 19 has aired, it's quite easy to see what Dabb was going for. Here's how he put it:
Saving people and hunting things is the family business, after all! Considering that Supernatural dealt with the big mythology stuff already, I'd wager that Sam and Dean will actually survive the series finale. I always figured they'd go out in a blaze of glory and die sacrificing themselves or something. However, Dabb says the finale is more focused on the characters' journeys. In that vein, if they drive off into the sunset (or to another hunt), I would certainly not be opposed.
The Supernatural series finale is set to air on Thursday, November 19 at 9:00 p.m. ET on The CW. The finale will be preceded by a special preview hour called Supernatural: The Long Road Home at 8:00 p.m. ET. For more on what to watch, be sure to check out our 2020 fall TV premiere guide and our 2021 winter and spring schedule.
Your Daily Blend of Entertainment News