MSNBC Will Name Rising Star Exec Rashida Jones As President, Will Be First Black Executive To Run Cable News Network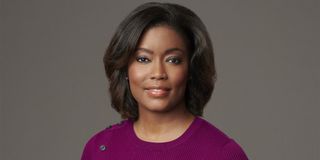 Rashida Jones, a rising star at NBCUniversal, will soon make history and become the first black executive to lead one a major American 24-hour news outlet when she takes over MSBNC from outgoing president Phil Griffin, the news outlet's parent company announced on Monday.
According to NBC News, Rashida Jones, who currently serves as a senior vice president overseeing breaking news, major events, and daytime programming at MSBNC, will officially start as the news network's next president on February 1, 2021, the day after Phil Griffin's 25 years at the news channel comes to an end.
With Monday's move, Rashida Jones becomes not only the most prominent black woman in the cable news industry, she will become the first black executive to run a major American news news network, a distinction noted by Variety. In a memo (via Deadline) sent out to employees on Monday, NBCUniversal News Group Chairman Cesar Conde wrote regarding Rashida Jones:
Rashida Jones has been with NBCUniversal for the past seven years, holding numerous titles and spearheading multiple initiatives, most notably the NBC Decision Desk, which proved instrumental in the network's coverage of the 2020 presidential election. According to her NBC Universal, Jones has played a major role in the rollout out of NBC News programs like Justice For All, Climate in Crisis, and Kids Under Pressure, as well as the 2019 launch of the news streaming service, NBC News Now.
Prior to joining MSNBC, Rashida Jones served as the news director of an NBC affiliate in Columbia, South Carolina for a number of years where she helped the news team with its in-depth investigative reporting.
As for Phil Griffin, he will be stepping down on January 31, 2021, 35 years after he started at NBC News as a producer on on the TODAY show. Griffin had been with MSNBC ever since the 24-hours news network was launched in July 1996, and has served as the channel's president since 2008. In the aforementioned employee memo, NBCUniversal News Group Chairman Cesar Conde revealed that he and the outgoing Griffin spoke shortly after the 2020 presidential election to discuss the MSNBC chief's desire to depart the network at a tim when he felt confident.
Phil Griffin touched on this in an email sent out to NBC News and MSNBC staffers Monday thanking the colleagues he has worked with throughout his time at NBCUniversal's News Group, saying that when he and Conde spoke in November, he felt it was the right time to hang up his cleats and let someone else take over after nearly a decade.
That person who will be Rashida Jones, who, upon taking over as president of MSNBC, will make history by becoming the first black woman to sit atop an American news network.
Your Daily Blend of Entertainment News
Philip grew up in Louisiana (not New Orleans) before moving to St. Louis after graduating from Louisiana State University-Shreveport. When he's not writing about movies or television, Philip can be found being chased by his three kids, telling his dogs to stop yelling at the mailman, or yelling about professional wrestling to his wife. If the stars properly align, he will talk about For Love Of The Game being the best baseball movie of all time.
Your Daily Blend of Entertainment News
Thank you for signing up to CinemaBlend. You will receive a verification email shortly.
There was a problem. Please refresh the page and try again.