Bachelorette Spoilers: What Original Reports Got Wrong About Tayshia's Final Four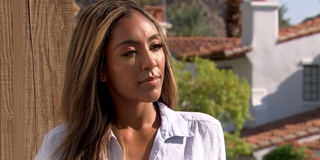 Warning: Potential spoilers ahead for the hometown dates portion of Tayshia Adams season of The Bachelorette! Step away if you don't want to know about the final four drama!
Well, Bachelor Nation, we got here quick, didn't we? Not only are we already somehow at the hometown dates episode of Tayshia Adams Season 16 of The Bachelorette, but the finale will be next week, after only two more episodes (counting tonight). And, during the first hour of this week's Men Tell All episode, we saw Tayshia chose her final four: Ivan Hall, Brendan Morais, Ben Smith, and Zac Clark. But, it sounds like there were some big errors in the original spoiler reports about how things will go down, so let's dig into what we know!
First, let's backtrack and remind everyone of what Reality Steve said about Tayshia's final four back at the dawn of November. First off, he did get the actual men in her final four (who will have newfangled hometown dates tonight) correct, having gotten word that the exact men who will be left to meet Tayshia's family are the ones we saw chosen last night. Tayshia sent home Blake Moynes, Bennett Jordan, Riley Christian and Noah Erb, leaving us with the Ivan, Zac, Ben, and Brendan foursome.
But, Steve had said that there was bad news ahead for those who had Brendan in place as Tayshia's front-runner. His intel said that Brendan, whom Tayshia does clearly really like, would actually dump Tayshia, likely because he would realize that he's still not over his divorce, which was, supposedly, only finalized last year. The snippets we've seen of tonight's action do make it seem like Brendan is, in fact, having some trouble with the idea of proposing so quickly, but it turns out that he won't "self-eliminate," at least not before getting into her Top 3.
It was also rumored that Brendan's family wouldn't make the trip to hometowns in Palm Springs, but that's not true. Now, it looks like it's just his parents who decide not to come, with Brendan's brother, sister-in-law and niece showing up instead.
Reality Steve doesn't know right now what ends up happening with Brendan; whether Tayshia ends up sending him home or he does quit (or when, exactly, either of those things might happen). Seeing as how Brendan is now guaranteed a spot in the Top 3, you must know what that means: someone else will be eliminated! And, hold on to your roses, folks, because a lot of fans are about to be very, very upset.
Apparently, Tayshia will send a gentleman home after the hometowns, and that man is...Ben. I know! Everyone calm down, OK? She had to pick someone! Considering that we've also seen a clip that at least makes it seem like Ben isn't sure how strongly he feels about Tayshia right now (which might just be some tricky editing), that would be a very good reason for her to send the soul (and body)-bearing physical trainer packing. This will leave Zac, Ivan and Brendan for Tayshia's Top 3.
So, going into fantasy suites, we should have Ivan, Zac, and Brendan. This also means that the originally reported Final Two of Ben and Zac will not happen. But, remember, so far it's still thought that Tayshia will end up choosing Zac, but that they will be one of several franchise couples to leave their season without becoming engaged. Reality Steve is unsure right now if this is still the case, but we don't have much longer to wait to find out!
The Bachelorette will be back for two more episodes, including the finale, next Monday and Tuesday on ABC, at 8 p.m. EST! And, don't forget that The Bachelor begins Season 25 with Matt James shortly after, on Monday, January 4, also at 8 p.m. EST.
Bachelor Nation, Gilmore Girl; will Vulcan nerve pinch pretty much anyone if prompted with cheese...Yes, even Jamie Fraser.
Your Daily Blend of Entertainment News
Thank you for signing up to CinemaBlend. You will receive a verification email shortly.
There was a problem. Please refresh the page and try again.