Why The Bachelorette's Clare Crawley Wishes She'd Been Allowed To Attend The Tell All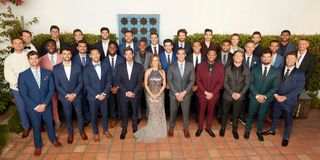 Spoilers ahead for The Bachelorette Season 16's Men Tell All episode.
The Bachelorette Season 16 went full-steam ahead with its Men Tell All episode, revisiting past moments from early on in the season's run, when former Bachelorette Clare Crowley was the main focus ahead of Tayshia Adams' arrival. When one particularly contentious incident from earlier in Season 16 was brought up during the telecast, it made Crowley wish she'd been allowed to attend the Men Tell All event.
Here's what happened. In an October episode of The Bachelorette Season 16, contestant Yosef Aborady expressed being appalled and humiliated about the strip dodgeball date (which he was not a part of) and accused Clare Crowley of not setting a good example for his daughter. That conversation escalated into a fight that caused Clare to walk away from Yosef once he kept interrupting her as she tried to say her piece.
During the Men Tell All episode of The Bachelorette's latest season, the incident was brought up again, and Yosef Aborady still had no regrets about what he said or how he handled the situation with Clare Crowley. He went on to say that if his daughter went on a date that included strip dodgeball, Yosef would have wanted someone to call her out on it, too. The rest of the contestants took Yosef to task and even host Chris Harrison jumped in to offer Yosef some advice (that he of course didn't listen to). Though Clare wasn't in attendance to defend herself, she took to Twitter to thank the rest of the men for defending her. Here's what she wrote:
The Bachelorette Season 16 has featured its fair share of drama, but that strip dodgeball date was a definite point of contention for some viewers, as well as former Bachelor Ben Higgins, who argued that there was a "double standard" on The Bachelorette. In his mind, there was no way that a season of The Bachelor would allow the female contestants to strip down to their underwear without it being considered a major issue.
In her defense, Clare Crowley has implied that the strip dodgeball game was not her idea, and she has liked tweets speculating that the producers were actually the ones who wanted that particular date to happen on The Bachelorette. Either way, I think we can all agree that the way Yosef Aborady spoke to Clare and his lack of remorse for the way he handled the situation isn't the greatest look. But, hey, at least she knows the rest of the guys have her back.
The Bachelorette Season 16 airs every Monday and Tuesday at 8:00 p.m. ET on ABC. For more on what to watch in the coming months, be sure to check out our 2021 winter and spring TV premiere schedule.
Your Daily Blend of Entertainment News
Your Daily Blend of Entertainment News
Thank you for signing up to CinemaBlend. You will receive a verification email shortly.
There was a problem. Please refresh the page and try again.