WandaVision's Latest TV Spot Has A Major MCU Name Drop, But What Does It Mean For The Disney+ Show?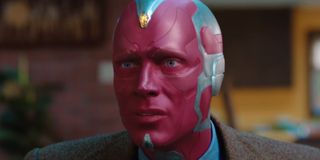 Most would agree that WandaVision has to be the Marvel Cinematic Universe's weirdest project to date. While it definitely is a superhero show at its core, it's also been promoted as a trippy thriller that pays homage to various eras of sitcoms. Based on early trailers and TV spots, the show seems to be quite self-contained, but a recent TV spot just included a major name drop that connects to the wider MCU. So what could it mean for Wanda Maximoff and Vision's adventures in suburbia?
With WandaVision arriving in only a few weeks, Disney and Marvel Studios have kicked the marketing campaign into high gear. Luckily for fans, this includes new TV spots that include snippets of new footage. The latest spot sheds even more light on Wanda and Vision's new life and the lighthearted hijinks that ensue as they adjust. Though the 30-second teaser also reveals another aspect of their new life.
One segment of the trailer shows a more paranoid side of the superhero couple, as Wanda mentions that people (presumably those in the neighborhood) are on the verge of discovering their secret. Following this, viewers can see more of the drive-by chat between Vision and nosy neighbor Agnes, who points out that the two are members of the Avengers.
This major name drop may not be much, but it may have given us a bit of a clarification as to why Wanda and Vision wanted to move to the suburbs (in this reality that may or may not have been created by Wanda herself). Whatever the case, it would seem that the superhero lovers are indeed aiming to settle down and conceal the true nature of their relationship. The trailer makes one assume that they're going to be trying their hardest not only to hide their superhuman abilities but to also conceal their ties to Earth's Mightiest Heroes.
On the other hand, there's an alternate theory to consider here. Due to the magic of editing, Wanda could actually be referring simply to their superhero abilities. And in regard to Agnes, trailers have hinted that the character may have some kind of fourth wall awareness, especially since she explicitly mentioned Vision's death. Maybe the Avengers don't exist in this new reality and Agnes is the only one who's aware of the famed heroes.
I've personally been under the assumption that Wanda and Vision's heroic exploits don't exist in this reality and that the two were always just an "unusual'' married couple. Still, it would make sense that their ties to the Avengers did come into play and become a point of contention as they try to fit in. And if this is the case, does this new reveal mean that viewers could be in for references to specific Avengers in this reality?
As WandaVision continues to give us more info, it leaves us with even more questions that have us scratching our heads. Thankfully, we won't have to wait too much longer for the show to drop though and, when that happens, Marvel Studios' insane-looking TV debut will illuminate things for us.
WandaVision hits Disney+ on January 15.
Covering superheroes, sci-fi, comedy, and almost anything else in film and TV. I eat more pizza than the Teenage Mutant Ninja Turtles.
Your Daily Blend of Entertainment News
Thank you for signing up to CinemaBlend. You will receive a verification email shortly.
There was a problem. Please refresh the page and try again.