The WandaVision Trailer Dropped Some Compelling Evidence For One Villain And I'm Intrigued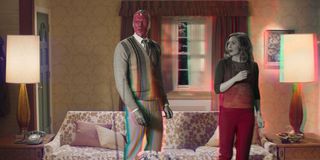 The first trailer for Marvel Studios' WandaVision, the first installment in the company's ambitious slate of TV projects, has finally arrived. And as expected, the show seems to be promising a truly trippy MCU outing unlike anything we've seen before. The trailer also left fans with a number of burning questions, one of which revolves around a certain character.
Last year, we learned that the returning Elizabeth Olsen (Wanda Maximoff) and Paul Bettany (Vision) would be joined by MCU veterans Kat Dennings (Darcy Lewis) and Randall Park (Jimmy Woo), along with newcomer Teyonah Parris (Monica Rambeau). Of course, we also learned that Spider-Man: Into the Spider-Verse alum Kathryn Hahn would also be joining the show, though her role was simply referred to as the "nosy neighbor." With this, fans have been speculating on who she might be playing in the series and, while we still don't know for sure, the new trailer makes me think she could be playing a classic Marvel Comics character.
When Kathryn Hahn was first announced for the show, I quickly believed she would be playing the antagonist, given that the other characters were have already been established as heroes. I wasn't the only one with this idea, as others also viewed the "nosey neighbor" role as a decoy for something more sinister. At the time (and even now), many believe she could be playing a version of Doctor Strange villain Nightmare.
This would make a lot of sense given that Nightmare gains strength from the psychic energy that comes from the subconscious minds of those who are dreaming. Plus, Wanda is next slated to appear in Doctor Strange in the Multiverse of Madness, so it would make for a smooth transition. Despite this, there's reason to believe that Hahn is actually be playing someone with more direct ties to Wanda.
I think Kathryn Hahn is actually playing the Marvel Cinematic Universe's interpretation of Agatha Harkness, a classic character who first appeared in the pages of Fantastic Four in 1970. While not necessarily a villain in the comics, there's always the chance Marvel Studios could repurpose the Stan Lee and Jack Kirby-created character for the MCU. And having her come to blows with Wanda Maximoff makes sense for a number of reasons.
First off, Agatha was originally established as a powerful witch and a seasoned user of magic, and she would eventually become Wanda Maximoff's teacher in the art of witchcraft. So far, Wanda has exhibited powerful abilities, like telekinesis, flight, force-field generation and mental manipulation, but she hasn't actually dabbled in the dark arts. Marvel's Kevin Feige previously revealed that WandaVision will see Maximoff truly become the Scarlet Witch we know, so maybe Agatha intentionally (or unintentionally) awakens this side of Wanda during their encounters. And if this is the case, Wanda's new powers could be invaluable when she shows up in Doctor Strange's next film.
Agatha Harkness also has links to Wanda and Vision's children, twin sons Tommy and William. In the comics, Wanda used magic conjured from Agatha's astral form to conceive the two boys. Sometime later, after the children were claimed reabsorbed by the demon Mephisto, Harkness wiped Wanda's memories of the boys to ease her pain of losing them. WandaVision has shown that (at least at some point) the pair will have two babies, though it's unclear how things will play out for them. I think Hahn's character (if she is Agatha) will have a hand in their conception this time around as well and that, more tragically, she will also erase Wanda's memory of them by the time the events of WandaVision are over.
There's also a more practical reason to believe Hahn is playing a version of Agatha. Interestingly, if you watch the new trailer with closed captions, her character is referred to as "Agnes," which could be an updated name for Agatha. As most know, Marvel Studios doesn't always go exactly by the book and sometimes take elements from multiple sources to create new characters or stories. And while Agnes appearing in a witch costume and giving a sinister cackle doesn't confirm anything, it would be a clever nod to her true identity and status as a sorceress. It's also interesting that she would be aware of the fact that Vision is dead.
As the Marvel Cinematic Universe moves forward, the franchise definitely seems to be reaching deep into the comics for new characters. John Walker's (U.S. Agent) inclusion in The Falcon and the Winter Soldier alone is evidence of that. With this, a classic character like Agatha is certainly fair game for WandaVision. Plus, bringing her into the fold would also continue to up the ante in terms of superhuman powersets in the MCU, which is (or will be) getting a boost from the likes of Doctor Strange, Captain Marvel, Wanda and the Eternals.
It'll be exciting to finally find out for sure who Kathryn Hahn will be playing when she enters the MCU in WandaVision, though I firmly believe the odds of Agatha showing up are very strong. Fans will surely keep speculating away until we get confirmation. But based on her track record and what we've seen from the trailer, Kathryn Hahn is undoubtedly going to bring her all to whatever character she's playing and have some fun with it along the way.
WandaVision is slated to premiere on Disney+ by the end of 2020.
Your Daily Blend of Entertainment News
Covering superheroes, sci-fi, comedy, and almost anything else in film and TV. I eat more pizza than the Teenage Mutant Ninja Turtles.
Your Daily Blend of Entertainment News
Thank you for signing up to CinemaBlend. You will receive a verification email shortly.
There was a problem. Please refresh the page and try again.