WandaVision's Paul Bettany Says Disney+ Show Is 'Oddest Of All' Marvel's Projects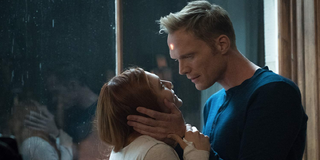 When Disney announced that it would be producing a show about Wanda Maximoff and Vision, there was a lot of confusion from some fans due to Vision dying at the hands of Thanos at the end of Avengers: Infinity War. Logically, there's no way for him to be co-starring in a current timeline series. A year later, and WandaVision is now among the most highly-anticipated Marvel series coming to the studio's streaming service, Disney+. We now know the series will have a '50s setting, which is odd to consider, and actor Paul Bettany teased the show will definitely lean into the strange.
At Disney's D23 Expo, Paul Bettany spoke out about what to expect from WandaVision, suggesting that it will probably be the weirdest of all the shows that premiere on Disney+, noting,
WandaVision will have to have big ties to the MCU, especially since Wanda is set to appear in Doctor Strange in the Multiverse of Madness. Could Wanda help introduce the concept of the multiverse? Probably. Based on the first poster released at D23, though, the series looks to be focusing on Wanda and Vision as a couple. The fact that it's set in the '50s definitely lends itself to the "weird" factor Bettany spoke about.
According to what showrunner Jac Schaeffer told IGN, the series has to address more than just the events surrounding Vision's resurrection, but WandaVision also has to maintain a sense of continuity and a connection to the larger Marvel Cinematic Universe. Jac Schaeffer mentioned excitement, however, about getting more time to dedicate to the story now that's in an episodic format.
If the series didn't sound odd enough already, adding Kat Dennings and Randall Park to the cast list cinched it. While Dennings and Park are no strangers to the MCU, they currently have zero ties to both Wanda and Vision. Kat Dennings is famous for playing Darcy Lewis in the Thor movies, while Park is best known as the adorable and dorky FBI Agent Woo in Ant-Man and the Wasp.
WandaVision hasn't begun filming yet, but it's set to premiere on Disney+ in the spring of 2021 and right before the release of the Doctor Strange sequel in theaters. Shows start streaming on Disney+ November 12, so be sure to check out our full guide to the service.
Your Daily Blend of Entertainment News
Thank you for signing up to CinemaBlend. You will receive a verification email shortly.
There was a problem. Please refresh the page and try again.