4 Classic TV Eras WandaVision Seems To Be Referencing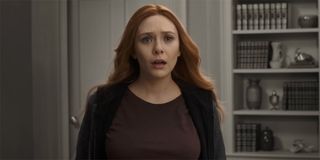 CinemaBlend participates in affiliate programs with various companies. We may earn a commission when you click on or make purchases via links.
While 2020 is still very young, WandaVision has already managed to surprise us in two ways this year. First there was the reveal on New Year's Day that the show had been moved up from its previously announced 2021 release plans, and then just last night we got an unexpected first look at the show packaged into a Super Bowl trailer. Clearly, though, the show isn't done throwing us for a loop, as hinted at by what seem to be shifting aesthetics built into the design of the show.
Watching and examining the debut WandaVision, it appears that the upcoming Disney+ show is going to not just have a story that is set across multiple decades, but a story that that is set across multiple decades as seen through the lens of television sitcoms. We can't be sure about everything, as only a limited amount of information has been released about the series, but here is an analysis of what we've seen so far.
1960s
This aesthetic, which stands out thanks to the black-and-white photography, is really the only one we were sure we were getting before ever actually seeing anything from WandaVision. It was confirmed at D23 Expo 2019 that The Dick Van Dyke Show – which aired its first episode in 1961 – was going to be a heavy influence on the Disney+ series, showcasing a special reel that spliced in scenes from an episode of the classic sitcom, and we definitely see the impact here. Don't be surprised if there are also notes of Leave It To Beaver (1957-1963) and Bewitched (1964-1972).
1970s
The Brady Bunch technically started in 1969, but it ran until 1974, and it's really impossible not to look at the WandaVision still above and instantly think of the classic show. It's only enforced by another shot from the trailer where Scarlet Witch is shown in front of a staircase that looks identical to the one from the old sitcom. The color pallet most definitely screams "1970s" with the extensive use of orange and brown, and hopefully we will get to see the show riff off other greats from the decade, including All In The Family (1971-1979), The Partridge Family (1970-1974), and The Odd Couple (1970-1975). Is it too much to ask for the possibility of at least one musical number/sequence in this aspect of the show?
1980s
The 1980s saw a revolution of sorts hit the airwaves, as idyllic sitcom families were joined on the airwaves by families who didn't live the most glamorous or put-together lives. That's what I'm reminded of when I see Scarlet Witch's look in the WandaVision moment captured above. The first title that springs to mind is Married… With Children (1987-1997), but this was also the era that introduced prime time audiences to Roseanne (1988-1997), not to mention The Simpsons (1989-longer than you'll be alive). I have to admit that I am kind of dying to see Vision from this era, as the idea of the android sporting a beer gut and eating potato chips on the couch is something I very much need to witness.
1990s
Lastly we come to the 1990s, which comes packed with a cute little extra twist. It's no secret (if it is, it's a badly kept one) that WandaVision star Elizabeth Olsen is the younger sister of Mary-Kate and Ashley Olsen, and it appears that the upcoming Marvel Cinematic Universe Disney+ series is having a little bit of fun with that fact. After all, Mary Kate and Ashley famously grew up both playing the adorable Michelle Tanner on the classic sitcom Full House – a staple of 1990s television. Adding an extra layer to this is the fact that it appears Scarlet Witch and Vision will have their twin sons Thomas and William in this level of the show, indicated by the pair of bassinets and flying pacifiers, which can be seen as another meta reference.
As seen in the Marvel Disney+ Super Bowl trailer, there are more layers to WandaVision than just this, as there is the colorized Wanda we see in a black-and-white environment, and the titular heroine in a comic book-accurate Scarlet Witch costume, but we're not as clear on how they factor in right now and/or if they also represent particular sitcom aesthetics. But what do you think of what we've built here? What do you think is the big picture deal with everything that's going on? Hit the comments section with your thoughts, and stay tuned for the launch of WandaVision this fall only on Disney+, and get a seven-day free trial by clicking here.
NJ native who calls LA home; lives in a Dreamatorium. A decade-plus CinemaBlend veteran; endlessly enthusiastic about the career he's dreamt of since seventh grade.
Your Daily Blend of Entertainment News
Thank you for signing up to CinemaBlend. You will receive a verification email shortly.
There was a problem. Please refresh the page and try again.