One Idea Parks And Rec's Nick Offerman Thinks Should Have Been In The Reunion Special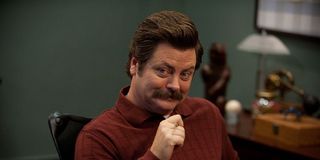 To the delight of millions of viewers, the Parks and Recreation cast reunited for a lovely special that saw the beloved characters checking in with each other through video calls. Or, as Amy Poehler's Leslie Knope called it: a phone tree. The reunion was staged by Parks and Rec creator Mike Schur as a way to provide entertainment for everyone safe at home, while also raising funds for a good cause. However, there's one specific idea Nick Offerman thinks should have been in the reunion special.
Only a Parks and Rec reunion special would include a rendition of "5,000 Candles in the Wind," the strikingly moving tribute to Pawnee's most famous citizen: Li'l Sebastian. The collective sing-along was staged by Nick Offerman's Ron Swanson, who felt it was important to bring some joy to Leslie and put everyone on the call together to sing the Pawnee classic. However, Ron's saxophone — which was used to perform with his jazz band under the alias Duke Silver — was nowhere in sight. In an interview with Variety, Offerman agreed that it could've made an appearance before explaining why it didn't. In his words:
That's a real bummer because the saxophone was definitely a "great idea." That said, it's understandable why the instrument wasn't included in the Parks and Recreation reunion special. The whole thing was put together on short notice and was bound to not include every little thing from the beloved NBC comedy. I'm just happy the cast reunited at all. The fact that they sang "5,000 Candles in the Wind," and that Ron teared up during the sweet performance, was just an added bonus. Check out the clip of the cast singing the ode to Li'l Sebastian below!
The reunion special updated the characters' lives in a pretty awesome way and the episode had quite a lot of cameos from several well-known Pawnee residents, including Ben Schwartz's Jean-Ralphio, Perd Hapley, and Joan Callamezzo. Unfortunately, one of the most memorable characters from the show's heyday was missing from the episode: Jean-Ralphio's sister Mona-Lisa, who was played by Jenny Slate. I imagine that she's off somewhere having a ball while quarantining on her own.
Stay tuned to CinemaBlend for updates. For more on what to watch in the coming months, be sure to check out our guide to all the big TV finales airing soon, as well as our 2020 summer TV premiere schedule.
Your Daily Blend of Entertainment News
Thank you for signing up to CinemaBlend. You will receive a verification email shortly.
There was a problem. Please refresh the page and try again.