Agents Of S.H.I.E.L.D's Elizabeth Henstridge Found The Perfect Way To Summarize 2020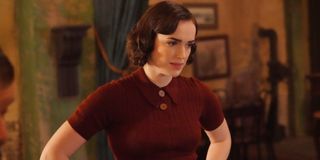 After the unpredictable period of time that was 2020, we've finally made it to 2021. We're only a few days into the new year but, so far, things have been relatively calm. Despite this, it's hard to shake off the events of the previous year, and many are still reflecting on their 2020 experiences. Agents of S.H.I.E.L.D.'s Elizabeth Henstridge is among those reminiscing, and she found a perfect way to sum up the last year. And before you go any further, I should warn you that Henstridge's posts may be somewhat triggering FitzSimmons fans.
Elizabeth Henstridge posted a series of photos on Instagram to summarize 2020, and she managed to draw on her Agents of S.H.I.E.L.D. roots for some visuals cues. The first of the four photos shows the actress making a somewhat blasse facial expression, which likely alludes to how many entered 2020 not knowing how things would turn out. Check out the image below:
Of course, things quickly escalated, and the year became quite bumpy for a number of people. To illustrate that, Henstridge used a photo of S.H.I.E.L.D.'s Gemma Simmons, which shows her struggling during her time on the planet Maveth:
It's a great way to sum up the experience that so many felt, certain events left many of us feeling a bit rough. Luckily, for Eliizabeth Henstridge, there's a Simmons photo for almost everything, and the actress looked to another snapshot to show the next phase of the year:
Fans will probably remember that this was the look Simmons was sporting during Season 4's "Agents of HYDRA" storyline, which saw the team trapped in the Framework by Aida. In the alternate reality, Simmons is dead, so the real Jemma wakes up buried underground.
But in the end, Elizabeth Henstridge had to acknowledge that she and many of us were able to make it through the year. She signified this with a photo of one of Simmons' most triumphant moments on Maveth:
I don't know what's crazier: the fact that Elizabeth Henstridge found such a perfect way to sum up the past year or that Jemma Simmons has had such a rough journey. Agents of S.H.I.E.L.D. fans surely know that both she and her beloved Leo Fitz had a rough time during the show's seven-season run.
But like FitzSimmons, we've survived the turbulence and, while it remains to be seen if things will turn out as perfectly for us as they did for them, there's reason to hope as we enter the new year. I mean none of us have to worry about landing on an alien planet and fighting for our lives… right?
The first six seasons of Agents of S.H.I.E.L.D. are available to stream on Netflix, and the final season is available on Hulu.
Covering superheroes, sci-fi, comedy, and almost anything else in film and TV. I eat more pizza than the Teenage Mutant Ninja Turtles.
Your Daily Blend of Entertainment News
Thank you for signing up to CinemaBlend. You will receive a verification email shortly.
There was a problem. Please refresh the page and try again.