How The Lovely Alex Trebek Tribute During His Final Jeopardy Episode Connects To The Clue Crew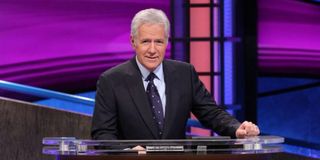 It is truly the end of an era, as Alex Trebek's final episodes of Jeopardy! have all aired. Watching those installments play out last week had to have been an emotional experience for fans, but the episodes allowed the great host to complete his work on the show on a high note. One of the ways in which Jeopardy! honored Trebek was through a tribute video, and it seems it has a connection to the show's Clue Crew.
For those who are unaware, Jeopardy!'s Clue Crew was established back in 2001 and is made up of the roving correspondents that appear in the videos used for clues. A lot of effort goes into these segments, and they've been recorded around the world. At present, the Clue Crew is made up of Sarah Whitcomb Foss and Jimmy McGuire and, according to the show's website, the pair have recorded in "over 300 cities, 46 countries, all 50 states and on all seven continents" since the creation of the crew."
Having been with Jeopardy! for years, the two naturally got to know Alex Trebek. And through a recent Instagram post, Sarah Whitcomb Foss revealed that she actually produced the tribute video:
Well, this was certainly a nice surprise. As Whitcomb Foss mentioned, compiling such an extensive legacy into a brief video is no easy task. Yet she and her team managed to beautifully capture Alex Trebek's body of work. You can see her original social media post down below:
Since Alex Trebek's passing, so many have reached out to remember the man who helped educate viewers through the daily game show. Former champions like James Holzhauer and Ken Jennings were among those to pay their respects. Trebek's fellow game show personalities, Wheel of Fortune's Pat Sajack and Vanna White, also paid loving tribute to their colleague. Even Ryan Reynolds, who presented a clue in one of Trebek's last episodes, took the time to show love for his fellow Canadian.
As Trebek's final episodes played out, Jeopardy!'s producers opened up about what it was like to work with him on that final stretch of episodes. Executive producer Michael Richards remembered that the host was in "enormous pain" as a result of his battle with pancreatic cancer. However, Richards also says Trebek powered through and was "an absolute warrior" as he continued to film shows.
Ken Jennings is expected to serve as a guest host on Jeopardy! for now and will be followed by a number of others, including Katie Couric. It would be an understatement to say that Alex Trebek is greatly missed, but it's nice to see that his colleagues have put so much effort into preserving his legacy.
Covering superheroes, sci-fi, comedy, and almost anything else in film and TV. I eat more pizza than the Teenage Mutant Ninja Turtles.