Why A Suitable Boy's Characters Switch Between Languages So Often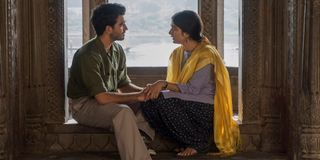 Culture and language have always fascinated me. Part of film and television magic is getting to experience another way of life. From the beautiful costumes to holiday celebrations and especially the multiple languages spoken, Acorn TV's A Suitable Boy gives an inside look at upper-middle class India in the 50s. The characters switch between languages in a single conversation quite often in the series, and director Mira Nair (Monsoon Wedding) has explained why.
A Suitable Boy follows Lata (Tanya Maniktala) who is torn between romance and duty as her priorities shift when time nears for her to choose a husband. Adapted by Andrew Davies (Pride and Prejudice), this period piece is exquisite. I was quite taken by the use of multiple languages throughout the series, and when I chatted with the director, Mira Nair, for an interview with CinemaBlend, she shared the reasoning behind this.
The attention to detail Mira Nair and the entire cast and crew of A Suitable Boy had does not go unnoticed. They strived to achieve accuracy for the time, place and social class depicted in the story, and there is not a single thing that feels out of place. Beyond creating an authentic setting, Nair also mentioned that the characters switching languages offers a sense of truth and gains trust from the audience. In her own words:
As a lover of novels myself, there is always a concern when a book is adapted for the screen that much of what is loved about it will be lost. It's encouraging to hear that Mira Nair went to such great lengths to preserve the story which fans already know and love, but also took care to change what would translate as inauthentic on-screen, such as being completely in English.
The first season of A Suitable Boy is available on Acorn TV. When you've finished binge-watching all six episodes, check out our 2021 winter and spring TV schedule for when your favorite shows are returning and find new series you want to try.
Your Daily Blend of Entertainment News
Obsessed with Hamilton and most things Disney. Gets too attached to TV show characters. Loves a good thriller, but will only tolerate so much blood.
Your Daily Blend of Entertainment News
Thank you for signing up to CinemaBlend. You will receive a verification email shortly.
There was a problem. Please refresh the page and try again.