Another Stephen King Book Is Getting A Film Adaptation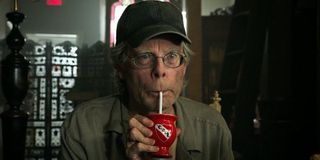 Stephen King is one of the most prolific horror writers of all time, and his books have been brought to life on screen dozens of times. The author has especially enjoyed a bit of a renaissance over the past few years -- and fans are about to get yet another treat because one of his older novellas is getting a film adaptation.
Village Roadshow has announced (via Deadline) it has optioned the right to adapt Stephen King's 1999 novella The Girl Who Loved Tom Gordon. It's a psychological, horror story that follows a preteen girl who gets lost along the Appalachian Trail. While she attempts to find a way out, she listens to baseball games on her walkman and begins to fantasize about the Boston Red Sox pitcher coming to rescue her. Eventually, because this is a Stephen King story, she realizes that she is not alone in the woods, and she is forced to confront an evil spirit.
At one point prior to his death, George Romero was slated to adapt The Girl Who Loved Tom Gordon. Now, Christy Hall, who recently helmed Netflix's I Am Not Okay With This, will take the lead. The adaptation will be produced by George Romero's wife, Christine in partnership with Living Dead Films, alongside Stampede Ventures' Jon Berg, Origin Story's Ryan Silbert, and Venture's Roy Lee, who recently produced two other Stephen King adaptations, IT and Doctor Sleep. And The Girl Who Loved Tom Gordon isn't the only adaptation fans can anticipate -- there are several more projects currently in the works.
There aren't any details yet about when The Girl Who Loved Tom Gordon will begin production or who else will be involved, but there are already reasons to be excited. After a bit of a dry spell, Hollywood has begun to take a shine to Stephen King's stories again. IT and IT Chapter Two are indisputably the most successful of his recent adaptations, but there's also been The Dark Tower, Pet Sematary, and the sequel to The Shining, Doctor Sleep. In addition, HBO adapted The Outsider this year.
Stephen King has also made a big impact on streaming platforms. Hulu has compiled much of the Stephen King mythology into its creepy Castle Rock. And Netflix has adapted Gerald's Game, as well as two of his other novellas, 1922 and In The Tall Grass, which he co-wrote with his son, Joe Hill.
So what can we expect from The Girl Who Loved Tom Gordon? It deals with a core theme that has been at the center of Stephen King's most successful adaptations -- childhood loss of innocence. Though the novella isn't one of the author's best known works, it has a kind of timeless feeling that could definitely resonate with audiences today. And no, there aren't any killer clowns or haunted hotels in this one, but both the setting of the story and its unsettling villain still leave plenty of opportunity for the filmmakers to scare the crap out of us.
Are you excited to see The Girl Who Loved Tom Gordon? What's your favorite Stephen King adaptation? Let us know in the comments.
Your Daily Blend of Entertainment News