Why One Blacklist Star Thinks The Show Can Keep Going Beyond Eight Seasons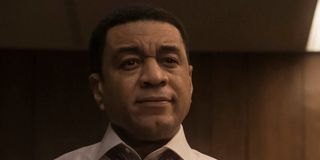 (Image credit: NBC)
The Blacklist has been delivering twists and turns to NBC for eight seasons now, and the show now is almost unrecognizable from where it began in some big ways. That said, one actor who has been around from the beginning thinks that The Blacklist could still have a long life ahead of it beyond the current Season 8. Harry Lennix, a.k.a. Director Harold Cooper, shared his thoughts just as The Blacklist returns from its winter hiatus.
Harry Lennix weighed in with his thoughts on the future of The Blacklist, telling Collider:
Harry Lennix appeared in multiple episodes of series including 24, Dollhouse, and Billions over the long years of his career, but the Blacklist role he started all the way back in 2013 and has now played for more than 150 episodes is one he's not yet ready to leave. He cited Gunsmoke, which held the record as the primetime series to air the most episodes for quite a long time, until The Simpsons finally took the top spot in 2018, although The Simpsons took considerably more than 20 seasons to pull it off. And if Gunsmoke can do it, why not The Blacklist?
As much as Gunsmoke and The Blacklist are very different shows, Harry Lennix definitely has a point that his show won't run out of crimes to fight unless the writers run out of ideas. There are always more bad guys who could cause some trouble, right? Of course, at the moment, Liz Keen at least seems to see Red as the top priority of criminals to take down, although not necessarily using the letter of the law. It should be interesting to see Cooper's interactions with Liz now that she's heading to war with Red in some ways that might not be FBI-approved.
All of this said, some Blacklist fans found cause for concern that the show could be heading toward its close with the eighth season, but only time will tell when it comes to the show's future. Eight seasons is a healthy run for any network primetime series, as shows like NCIS and Grey's Anatomy with seasons that have reached well into the double digits are exceptions rather than the rule. If The Blacklist does end with the eighth season despite what Harry Lennix sees as the potential for more, I just hope that there's enough time for the producers to wrap everything up.
Still, fans shouldn't start panicking that the end is nigh for The Blacklist. As Harry Lennix said, the criminals aren't going to stop coming, and if the writers have managed to be inventive for this long, there's no reason to believe that they'll run out of ideas now. There's also the potential for spinoffs, even though the first attempt at a spinoff didn't work out and resulted in the tragic death of a major character (and new hit show for Ryan Eggold).
For now, you can look forward to new episodes of The Blacklist now that it's finally returning to NBC in the 2021 winter TV lineup on Fridays at 8 p.m. ET. Liz and Red's relationship was seemingly pushed past its breaking point in the final episode of 2020, and it's hard to imagine how she could get over Red murdering her mother. Still, if any show could find a plot twist that's twisty enough to explain a reconciliation, it would be The Blacklist.
Resident of One Chicago, Bachelor Nation, and Cleveland. Has opinions about crossovers, Star Wars, and superheroes. Will not time travel.
Your Daily Blend of Entertainment News
Thank you for signing up to CinemaBlend. You will receive a verification email shortly.
There was a problem. Please refresh the page and try again.