Katherine Heigl Has Strong Words About Being Viewed As Difficult Earlier In Her Career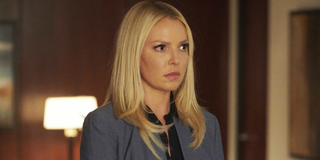 Katherine Heigl has seen success in both film and television productions, but gained a reputation in Hollywood for being a difficult personality to work with around 2010, when she exited Grey's Anatomy. Heigl has seen backlash for voicing her opinion on multiple occasions. After she starred in Knocked Up, she called the film out for sexism, which did not resonate well with fans of Seth Rogan and the film at the time. She's also had pushback over a few Grey's Anatomy-related controversies including her slight against the Emmys in 2008 and her comments about 17-hour work days. Now, over a decade later, Katherine Heigl speaks more strongly about how she is viewed in Hollywood and she's pretty over it.
While Katherine Heigl wasn't exactly blacklisted back in 2007 - 2010, she most likely missed out on some roles and became regarded as an uptight, difficult woman. Here's what Heigl has to say to The Washington Post about how the world has viewed her for so long:
Now that it's 2021, it may be difficult to look back and see why Katherine Heigl was shunned so much for voicing strong opinions as we see people in Hollywood using their voices thoroughly. In fact, plenty of male actors have been deemed difficult and even aggressive or problematic on set and still have a wide fan base and huge careers. Remember Christian Bale's Terminator freak out? It may be that Heigl was too outspoken for her time, and that Hollywood and the rest of the world is now more ready for a strong female voice.
Before all the drama with Katherine Heigl and the rest of Hollywood happened, Heigl appeared to be at the peak of her career. She was making popular films and was one of the stars of Grey's Anatomy, one of the top shows in TV at the time and even now. After her abrupt departure from the show, she didn't get as much work as her once-promising career would suggest she should. The movies she did star in didn't seem to gain the popularity of her past films, maybe due fans having a new outlook on the actress as being stuck up.
Her strong and clear opinions on matters may have been what led her to be on the receiving end of backlash, but any strong personality can be taken down with enough negativity. Katherine Heigl talked about how the damage to her career and perceived personality affected her mental health. In her own words:
Having a good portion of the world thinking you're awful would do a number on just about anyone's mental health. Although apparently some people are still mad at her, Katherine Heigl seems to be bouncing back. She's speaking up for herself, and she has promising brand new series coming out soon.
You can catch Katherine Heigl in her new series, Firefly Lane, on Netflix February 3. It sounds like Heigl could even return to Grey's Anatomy, fingers crossed! If she does, CinemaBlend will surely keep you in the loop.
Your Daily Blend of Entertainment News
Thank you for signing up to CinemaBlend. You will receive a verification email shortly.
There was a problem. Please refresh the page and try again.