HBO's House Of The Dragon Spinoff Is Bringing Back One Of The Best Things About Game Of Thrones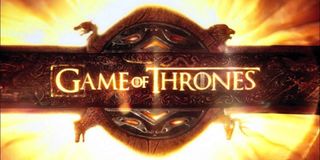 HBO's Game of Thrones was a show that changed the television industry forever. Based on George R.R. Martin's A Song of Ice and Fire series of novels, the show broke records on HBO and went on to make some of its stars household names. Since its controversial ending after Season 8, the show's stars have branched out into other projects. Some have made the transition to the big screen and some will be showing up in other big-budget TV shows. Fortunately for fans of the series' iconic music, one of the most important members of production will be returning to the planned House of the Dragon spinoff.
Per his CV, Game of Thrones composer Ramin Djawadi will be returning to the epic fantasy franchise as he lists the pilot episode for the prequel series, House of Dragons, under his work in television. While the show has already been confirmed to be titled House of the Dragon, one can presume that House of Dragons showing up on the resume of the former Game of Thrones composer is more than likely the same project. Perhaps the CV was made before the name of the prequel series was decided upon?
Either way, that's huge news for those of us out there who loved the music of Game of Thrones. I mean, have you listened to that intro song? It's incredible. One can only hope that House of the Dragon has the same level of quality that its predecessor was known for. Now that it looks like Ramin Djawadi is attached, I'm all the more excited to view, and listen, to the show.
House of the Dragon is set to start production some time in 2021. During a teaser released by HBO back in December, a release date of 2022 was confirmed, indicating that we'll be seeing more of the Targaryens and their dragons.
Interestingly, Ramin Djawadi's CV also notes a few other big names fans of the series may recognize. Ryan Condal, George R.R. Martin and Miguel Sapochnik are all listed as executive producers for the show. Condal and Sapochnik are reportedly working as showrunners on House of the Dragon, in addition to producing. While it's no surprise to see author George R.R. Martin involved, it's nice to see that Sapochnik, who directed multiple episodes over Seasons 5 and 6 for Game of Thrones, will be back on board.
Although it will be a while before fans of the series are able to feast their eyes upon House of the Dragon, perhaps they can find some solace in knowing they aren't alone. Fans of the Song of Ice and Fire novels, on which Game of Thrones is based, have been waiting nearly a decade for the sixth entry, Winds of Winter.
Only time will tell if George R.R. Martin will release his highly anticipated book before the prequel HBO show releases. Either way, I wouldn't hold my breath as you may end up turning into a White Walker.
Into tracksuits by Paulie Walnuts, the Criterion Channel and Robert Eggers.
Your Daily Blend of Entertainment News
Thank you for signing up to CinemaBlend. You will receive a verification email shortly.
There was a problem. Please refresh the page and try again.