Super Bowl LV's 10 Funniest Commercials Feature Matthew McConaughey, Gwen Stefani And More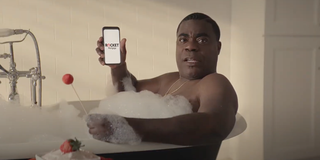 It's no mystery that the key place to find some the best (and most expensive) commercials on TV is the Super Bowl. It's also no mystery that this year's big game is one like no other, coming in the midst of the COVID pandemic. As such, fewer ads aired overall throughout CBS' Super Bowl LV telecast, and they weren't quite as weird and wacky as they've been in years past. Mirth and joy weren't completely absent, to be sure, with several big brands such as M&M's, Tide and ViacomCBS' soon-to-be-rebranded streaming service Paramount+ delivering big laughs with their quirky spots.
Let's kick things off with the previously mentioned chocolate-coated candies that long ago developed its reputation for hilarious and memorable Super Bowl commercials, with M&M's recruiting Schitt's Creek fave Dan Levy for its latest high-profile spot.
M&M's Thinking Dan Levy Is Sus
Recent years have been trying on many personal relationships, so M&M's is offering itself up as the perfect accompaniment to a long-warranted apology to a friend or loved one. Granted, not everyone will be repentant for the specific reason that recent SNL guest host Dan Levy is, namely for eating anthropomorphic candies, and then lying about it directly to their big, round, delicious faces. 2021 might not be such a good year for the Red M&M.
Doritos' Creepy 2D Matthew McConaughey
Remember in True Detective when Matthew McConaughey's character Rust Cohle said that time is a flat circle? I wanted to find a way to spin that quote in the most clever way to talk about this Doritos 3D ad, but I was too creeped out by McConaughey's paper doll appearance to attempt it. Thankfully, the punchline moment with the vending machine saved this from being 100% nightmare fuel. Still more appealing than some of his Lincoln commercials, though.
General Motors Bringing Will Ferrell To Norway...Er, Sweden
Scruffy Will Ferrell should host his own international travel show, with this General Motors ad serving as the pilot. "Will Ferrell pulls together a group of celebrity friends to go on mishandled global adventures" is a perfect logline. Pirate Kenan Thompson? Check. Super-archer Awkwafina? Check. Something about General Motors? Check. That's it. That's the show.
Tracy Morgan Getting Dangerous For Rocket Mortgage
Having given the world too-skinny Jason Momoa last year, Rocket Mortgage crafted a pair of this year's best Super Bowl ads thanks to both its solid "I'm pretty sure..." gag and the genius of Tracy Morgan. The commercial above featured WWE and Guardians of the Galaxy superstar Dave Bautista in a few fun moments, while the second ad actually featured a pro wrestling joke that didn't use Bautista. I don't know about you, but I'm no longer feeling very confident in Morgan's ability to tell the difference between hornets that do murder and hornets that do not murder.
Wayne's World Returning For Uber Eats
Mike Myers and Dana Carvey already had Wayne's World fans clamoring for more Wayne and Garth after they reunited during the 2019 Oscars, and Uber Eats is somehow the company that answered the [eat local] call with a series of wonderfully silly ads culminating in the shameless Super Bowl spot seen above. If you had "Cardi B dressed up as Garth Algar" on your bingo card, then you [eat local] win it all. Game, set, schwing!
Paramount+ Bringing Together Star Trek, Beavis And Butt-Head & More
For all the pop culture fanatics out there who tend to embrace crossovers and multiverses, Paramount+'s Super Bowl ads were downright magical, bringing together actors and characters from a wide variety of TV shows under the ViacomCBS umbrella to make viewers fully aware of the CBS All Access streaming service rebranding. For my money, the best way to do it is to have Beavis & Butt-Head showing up to laugh at Sonequa Martin-Green saying "crack." But others might be more into Star Trek's Spock and Picard mixing it up with James Corden and SpongeBob SquarePants. Whatever your taste, the extended ad above has something for everyone. Even Crank Yankers fans.
Michael B Jordan As Hot Alexa
You know how some people seem to be obsessed with artificially intelligent digital assistants? You might think it's because technology makes things easy and saves time, but sometimes it comes down to the person daydreaming that the AI is a total stud muffin like Michael B. Jordan. This Amazon commercial is probably closer to reality than we'd like to think – don't mention that one Netflix show, though – but I mean, is it really a dystopia when Alexa's eyes and voice are so striking and soothing, in that order? (Also, points go to this commercial for having the dirtiest joke of the Super Bowl, when the husband talks about things "getting way too wet around here.")
Tide's Seinfeld Callback With Jason Alexander
Seinfeld vet Jason Alexander had fans excited for his Tide Super Bowl ad ahead of the Super Bowl, and the final product definitely justified the hype. Not in the most normal way or anything, but still. The commercial was already hilarious on the surface for the whole idea of a face-morphing Jason Alexander hoodie, and it went next-level awesome by bringing in the song "Theme from Greatest American Hero (Believe It or Not)," which George Costanza memorably used as his answering machine message on Seinfeld.
Gwen Stefani And Blake Shelton's T-Mobile Hookup
Speaking of good-looking celebs, one of the hottest couples in Hollywood right now is Gwen Stefani and Blake Shelton, who reteamed with former Voice coach Adam Levine for a hilarious T-Mobile commercial that managed to continue Levine and Shelton's faux feud. The ad revealed the "real" way that the two musicians first hooked up. Turns out it wasn't due to their shared duties on The Voice, but rather really shitty cell reception. How dare he wear spurs.
Timothee Chalamet Becoming Edgar Scissorhands For Cadillac
It's not worthy trying to make sense of Cadillac being the company behind this bonkers ad, so just accept the magnificence of Winona Ryder reprising her Edward Scissorhands role of Kim Boggs, with Timothee Chalamet donning the bladed fingers as Edgar Scissorhands. Whether or not fans start yelling for Tim Burton to deliver a sequel to his 1990 classic, this ad still stands alone as a winner of a tribute, as well as the only Cadillac commercial I'll likely remember for the next year.
Which of the above Super Bowl commercials did you think was the funniest? Let us know in the comments below, or tell us if you think there was a funnier entry that didn't make our list. (Noteworthy honorable mentions include Don Cheadle's Lookalikes ad, Daveed Diggs singing with Sesame Street muppets, and Paul Rudd joining Drake as State Farm understudies.) Here's hoping 2021 plays out in such a way that next year's big game delivers even more standouts, regardless of what happens on the field.
Nick is a Cajun Country native, and is often asked why he doesn't sound like that's the case. His love for his wife and daughters is almost equaled by his love of gasp-for-breath laughter and gasp-for-breath horror. A lifetime spent in the vicinity of a television screen led to his current dream job, as well as his knowledge of too many TV themes and ad jingles.
Your Daily Blend of Entertainment News
Thank you for signing up to CinemaBlend. You will receive a verification email shortly.
There was a problem. Please refresh the page and try again.