How The Blacklist Seems To Not-So-Subtly Be Shutting Down Those Longtime Fan Theories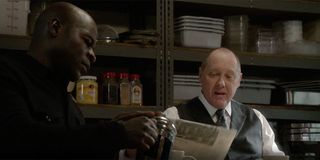 (Spoilers-ish are in this piece.) Fans have had a lot of thoughts about The Blacklist as Season 8 has really kicked into gear this winter and as Elizabeth Keen became #1 on said list. There's a lot going on currently with the NBC drama -- which was recently renewed for Season 9 -- but one thing the show has been pushing a lot less is the family bent as it switches to more of an "Elizabeth is the mastermind" storyline.
For what feels like the longest time, Elizabeth Keen's and Red's backstories and the way their lives have been intertwined has been a focal point in the series and one semi-dividing the fanbase. There are the factions who want to move past "the family secrets" and move on to other stuff. But you will occasionally see either people who aren't caught up or still want to believe in the "Is Red Liz's father?" theory that occasionally gets bandied about, despite that big Season 6 reveal.
Regardless, these days it seems the writers are really looking to shut down those theories for good. A scene between Dembe and Red that played out in the most recent episode of The Blacklist (and has been a part of some intriguing conversations between the two recently) literally had Red once again explaining he did not father Liz Keen while further showing the current underlying malevolence between the two. While enjoying some "meat and potato pie," the two discussed:
A comment on a thread about the "Chemical Mary" episode on Reddit gets snarky about the show's history with this particular storyline, with one commenter noting, "So today Red is not Liz's father." Of course, despite The Blacklist's convoluted history of events, we have been told that Red is not Liz's father. Mainly, there was the Season 6 reveal in which we learned Raymond Reddington was Liz's father. Yes, that's confusing, but then there was the secondary twist that the Red we know is not the Raymond Reddington who is Liz's father. He's an imposter. These days, shoehorning in lines like the one from the most recent episode may be attempts to cut down on any of the chatter that still lingers around their relationship, possibly due to all the breaks Red has cut for Keen over the years.
While the chatter exists -- and could even be being egged on in some ways by these off-handed show comments-- these scenes with Dembe and Red also build exposition while also simultaneously touching on why the aforementioned relationship is still so complex eight seasons in. Family secrets or no, Red and Liz are complicated.
The last few weeks of The Blacklist have been a little crazy in terms of Liz's plans and also that tribute episode to Glen, who died of West Nile virus both on the show (in the same way Clark Middleton passed in real life back in October). Now the show has been renewed, I'm wondering if the current Liz/Red plotline will find a new direction or if it will extend as the NBC drama keeps going and going and going. For now, tonight's episode says Red will be "making a connection" so I'll leave you to ponder that before the episode airs.
The Blacklist airs new episodes on Friday nights at 8 p.m. ET on NBC. See what else is still heading to TV this spring with our full premiere schedule.
Reality TV fan with a pinch of Disney fairy dust thrown in. Theme park junkie. If you've created a rom-com I've probably watched it.
Your Daily Blend of Entertainment News
Thank you for signing up to CinemaBlend. You will receive a verification email shortly.
There was a problem. Please refresh the page and try again.