Rugrats: 8 Questions We Have About Paramount+ Reboot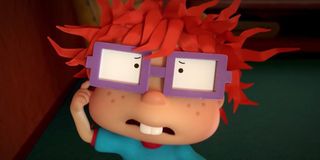 Paramount+ is looking to make a splash with its rebranding of CBS All Access, and it's doing all the right things with a newly-announced Rugrats reboot. Taking one of the most beloved children's shows of the 90s and giving it a similar-but-different look will definitely draw the eyes of some millennial streamers, as well as raise a few eyebrows.
As someone who grew up watching Rugrats, I have a lot of questions about this series. Perhaps more than the average person would, but hey, many people grew up watching this show, so it's only natural to wonder if this Rugrats reboot will hold a candle to the original. Here are some of the big questions I'm kicking around now, following my viewing of the preview and what we know so far.
Where Are Baby Dil And Kimi?
Perhaps the biggest thing Rugrats fans will notice about the Paramount+ preview is that a couple of key babies are missing. Namely, Baby Dil and Kimi are nowhere to be found, which would make sense if the series was a traditional reboot. Dil wasn't added as Tommy's brother until the first movie, and Kimi wasn't Chucky's sister until the second movie. If the two aren't around, this could be a sign that Rugrats is looking to get back to its roots or that these characters could be coming down the stretch.
What Characters Will Still Be Around?
While Rugrats showed no sign of Dil and Kimi, the Paramount+ reboot did manage to slyly make mention of some more minor characters in the show universe audiences may be surprised by. Yes, seeing Reptar on the television screen was a thrill, but what about Angelica name-checking her mother Charlotte's long-time assistant Jonathan? That's the kind of deep-cut references I need from this Rugrats reboot as a fan, and I'm only hoping this deep-cut means bigger ones are coming.
How Will New Technology Affect The Babies' Adventures?
Seeing a flat-screen television on Rugrats was pretty jarring, but it also got me thinking about just how much life has changed since the show was first on television. Rugrats did feature cellphones, believe it or not, but they were far removed from the smartphone era we're living in today. Nowadays, Didi Pickles would likely check her Lipschitz app as opposed to any book, and that's just one of the many small things that could ultimately change this Paramount+ series so much.
Who Is This Reboot For?
Perhaps the biggest question I have yet about Paramount+'s Rugrats reboot is the question of whether or not it's actually something that's trying to cater to me. After all, companies have rebooted beloved franchises in the past that were clearly going for a younger audience, much to the ire of older fans hoping to recapture some nostalgia watching the new version. Obviously, I'm not expecting this show to be for an entirely older audience, but I do wonder if the reboot will succeed in making the show just as enjoyable for the adults that remember it as the new kids tuning in.
What Are The Advantages Of Rugrats In 3D?
It was a bit of a shock to see the Rugrats in 3D, especially when they so closely resembled their animation style from the original series. Once I got over the extreme uncanny valley Paramount+ threw my way, I couldn't help but wonder what the advantages of showing Phil, Lil, Tommy, and Chucky in 3D adventures can be? It certainly changed up a lot about Muppet Babies in its reboot, though in a way were trying to compare the reboot to the original is an apples-to-oranges situation. What we've briefly seen of Rugrats looks very similar, but will the switch to 3D enhance or limit some of the adventures in any way? We can't say for sure.
Can The Rugrats Reboot Capture The Universal Appeal Of The Original?
The real magic of the original Rugrats is that it's relatable on multiple levels. The animated series had a humor to it that was uniquely entertaining to children but also spoke to the experience of their parents in raising children. Rugrats got and still receives a lot of acclaim for accomplishing that, considering it's no easy task. Reciprocating that vibe in the Paramount+ reboot will be a tall order and possibly not something the reboot is even trying to do. I imagine it will undoubtedly draw criticism if it can't live up to the appeal of the original, but that's nothing new with reboots in the slightest.
Will There Be Any New Characters In The Reboot?
The Rugrats reboot has already shown characters fans are familiar with and excluded ones as well. One thing we don't know so far is what characters will be added to the series, if any, and how they will impact the Paramount+ series. A new baby in the mix would be exciting, or if some new character was introduced that really changed up the dynamics of characters we hadn't previously seen. Like, what if Angelica really did end up having a sibling after all? It would be interesting to see her cope with that, especially if it's the freaky monster baby from that classic episode back in the day.
Will Characters Be Portrayed Any Differently?
Rugrats is a show about families, and families have changed a lot in the past couple of decades. Is Stu Pickles still a toy inventor in 2021, or is he in a different line of work? What kind of stuff would Grandpa Lou reminisce about if he were to be an older gentleman living from this era? In some ways, the show will be required to modernize to relate to a younger audience, and I'm curious and excited to see how that translates to characters in the show and how they'll change because of it.
The Rugrats reboot will arrive on Paramount+ (opens in new tab) in the future, in addition to a lot of other exciting content. For more on that, check out this handy breakdown of all the things we know about the service at the moment.
Your Daily Blend of Entertainment News
Mick likes good television, but also reality television. He grew up on Star Wars, DC, Marvel, and pro wrestling and loves to discuss and dissect most of it. He's been writing online for over a decade and never dreamed he'd be in the position he is today.