Bachelor Spoilers: Fans Have A New Theory About Matt James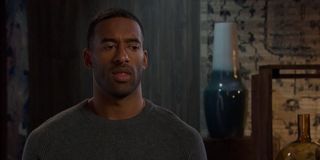 (Image credit: ABC)
Could Season 25 of The Bachelor be going even further off the rails than previously thought? After accusations of racism and the Chris Harrison fallout, fans of the long-running reality show are now speculating on a new theory about Matt James' love life.
Essentially, fans of the show seem to be under the impression that The Bachelor's Matt James isn't with one of the final three women – Bri, Rachael, or Michelle. The new fan theory (as detailed by Bustle) suggests that James is now secretly dating Heather Martin, who was sent home earlier in the season.
Bachelor Nation has been buzzing since the Women Tell All episode on March 1. Several fans noticed that Heather Martin was strangely edited out of the special that gathered the women to talk about the season's drama. Many fans are speculating that it is an attempt to misdirect them from Matt James' real choice:
Others are in an uproar about the network's decision to not give Heather Martin, who was previously in Colton Underwood's Bachelor season, any screen time to discuss the bullying that went on throughout the season prior to Martin's exit. But it could also be a means for Martin to not have to give any further clues away to fans:
But they aren't the only sectors of fans discussing the potential real outcome of The Bachelor. On TikTok, a user also tied Matt James and Heather Martin together as a couple after noting that the two were both in San Clemente, California on the same day, which is considered a big deal since Matt James is a New York native. They question why he would be on the East Coast so soon before The Bachelor finale, if not to be closer to Martin.
Sure, the evidence is circumstantial at best and highly speculative. But there is one more piece of evidence that is a little more damning: Matt James' mom supporting Heather Martin's business on Instagram. What seemed like a stretch before, now has a bit more credence. How many moms are commenting on your Instagram feed just for being an acquaintance slash friend slash co-star?
On top of mounting speculation about the relationship between the two, Matt James' mom, Patty Cuculo James, chose to write yesterday on one of Heather Martin's photos for her clothing brand Titled Three, saying, "Love this and congratulations on making this happen. I love your #doitafaid motto. So empowering." Martin quickly responded, "thanks so much Ms. Patty!" Check out the post for yourself:
Is Ms. Patty replying to the dozens of other girls who competed for her son's heart? Unlikely. Tune in to find out who Matt James gives the final rose to on Monday March 8th at 8 p.m. Et on ABC, and perhaps we'll find out more to this mystery. And be sure to share your thoughts on the possible relationship in the poll down below.
This poll is no longer available.
Freelance writer. Favs: film history, reality TV, astronomy, French fries.