Bachelor Spoilers: We Might Finally Know How Matt James Ends Season 25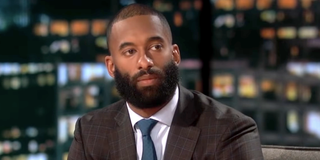 Warning! Potential SPOILERS ahead for the rest of Matt James' Season 25 of The Bachelor. Take all of your roses and look away unless you really need to know!
While I don't think that anyone would call Matt James' season of The Bachelor uplifting or even just plain fun to watch at this point, that doesn't mean that viewers aren't intensely interested in what the outcome will be. This may be even more true because of all of the not-so-behind-the-scenes controversy surrounding one of Matt's frontrunners, his season, and the franchise as a whole. While details on what was to come have been rather spotty so far, we might finally know exactly how Matt ends Season 25 of The Bachelor.
If you've been keeping up with this season, you'll know that we only have fantasy suite dates and the finale left when it comes to following Matt on his journey to falling in love for the very first time, and while we've gotten some rough updates on where things seem to be going, it appears that Reality Steve has been able to solidify a much clearer picture of how things will wrap up. And, if you're a Bri Springs fan, you will not be happy.
So, seeing as how Serena Pitt dumped Matt hard on the previous episode during her hometown date, we're going into fantasy suites with the Final 3, who are Bri, Michelle Young, and Rachael Kirkconnell. Our first bit of info tells us that Matt will eliminate Bri after his overnight date with her, and I suppose we might have to wait until the finale to see how salty this will make the young woman, after she quit her job a few weeks in, so that she could stay on the show.
What comes next is something that we'd heard might be a part of the season, which has already been filled with some major surprises. This one, though, will be fully on screen, as, apparently, the producers did bring in Matt's absentee father to have a chat with him. Supposedly this will be shown after the Final 3 rose ceremony, and, as you might imagine when one is "surprised" with the father who seems to have abandoned him at a young age, things do not go smoothly. Yay, franchise!
After that on-camera trauma, both Michelle and Rachael will meet Matt's mom, who we've seen talking to him about how "love is not the end-all be-all." There's no telling whether or not that moment is before or after she meets either or both of the remaining ladies, but, either way, it doesn't seem like a good omen, does it?
During the evening portion of Matt's date with Michelle he comes clean, and tells her that he loves her, but isn't in love with her, and breaks up with our kind, intelligent, Minnesota queen.
Next up is Matt's last date with Rachael, but he's going to cancel on her at the last minute. The thought right now is that it has nothing to do with her (sigh...), but because Matt needs a bit more time to deal with the emotional fallout of talking to his father and breaking up with Michelle. There will then be some time where the show will make it look like Matt maybe doesn't choose anyone, which, to be honest, once he breaks up with Michelle and Bri, would have been the best option.
But, the next day, Rachael finds a letter which has been slid under her door from Matt. In it, he apologizes for cancelling on her and requests that she meet him by the lake where they had their date before fantasy suites. When she arrives, it's set up like a final rose ceremony. Rachael tells Matt that the cancellation hurt her, but she loves him and isn't going to give up. Matt will basically echo her sentiments by saying he loves her and can't picture life without her, but, he also says he can't propose. She seems cool with it, accepts his final rose, and they leave as a couple.
If you think this is the end of the (potential) story, though, you truly have not been paying attention. From what Reality Steve has learned, it appears that Matt and Rachael were together through Valentine's Day weekend, after which he broke things off as soon as he got home. Steve doesn't have a clear read at this point on the reason Matt gave her, though I bet we can all lob some pretty good guesses as to why.
After the Final Rose tapes this week, so we'll all likely be able to hear more about what went down between Matt and Rachael when it airs in a couple of weeks.
Bachelor Nation, Gilmore Girl; will Vulcan nerve pinch pretty much anyone if prompted with cheese...Yes, even Jamie Fraser.