HBO's Bored To Death, Three Seasons And A Movie?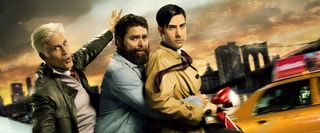 Before HBO's Girls were roaming around Brooklyn, there were the boys of Bored to Death. The series, starring Jason Schwartzman, Zach Galifianakis and Ted Danson was also set in the hip New York borough before being recently cancelled after just three short seasons (eight episodes a piece). Bored to Death followed Schwartzman's Jonathan Ames, named for the series' creator and popular author, as he took up private investigating in order to distract himself from his woes.
Soon his best friend Ray, a cartoonist played by Galifianakis, and his boss George, a wealthy socialite and magazine editor, also get caught up in Ames misadventures. Well, they got caught up because, as I said, the show was cancelled (the last episode airing last November), however, Vulture reports that the crime solving (that's generous) gang might be getting back together for another case. During an interview at the Monte Carlo Television Festival, French journalist Pierre Langlas spoke with Danson and apparently a Bored to Death movie might be in the works.
Now, for those who don't speak French, the tweet reads that the former Cheers star said there was a strong possibility of a 90-minute installment of Bored to Death for HBO. It's hard to get into specifics in 140 characters but Vulture was able to speak with a representative from the network and there "have been conversations" about a movie but it's still "at a very early stage." There's no mention of whether the BtD film would go theatrical or merely air on the network, but going by the history of HBO Films, it seems likely that it would stay on cable.
The post-series movie seems to be an ever popular rallying cry for fans and series creators alike (thanks Serenity) but it rarely ever comes to fruition. But the key difference between a 90-minute Bored to Death and say, the much-discussed but never going going to happen Deadwood film is the price. BtD's relatively inexpensive price tag compared to the prestige network's other ventures makes it seem much more likely. And for those like me who miss the white wine and pot fuelled antics of the trio, that's pretty exciting. Would you watch a Bored to Death film?
Your Daily Blend of Entertainment News
Thank you for signing up to CinemaBlend. You will receive a verification email shortly.
There was a problem. Please refresh the page and try again.