Is HBO Setting Up Game Of Thrones Crossovers With More New Spinoffs?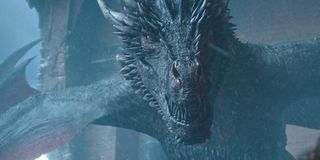 (Image credit: HBO)
Game of Thrones may have wrapped almost two years ago in 2019, but the world of Westeros and beyond may only be getting bigger on HBO courtesy of spinoffs. Although the network axed the first spinoff that seemed likely to make it to television, House of the Dragon scored a series order, and other potential spinoffs have been reported as developing, including another George R.R. Martin adaptation. Now, three more Game of Thrones spinoffs are reportedly in development, and the plots may lend themselves to crossovers between Game of Thrones offshoot shows.
HBO is developing three ideas for new projects set within the Game of Thrones universe, according to Deadline, and all of them are listed as prequels, although none is confirmed as getting a series order or even being far along in development. Called 9 Voyages (or Sea Snake), Flea Bottom, and 10,000 Ships, the George R.R. Martin source material may indicate that there are ways for these shows to cross over with others if they score series orders. More specifically, 9 Voyages could easily cross over with or at least very closely connect to The House of the Dragon.
9 Voyages is reportedly the furthest along in the development process, with Gotham's Bruno Heller attached as part of the creative team, also including George R.R. Martin, who has not yet completed the sixth book in the A Song of Ice and Fire series. The show would center on the voyages of Lord Corlys Valaryon, known as the Sea Snake. And also one of the characters who plays a prominent role in the Dance of the Dragons, and who EW reports will be played by Steve Toussaint of Prince of Persia: The Sands of Time fame for House of the Dragon.
A potential Game of Thrones spinoff centered on Corlys Valaryon, a character confirmed to appear in House of the Dragon and already cast, seems like it must cross over with House of the Dragon in some form or other. It's not altogether clear when 9 Voyages would be set, so it's possible that it could star a younger actor, with House of the Dragon picking up on him later in life, but the openings are there. In fact, if this wasn't HBO and the Game of Thrones franchise we were talking about, I'd think that 9 Voyages seems like the perfect candidate for a flashback backdoor pilot from House of the Dragon.
I'm not saying that the Game of Thrones franchise will become the next MCU or One Chicago or even Arrowverse, but the wider the universe gets, the more openings there will be for characters from different shows sharing the same screen. The other two new potential spinoffs reportedly have no writers attached at this point. 10,000 Ships references the voyage of the warrior Princess Nymeria who lived a thousand years before Game of Thrones and after whom Arya Stark named her direwolf. Nymeria travelled from Essos to Dorne, so a show centered on her would presumably explore parts of the Game of Thrones universe that haven't gotten much attention compared to Westeros.
As for Flea Bottom, it would apparently be set in the slum district of King's Landing that was pretty thoroughly roasted by Daenerys and Drogon at the end of Game of Thrones. Although it is listed as a prequel, few details are available how the why, when, and how of this potential series. I for one would enjoy seeing a series set closer to Game of Thrones that could feature characters like Gendry, the bastard son of Robert Baratheon who definitely did not have a last name (and would not have had the last name of Rivers if he did) in A Song of Ice and Fire, and others who weren't main players of Game of Thrones but are still memorable.
All of this said, the only guaranteed Game of Thrones prequel at this point is House of the Dragon, which has started production and is expected to premiere in 2022. For now, you can always rewatch the original run of Game of Thrones streaming on HBO Max.
Resident of One Chicago, Bachelor Nation, and Cleveland. Has opinions about crossovers, Star Wars, and superheroes. Will not time travel.
Your Daily Blend of Entertainment News
Thank you for signing up to CinemaBlend. You will receive a verification email shortly.
There was a problem. Please refresh the page and try again.