Will Smith Makes 'Sad Song' Go Viral Again, And Real Housewives' Gia Giudice Shared Her Thoughts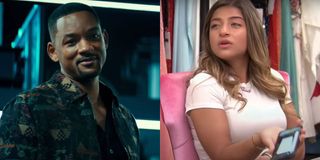 (Image credit: Bravo)
What does mega-celebrity and Oscar nominee Will Smith have in common with Gia Giudice, the daughter of a Real Housewives of New Jersey reality star? Turns out, it's that both can find the silliness or make their own during an otherwise dramatic moment. The Fresh Prince star recently used an old clip from Giudice's "Sad Song" on Instagram. It then went viral on TikTok, which ultimately prompted a kind message from Giudice herself.
In fact, the daughter of Teresa Giudice was seemed honored ( and rightfully so, imo) that Will Smith used her "Sad Song" for his own purpose. When asked about the viral moment in a recent interview, she noted to E! News:
If you haven't caught the viral moment yet, in his own post on Instagram, Will Smith hilariously overlaid the "Sad Song" with himself looking a bit haggard and the caption, "Remembering the time I thought it would be a good idea to make a St. Patrick's Day video alone in a hotel room." Many TikTok users then did what they do best – and ran wild with it.
The main line of the "Sad Song" is actually "Waking up in the morning, Thinking about so many things, I just wish things would get better." The dramatic lyric has since been superimposed over several just completely wild examples, including the one below.
But most of the "Sad Song" renditions are a lot of weird, personal and specific moments that are ultimately made silly when contrasted by Gia Giudice's 10-year-old sincere emotions. Here's another one of the viral interpretations:
Many Real Housewives of New Jersey fans will remember the "Sad Song" origins very vividly. It was during Season 3 of the Bravo show that Gia Giudice performed the song at her younger sister Melania's birthday party. Amongst the contentious drama between Giudice's mother, her uncle Joe Gorga and aunt Melissa Gorga, Gia broke down in tears during the song. It was a truly emotional moment and a brave one at that time for a girl as young as Gia was.
Gia Giudice is now known somewhat on Real Housewives of New Jersey as the voice of reason over her frequently unreasonable mother, Teresa Giudice. In this current season, Teresa has been embroiled in a he said-she said with co-star Jackie Goldschneider, culminating with Goldschneider saying Gia "snorts coke in the bathroom at parties" as part of an analogy. Teresa took the analogy literally and flipped her wig, so to speak. But in a later phone conversation with Gia, her daughter advised that Teresa shouldn't have spoken about Goldschneider's husband and should apologize.
The Real Housewives children are certainly subject to a lot of moments that live in perpetuity on the Bravo network, but Gia Giudice's "Sad Song" is in the top tier. Yet the now 20-year-old Gia Giudice, as evidenced by her remark to Will Smith, has taken it in stride. She even teased that she may "do one of his songs in return." Can I suggest, perhaps, "Gettin Jiggy wit it"?
Your Daily Blend of Entertainment News
Movies and TV News Writer
Freelance writer. Favs: film history, reality TV, astronomy, French fries.