Ex-Real Housewives Of Beverly Hills Star Brandi Glanville Responds To Attacks On Her Looks After Second Degree Burns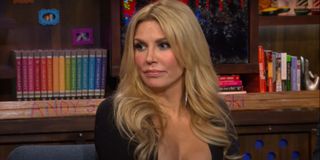 (Image credit: Watch What Happens Live)
When Brandi Glanville appeared on Australia's The Morning Show, it took almost no effort at all to get the Internet buzzing. Along with the teaser that Denise Richards doesn't respond to her emails following the affair accusations, many people were shocked by the former Real Housewives of Beverly Hills star's clearly swollen appearance. The reactions range from calling her "unrecognizable" to accusing the reality star of overdoing it with plastic surgery. But Glanville responded to the "haters" and revealed her new look is actually the result of second-degree burns.
With receipts, no less, Brandi Glanville is taking no prisoners regarding the truth behind her new looks after viewer criticism of her looks on Australia's The Morning Show. She claims to be still healing from the second degree burns after a psoriasis light procedure gone wrong. The image Glanville posted could shut the haters up for good, but it is unlikely:
One reaction to Brandi Glanville's post was a rather rude assumption that she burned herself purposely, presumably for clout or attention. But Glanville's levelheaded response to the tweet explained that the accident came from a miscommunication and was "completely my fault." Apparently, as she explained on Twitter, she held the light over her face for 17.3 minutes instead of seconds, resulting in the burns. It both sounds and looks incredibly painful, to say the least.
Most of the other mean-spirited comments surrounding Brandi Glanville's drastically different look insinuate that it isn't burns but a cover up for bad plastic surgery. The reality star and podcast host has been open in the past about having Botox and fillers. But her heartfelt response to the vitriol aimed at her looks suggests that she has been legitimately struggling from the accident and the public reaction to it:
The former Real Housewives of Beverly Hills star is used to the "haters," as she likes to call them, and for confronting them head on even if these burns are not an issue she had to deal with before, unlike fallout from her time on The Real Housewives of Beverly Hills. No matter if she is in the right or wrong, Brandi Glanville is known for stirring the pot on TV.
In fact, stirring the pot became somewhat of her reality television superpower. She even managed to accomplish this without being an official castmate of Real Housewives of Beverly Hills last year, when she dropped the biggest bomb of the season that she had slept with Denise Richards. Richards denied the allegations but went on to quit Real Housewives. A foot-to-mouth moment occurred just a few months ago when Brandi Glanville commented on the Armie Hammer cannibalism scandal before she knew the extent of the allegations against him.
Brandi Glanville can be very blunt when she speaks out, and she definitely isn't the "Ice Queen" Erika Jayne or the peacemaker Kyle Richards – she's blunt and forthcoming in equal measures, to her detriment sometimes. Still, it doesn't excuse vitriol, and we can only hope that her recovery from her burns continues without further insults.
Freelance writer. Favs: film history, reality TV, astronomy, French fries.
Your Daily Blend of Entertainment News
Thank you for signing up to CinemaBlend. You will receive a verification email shortly.
There was a problem. Please refresh the page and try again.