How The Bold And The Beautiful's Denise Richards Avoided A Sex Scene With A Mannequin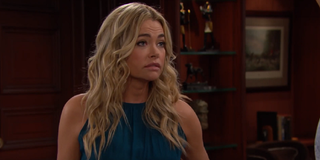 The Bold and the Beautiful was one of the first network TV shows to resume filming last month following production-halting shutdowns that went wide in March. Taking into account new guidelines and safety measures being set up to ease cast and crew back into filming, the long-time soap jumped right in and improvised, pairing actors with blow-up dolls and mannequins during romantic scenes to avoid physical contact. Recently, The Bold and the Beautiful star Denise Richards revealed how she actually avoided a sex scene with a mannequin.
The Bold and the Beautiful's production has been practicing health and safety protocols. With those in place, it restructured the way scenes are staged and filmed. Due to social distancing measures, and because the soap has a good amount of intimate scenes (sex, kissing, etc.), the series has opted to include actors' spouses as stand-ins for close-up shots if need be, beyond all the human-shaped inanimate objects. Speaking with ET, Denise Richards confirmed that she brought in her husband Aaron Phypers as a mannequin-substitute. Here's what she said:
I can only imagine how strange and uncomfortable it might be to film a love scene with a latex mannequin, so Denise Richards would "much rather" share those moments with her non-latex husband. And hey, at least she'll be looking at someone she actually cares about rather than the unmoving face of a doll. (Not a creepy thought at all.) I guess those who don't have significant others may be stuck getting lusty with mannequins, which kinda sucks, but the show must go on.
Still, filming during the pandemic doesn't sound easy, especially for a show that puts out daily episodes. The Bold and the Beautiful's Jacqueline MacInnes Wood concedes that it's especially "difficult at times" when the instinct is to reach out to touch someone and can't. However, as actors, Wood says they "make it work." If that's what it takes to ensure everyone's safety, then I think everyone on the soap opera and beyond can get used to this new normal for a while.
As a viewer aware of the situation, however, it might be weird to watch wigged mannequins replace physical intimacy between actors. That said, whether it's a mannequin or a significant other standing in for sex scenes, fans probably won't notice too much, since the scenes are being filmed "from a great distance." The magic of television, am I right? Bring out the holograms!
Depending on the country, certain TV productions will have different procedures when their casts and crews go back to work. The Bold and the Beautiful seems to be acting as a blueprint for what may or may not work on the set of other LA-based shows. Perhaps we'll see more mannequins on the set of other network series, but at least Denise Richards and co. have options with regards to living and breathing stand-ins.
The Bold and the Beautiful airs weekdays at 1:30 p.m. ET on CBS. For more on what to watch in the coming months, be sure to check out our 2020 fall TV premiere guide.
Your Daily Blend of Entertainment News