Jeffrey Dean Morgan Talks Dying Over And Over Again Onscreen, And Why Grey's Anatomy's Denny Changed His Life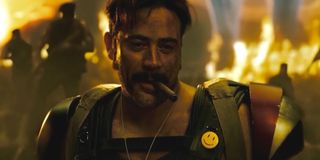 When working in entertainment, there's a fair chance that any given character will straight up die at any moment. Whether it's the end of a character arc, contract or part of the story, dramatic deaths are just a part of the business. Look at HBO's Game of Thrones, after all. The Walking Dead star Jeffrey Dean Morgan recently shed some light on what it's like to constantly have your characters killed off in production after production, followed by reflecting on his time on Grey's Anatomy.
During a recent interview Jefferey Dean Morgan detailed a bit of the behind the scenes preparation for death scenes and what it was like to be killed off so often. When asked about the process of a character dying, Morgan had this to say:
In his interview on Hot Ones, Jeffrey Dean Morgan detailed the difficulties and hilarity associated with dying on screen so many times, all while eating insanely hot wings. While he hasn't put up quite the numbers that Sean Bean (who is famous for dying on screen) has, Morgan has done his fair share. According to CineMorgue, which tracks film and television deaths for actors, Morgan has died a total of 17 times between his film and television appearance.
Despite dying off in Grey's Anatomy, Jeffery Dean Morgan shared a sweet story about his time playing Denny, and how he tried, in vain, to prevent his characters death:
Morgan, who played Denny on Grey's Anatomy for 23 episodes, gave credit to the show for propelling his career forward. According to him, his role of Denny Duquette is the reason he ended up in Zack Snyder's Watchmen. More recently, fans will recognize Morgan from his time as The Walking Dead's Neegan. Despite the nature of the show, his character is still alive as of the latest season. That may change though, as we are quickly approaching the 11th and final season of the zombie show.
I wouldn't be surprised if we saw more than a few major characters killed in Season 11, but who knows. Maybe they will open up some other characters for a Rick Grimes-esque spinoff. After all, Jeffrey Dean Morgan himself has already expressed interest in continuing to play Neegan.
We won't know for sure what's in store for Jeffrey Dean Morgan and Neegan until The Walking Dead Season 11 releases later this year. Hopefully, it won't be just another death in his long list, but given the subject matter, I find that situation to be pretty unlikely. Be sure to check back with CinemaBlend for the latest on The Walking Dead and any other updates from your favorite upcoming television shows.
Into tracksuits by Paulie Walnuts, the Criterion Channel and Robert Eggers.
Your Daily Blend of Entertainment News
Thank you for signing up to CinemaBlend. You will receive a verification email shortly.
There was a problem. Please refresh the page and try again.