The Walking Dead's Jeffrey Dean Morgan Reveals Candid Thoughts About The AMC Series Ending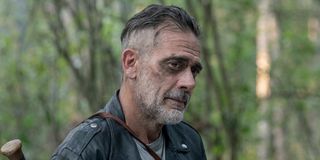 The Walking Dead is one of AMC's longest-running series, and has been a huge show for the network since its first season aired in 2010. For the fans who have been there since the beginning, and the cast members who have been on board for just as long, the impending Season 11 marks the end of a nail-biting, zombie-killing era. Jeffrey Dean Morgan, who plays the complex character of Negan, has expressed just how difficult the upcoming end has been for himself and other long time cast members.
Jeffrey Dean Morgan hasn't been around on The Walking Dead set as long as some of the other fan-favorite stars, having entered the show at the end of the 6th season, but the actor has said the cast is like a family to him – his real-life wife joined the show in the role of Negan's late wife Lucille – and the end will hit pretty hard. In response to a fan's question on Twitter asking Morgan what the best thing about TWD is to him, the actor initially tossed out a more generic answer before sharing that actually knowing the show will end relatively soon is rough on both himself and the other long-time cast members.
Even though the world of The Walking Dead may not be ending in full just yet – fans won't even be saying a full goodbye to a few beloved characters upon the end of the OG series – the cast members who currently aren't guaranteed to appear in any new spinoffs seem to be feeling the looming end extra hard. It's easy to see how crestfallen Jeffrey Dean Morgan is about having to bid farewell to his role of Negan, and how heavy it is weighing on his mind, considering he talked about how rough the final stretch will be with his "second family" after being asked about the show's more positive elements. He did leave everyone with a little bit of positive news, at least: the episodes we have left of The Walking Dead are going to be some special ones.
Jeffrey Dean Morgan is no stranger to witnessing the end of long-running projects that feature very tight cast bonds. Morgan had a recurring role in Supernatural as the father of Jared Padalecki's Sam and Jensen Ackles' Dean, and that cast and crew had a famously tight relationship both on set and with the fanbase, lending to The CW keeping it around for around 15 years with a lot of the same cast. Morgan even invited some of those cast members to his wedding and got tattoos with them. How's that for family ties?
Although Jeffrey Dean Morgan did not participate in the matching ink session that some of The Walking Dead cast took part in, his wistful sentiments about the show's final batch of episodes are ones we are sure are felt by most of the cast. For some of them, the show has been a huge part of their lives for more than ten years, and those feelings are also shared on a smaller scale by millions of faithful fans. All any of us can do, though, is enjoy these last bonus episodes of Season 10 while anticipating the 11th and final season of The Walking Dead, which will hopefully arrive in October.
Constantly thinking about books, coffee, and the existential dread I feel from Bo Burnham's Inside. While writing I'm also raising a chaotic toddler, who may or may not have picked up personality traits from watching one too many episodes of Trailer Park Boys.
Your Daily Blend of Entertainment News
Thank you for signing up to CinemaBlend. You will receive a verification email shortly.
There was a problem. Please refresh the page and try again.