Where Last Chance U: Basketball's Stars Are Now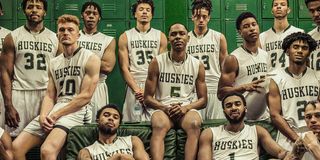 Netflix mixed things up with its popular Last Chance U docuseries in its latest installment, in which they stepped aside from Football to focus on basketball. This brought the series to the East Los Angeles College, in which they documented the Huskies and their effort to win their first-ever state title. Audiences know how that season ended, but what became of the Last Chance U: Basketball players and coaches?
Well, luckily thanks to the power of the internet and social media, we have some answers. Whether you're looking for whether Joe Hampton's gone pro yet, or if Coach John Mosley is still screaming at players and inspiring them to be their greatest selves, we have some answers. Here's what became of some of the key subjects of the series, what they're up to now, and any interesting tidbits about their time on the show along the way.
Coach John Mosley
The coach of the East Los Angeles College Huskies was the eccentric heart of the team, and definitely one of the more colorful characters on the team. One minute he'd be cool, the next he'd run up a wall and shut down practice because players weren't playing hard enough in a scrimmage. He was also a great mentor to players on the team and sacrificed a lot all season long to put his team in the best position for a chance at a brighter future at the next level.
The Last Chance U: Basketball coach is still coaching at East Los Angeles College as of 2021 and despite his recent fame from the Netflix series, still has his email up on the page for the college. It doesn't appear he has plans to leave coaching the ELAC Huskies anytime soon, which may be good news for anyone hoping the coach and a new crew of some players are featured in a potential Season 2 of the Netflix series.
Joe Hampton
Joe Hampton seemed on a clear path to the NBA, but an injury and drug issues ultimately led him to lose a scholarship at Penn State. Hampton found his way to Last Chance U: Basketball's Huskies, and while he found a second chance, his anger continued to be a problem with the team. Hampton ultimately pulled himself together thanks to the help of Coach John Mosley and may have been one of the most disappointed on the team when the Huskies' playoffs were canceled due to COVID-19.
The end of the Netflix series saw Joe Hampton transfer to Long Beach State, where he's currently playing with the team. By all accounts, Hampton has played well in his time there, and as one would expect, he's happy to be back and competing at an NCAA Division 1 school. Whether he'll make it to the NBA is still up in the air, but there's no denying he's on the right track.
Deshaun Highler
Deshaun Highler started out his basketball career at UTEP, but after his financial aid was denied, he was forced to move back home. In the course of a year, he lost both of his parents but continued to try and make his dream work on the East Los Angeles College Huskies. Deshaun did his best to improve the team's frontcourt and spent all time outside practice and games with his girlfriend Kiera Lusk.
After the show, the Last Chance U: Basketball player transferred to Sacramento State to play NCAA Division 1 ball yet again. Deshaun Highler played in 8 games of the latest season, and due to his team's performance, the two did not get an opportunity to participate in the NCAA tournament at the end of the season. For those curious, it does appear Highler and Kiera Lusk are still together, which should warm the hearts of many fans of the Netflix series.
KJ Allen
KJ Allen was a killer on the court during Last Chance U: Basketball, and it wasn't a lack of talent or discipline that kept him from playing at a Division 1 level. Allen was actually academically ineligible to play for a larger school and needed to raise his grades in order to accept a scholarship to play at the next level.
Allen did end up improving his grades, and in the process accepted an offer to one of the biggest schools to have been mentioned on this list so far. He went to the USC Trojans and will be a part of the roster during the 2021-2022 season. Compared to other Last Chance U: Basketball players and coaches he doesn't have quite as big of a social media following. That may change if he makes a splash at USC though, and he's sure to have some eyes on him in the coming year.
Malik Muhammad
Malik Muhammad was the starting center for the East Los Angeles College Huskies, though as Last Chance U: Basketball brought up several times, he wasn't the best in the backcourt. The young player got minutes over Joe Hampton, which was a point of frustration for many on the team because Muhammad slacked and often neglected doing the things he needed to get better than he already was. Muhammad was, of course, aware of his shortcomings, and revealed it was part of the reason he wasn't able to get to the next level just yet.
After the season ended prematurely, Malik Muhammad moved on from the Huskies and now plays for the NCAA Division 1 Central Michigan University Chippewas. His future is looking bright on the team, and with his major listed as psychology, it's looking like he's going to put his nose to the books just as hard as he'll hit the courts in the future. Hopefully, he's conquered his fear of reaching out to professors for help, though to his credit, I'm not quite sure that was ever a fear I got over.
Last Chance U: Basketball is available to stream on Netflix right now. It's certainly an inspirational and entertaining tale about American basketball, and each teammate highlighted is almost worthy of their own movie. Speaking of movies, be sure to read up on our list of the greatest fictional players of all time here.
Your Daily Blend of Entertainment News
Mick likes good television, but also reality television. He grew up on Star Wars, DC, Marvel, and pro wrestling and loves to discuss and dissect most of it. He's been writing online for over a decade and never dreamed he'd be in the position he is today.
Your Daily Blend of Entertainment News
Thank you for signing up to CinemaBlend. You will receive a verification email shortly.
There was a problem. Please refresh the page and try again.