Is There Another Reason Rege-Jean Page Decided To Leave Netflix's Bridgerton?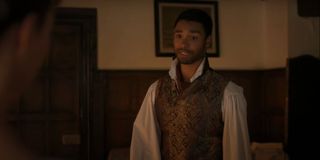 (Image credit: Neflix)
The Shondaland series Bridgerton quickly became a fan-favorite for a lot of reasons. It thumbed its nose at the idea of an all-white period piece, had some lovely pop songs remade as instrumentals and forayed into the occasional raunchy sex scene. But when the lead actor of the series, Rege-Jean Page, announced his decision to exit the series, fans were distraught and confused. According to the Duke of Hastings himself, it was always planned this way, but there might just be another reason for his leaving.
Rege-Jean Page claimed initially that he was leaving Bridgerton because Simon "The Duke of Hastings" Basset was only supposed to have a one season arc. But according to sources for The Daily Mail, the real reason could reportedly have to do with either money or the nature of the show's sex scenes that fashioned Page into a sex symbol.
The suggestion that was made is that Rege-Jean Page allegedly didn't want to film anymore of Bridgerton's notorious sex scenes that catapulted him into "sex symbol" status. The sources claim he "was privately desperately embarrassed by the adulation and attention which came with his role as the 'Duke of Bonkerton'".
If his departure really is due to the sex scenes or because of a moniker like "Duke of Bonkerton," one can't really fault Rege-Jean Page for leaving Bridgerton ahead of Season 2. Although they are not X-rated, strictly speaking, the sex scenes are incredibly graphic – especially if you're watching them with your mother. Perhaps Page wants to build his reputation on a different kind of ground than that of a sex symbol (although it didn't exactly hurt the careers of, say, Brad Pitt or Rob Lowe).
Apparently, Netflix didn't anticipate that Bridgerton would be such a runaway success – which is almost laughable considering the staying power of many of Shonda Rhimes' shows. Even after it became obvious that everyone and their mom was watching Bridgerton, nonetheless, Rege-Jean Page allegedly refused to be locked down contractually and turned down offers that were up to $500,000 to be in Season 2. The British star seemingly wanted to pursue loftier goals with probably bigger paychecks, as seen by him now in the midst of filming alongside Ryan Gosling. Sources allege to the Daily Mail:
At this point, this should all just be taken as speculation. I mean, Rege-Jean Page himself leaned into his heartthrob status and those intimate scenes during his stint on SNL and during interviews. It remains to be seen whether we'll learn anything further in regard to his exit from Bridgerton but, regardless, it's nice to see the actor is getting some other opportunities.
Movies and TV News Writer
Freelance writer. Favs: film history, reality TV, astronomy, French fries.
Your Daily Blend of Entertainment News
Thank you for signing up to CinemaBlend. You will receive a verification email shortly.
There was a problem. Please refresh the page and try again.