Bridgerton Season 2: 7 Quick Things We Know About The Netflix Series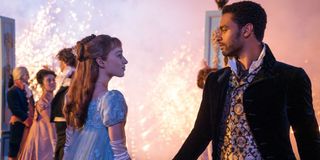 When Bridgerton dropped on December 25, 2020, I did not think that the series was going to be the megahit that it became. But, after viewing it due to multiple friends telling me to, I realized that Bridgerton is here to stay. The story was fun to watch, the character interactions interesting to see, and the never-ending gossip that seemed to spew from Lady Whistledown's pen had been intriguing and entertaining, to say the least.
Due to how popular the show became at an alarmingly quick rate, many fans have been wondering if a second season is on the way after we followed the story of Daphne and Simon. While we're sure that Bridgerton Season 2 is most likely a while away, we at least know a few things to hold over the fans until more news comes out.
Season 2 Of Bridgerton Has Already Been Confirmed By Netflix
On January 21, 2021 it was confirmed by Lady Whistledown herself (well, I mean Netflix) that there would be a Season 2 of Bridgerton, as many fans have been theorizing over the last couple of weeks.
Who would be returning exactly hasn't been confirmed, but the least we know is that Season 2 will come, along with the romantic endeavors of another Bridgerton.
Production Will Begin On Bridgerton In The Spring
Netflix themselves has confirmed that the production for Season 2 of Bridgerton will be starting in the spring of 2021. Honestly, that is very good news. Usually, when production for shows like these takes place in the spring, fans can hopefully expect the show to release the same year, even though nothing has been confirmed yet.
However, due to the ongoing pandemic, I wouldn't be putting all your eggs in one Bridgerton basket, as delays and certain issues can happen. This is a time when it's not bad to expect the worst (filming delays), but hope for the best.
Anthony Bridgerton Will Be The Main Character Featured
Per Netflix's appropriately-themed note that was released, the subject of the second season of Bridgerton will be Anthony Bridgerton, the viscount in the Bridgerton family after their father died prior to Season 1.
While Anthony Bridgerton was never my favorite character at the beginning (I mean, he picked out some horrible suitors for Daphne. Good heavens!), I can appreciate his growth near the end of the season, and, surely, watching his efforts to find the perfect woman will be just as entertaining as the first season.
Bridgerton Season 2 Will Follow How Anthony Dominates The Social Season
Back in Season 1 of Bridgerton, we constantly saw Anthony living a bachelor's lifestyle. While he did seem to take care of his family, he wasn't ready to have that same sort of responsibility on his own. He had an (almost secret) lover whom he believed he couldn't marry, and had plenty of other issues that sprang up along the way. But, when he loses her for good at the end of the season, Anthony really feels he has no other choice but to let that life go.
Now that Season 2 is going to be following the social season for him, many fans can start to wonder exactly who will be Anthony's dream girl. While the first season was based on the book The Duke and I, which followed the tale of Daphne and Simon, it hasn't been confirmed if Anthony's story will follow in that same direction, and use the second book in the series, The Viscount Who Loved Me, as its primary source, or if the series will go in a different direction for the character. Only time will tell.
A Firm Release Date For Bridgerton Season 2 Has Not Been Announced
Because Season 2 was literally just announced by Netflix, there hasn't been a set date released yet of when Bridgerton Season 2 might premiere. As I mentioned earlier, since they are going to be starting production in the spring, there's a chance that Season 2 might release later in the year, but again, don't expect the best as the pandemic continues to disrupt productions in film and television.
Jonathan Bailey Is Growing Out His Mutton Chops And Getting Into Shape
During a recent interview with Entertainment Tonight, Jonathan Bailey, the actor who portrays Anthony in Bridgerton, recently spoke out about how he's currently getting into shape and growing out his mutton chops, which will be seen in those scenes that everyone has come to... ahem, appreciate from the show.
Since Anthony is going to be the star of Season 2, fans can only assume that he is going to be a part of sexy scenes much more. As Bailey said:
Will Simon And Daphne Be Back In Season 2? The Showrunner 'Hopes So'
While an official cast list has not yet been announced for Bridgerton Season 2, the show's showrunner, Chris Van Dusen, recently did an interview with TODAY and talked about how he thinks that they will all return, as they are Bridgertons and will always be a part of that family no matter who is the star of the social season. When asked about Daphne and Simon coming back, Van Dusen noted:
In another interview with Deadline, Phoebe Dynevor, the actress who portrays Daphne Bridgerton, recently said that while Season 2 would primarily focus on the tales of Anthony and his love life, there would probably be some aspects from Season 1 that would return, including her character.
Even so, Dynevor still didn't officially confirm that she would be returning, along with her Duke husband in the show, Simon, played by Rege-Jean Page. Fans can only hope that they will come back for some fun in Season 2.
It would be quite funny to sort of see Daphne flip the script on her brother after he had been continuously involved with her affairs during Daphne's own social season, and then have Daphne begin to meddle in his life.
However, since there hasn't been a confirmed cast list released yet, fans of the show must still wait for something to come out that says they will be returning. Viewers of Bridgerton will just have to rewatch Season 1 to relive their Bridgerton dreams until a Season 2 date is officially announced. At least audiences will have those sexy scenes to hold them over until then.
With all this new gossip, I'm sure Lady Whistledown is going to have a field day with this. What are you excited for in Season 2 of Bridgerton? Tell us in the poll below!
This poll is no longer available.
Your Daily Blend of Entertainment News
Big nerd and lover of Game of Thrones/A Song of Ice and Fire. Will forever hate season eight. Superhero and horror geek. And please don't debate me on The Last of Us 2, it was amazing!