Bridgerton's Phoebe Dynevor Is Filming Her First Movie, And We've Finally Gotten The First Look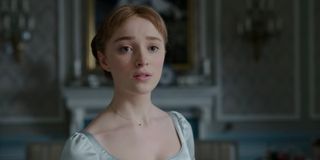 Bridgerton's massive success on Netflix has introduced a young and talented cast to the world, as well as positioned its stars to branch out and thrive. Regé-Jean Page recently hosted Saturday Night Live and has scored some major movie roles, thus cementing himself in the mainstream. Now Phoebe Dynevor is set to enter the world of feature films later this year in The Colour Room.
Let's take our first look at Phoebe Dynevor in the role of Clarice Cliff, as shared by Sky TV:
The Colour Room is a Sky Original film coming later this year featuring Phoebe Dynevor alongside The Walking Dead's David Morrissey, Mathew Goode and The Irregulars actor Darci Shaw. The film is shaping up to be an interesting first film endeavor for Dynevor.
The Colour Room follows Clarice Cliff (Phoebe Dynevor) revolutionizing the workplace in 20th century England with her creativity and determination, while simultaneously navigating the difficulties of being a woman in the taxing environment of 1920s factories. Mathew Goode plays charismatic factory owner Colley Shorter, who Clarice must stay one step ahead of to get the most out of her talent.
Phoebe Dynevor's Clarice Cliff is taken under the wing of David Morrissey's character, an art designer named Fred Ridgeway. Clarice makes a name for herself in the factory during the Great Depression, becoming an inspiration for other women in the factory and paving her way to becoming a renowned Art-Deco designer in her own right.
The Colour Room is shaping up to be another successful Sky Original release that is part of a stacked upcoming 2021 lineup. Some great performers and filmmakers, including Star Trek alum Patrick Stewart, Lena Heady from Game of Thrones and Andy Serkis of Lord of The Rings fame, among others, will all have projects launching with Sky Originals. Phoebe Dynevor is in great company, and it looks like Bridgerton's popularity will ensure The Colour Room will draw a lot of eyes.
With Season 2 of Bridgerton on the way (though it hasn't started filming yet), the cast is certainly taking advantage of the show's success and the hard work they put into it. With The Colour Room, Phoebe Dynevor has taken a big step, and it's probably a good sign that the stars of Bridgerton will most certainly be appearing in bigger projects down the line.
It will be interesting seeing the new projects and roles that the Bridgerton cast members take on in the future. Phoebe Dynevor is undoubtedly putting the fruits of her labor to good use as she performs in The Colour Room. Stay tuned to CinemaBlend for updates on that project and other things her fellow Bridgerton actors have lined up.
Your Daily Blend of Entertainment News
Movie and TV obsessive. A good Heist movie is the way to my heart. Enjoyer of everything from Marvel Movies to Rom-coms.
Your Daily Blend of Entertainment News
Thank you for signing up to CinemaBlend. You will receive a verification email shortly.
There was a problem. Please refresh the page and try again.