Dog The Bounty Hunter's New Show Was Canceled And Now There's A Lawsuit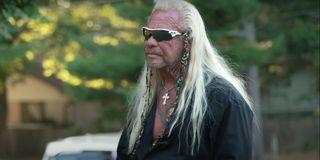 Dog the Bounty Hunter is known for tracking down wanted fugitives, but it looks like the infamous reality star is embroiled in a legal drama of his own that continues to heat up. His newest show, Dog Unleashed, was canceled before it even aired, with Unleashed Entertainment claiming that he had breached his contract. Dog the Bounty Hunter responded a few days ago in a series of tweets that seem to imply wrongdoing by the production company, not himself. Now there's a lawsuit involved that might complicate matters further.
According to Law360.com (via Taste of Country), the lawsuit is being brought by Unleashed Entertainment against CBD Global Sciences, which Dog the Bounty Hunter was supposedly partnered with to create CBD products under the name "Dog Unleased CBD." The production company accuses CBD Global Sciences and Dog the Bounty Hunter of using marketing materials from the new show to generate "ill-gotten profits" to the sum of more than $100,000.
The wrongdoing that Dog the Bounty Hunter is accused of potentially plays into why his new show Dog Unleashed was canceled in the first place. Originally, Unleashed Entertainment only said in its statement that they "greatly respect" Dog the Bounty Hunter's work but that his "actions taken" during production prompted the cancellation after an investigation was made. Following Dog the Bounty Hunter's tweets on the matter, the production company's president and CEO Mike Donovan had stronger language this time around about the reality star:
Unleashed Entertainment didn't specify further about what "racist and homophobic comments" were allegedly said by Dog the Bounty Hunter or to who. But the "illegal activity" seems as if it could be in reference to the now issued lawsuit against CBD Global Sciences.
Dog the Bounty Hunter has never shied away from controversy before, and in tweets earlier this week accused Unleashed Entertainment of alleged illegal activity. The statements are a bit disjointed, but seem to claim that the production company has "hacked" and "hijacked" the reality star's business and site. The Unleashed TV streaming platform is, in fact, now missing from searches. In another tweet, Dog the Bounty Hunter appears to be claiming that he owns the trademark to his name of the marketing materials in question.
The reality star, who was diagnosed with a life-threatening condition in 2019, even makes mention of his late wife Beth Chapman in the tweets. He warned against someone called John Buffam and Richard Moore, the latter of whom Dog the Bounty Hunter claimed that his wife of 13 years "did not like" in a now-deleted tweet.
Dog the Bounty Hunter has headlined several shows over the years, with his namesake original show on A&E lasting eight years. Dog Unleashed would have been his first show since 2019. But he's not out of the dog house – yet. Check back here for further updates on the situation as it unfolds.
Freelance writer. Favs: film history, reality TV, astronomy, French fries.
Your Daily Blend of Entertainment News
Thank you for signing up to CinemaBlend. You will receive a verification email shortly.
There was a problem. Please refresh the page and try again.