Dog The Bounty Hunter Paid Tribute To Beth Chapman Through Holiday Decorations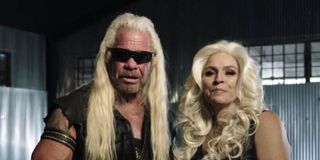 2019 has been very hard on Duane "Dog" Chapman and his family. After his wife Beth Chapman's passing earlier this year, he and his kids are still grieving. In the midst of that, Dog was hospitalized for a "life-threatening condition" earlier this year, as were his son Garry and daughter Bonnie Jo. However, knowing how much Beth loved Christmas, Dog the Bounty Hunter paid tribute to his late wife through holiday decorations and it was incredibly moving and thoughtful.
Dog the Bounty Hunter and his family spent their holiday in his Colorado home, decking their Christmas tree with all of Beth's favorite ornaments. It was a way for them to keep both the spirit of the holiday season and her memory alive in this difficult time. According to sources close to Dog Chapman, the star of Dog's Most Wanted didn't have the heart to put up any new decorations atop the tree, opting out of replacing any of Beth's decor this year for emotional reasons.
Putting up the late reality star's decorations wasn't the only way Dog the Bounty Hunter and his kids paid tribute to Beth, 51, who died following a long battle with throat cancer in June. Per TMZ, the Chapman's holiday dinner included several of Beth's beloved recipes, including deviled eggs with jalapenos, sweet potatoes lathered in brown sugar and corn syrup, and homemade apple cider. It's fitting because Beth used to make these recipes and cook for everyone for Christmas.
While it's been a tough time, Dog Chapman has been no stranger to opening up about his feelings regarding missing Beth, expressing his grief, his health issues, and his struggles with being intimate with anyone after her death. In addition, Dog said he "wasn't able to handle" watching Beth in episodes of Dog's Most Wanted, which documented Beth's battle with cancer and treatment on the show.
Related: Duane Chapman Remembers Late Wife Beth On Her Birthday
It's no surprise that the family went all out given that it's their first Christmas without Beth Chapman. I'm sure it was an incredibly emotional time for Dog and his kids, though they were at least surrounded by several close family and friends throughout the holidays. Still, the grief is relatively fresh and the holidays don't make it any easier, but Dog has always done his best to ensure Beth's memory continues to live on in everything he and his family do.
Duane "Dog" Chapman can still be seen on Dog's Most Wanted, which airs Wednesdays at 9 p.m. on WGN America. Check local listings for more information. For more on what to watch in the new year, be sure to check out our complete midseason schedule to find out when every new and returning show will be premiering in the winter and spring of 2020.
Your Daily Blend of Entertainment News
Your Daily Blend of Entertainment News
Thank you for signing up to CinemaBlend. You will receive a verification email shortly.
There was a problem. Please refresh the page and try again.