New Amsterdam's Anupam Kher Isn't Returning To The Show, Here's The Latest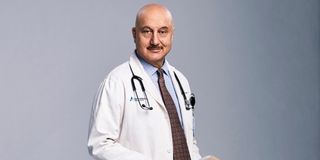 Even though New Amsterdam hasn't been back on NBC for very long since its long hiatus, the cast is already seeing a big shakeup. One doctor has officially checked out and won't be coming back. Dr. Kapoor is out!
Anupam Kher, who portrays Dr. Vijay Kapoor on the NBC medical drama, has officially left the series after three seasons, according to EW. Kher is one of the show's original cast members, but in the April 13 episode, it was revealed that Dr. Kapoor had resigned from New Amsterdam Medical Center.
Anupam Kher's wife, Kirron, has been battling cancer and the actor confirmed the diagnois via a statement earlier this month. The diagnosis is likely the reason for Kher departing the series he's been on since the beginning and it will be hard to not see Dr. Kapoor every week anymore.
Fans said goodbye to Dr. Kapoor in the latest episode of New Amsterdam, following the character's recovery from COVID-19 and heart surgery. While Dr. Kapoor wasn't killed off, he didn't leave the Medical Center in the best way: he sent an email to the Neurology department to announce his resignation.
Even though he didn't leave on the best of terms with his fellow coworkers, he still made a big impact on them, and fans watching. Since the show didn't kill him off, it's still possible that he could return in a future season, even if it is just a one-off.
Season 3 of the NBC medical drama has already been big, as the series returned at the beginning of March with the show still dealing with the COVID pandemic and looking ahead to address systemic racism. New Amsterdam is one of many shows involving both heavy storylines, but it looks as if the COVID storyline was the perfect one to write off Dr. Kapoor, while also still leaving the door open if Anupam Kher were to return.
Even though it will be weird to watch New Amsterdam without Dr. Kapoor, one can only hope it won't be forever. But what could be next for the New Amsterdam gang? Will there be a new doctor to take Kapoor's place or will there just be an emptiness in the halls and lobby that will be felt for the remainder of the season? The show did fortunately introduce a very capable interim chief of Neurology, but star exits from any show are hard, especially if the actor has been on the series since the very beginning, much like Anupam Kher.
There are clearly still some open wounds that need to be stitched at the hospital, especially with Iggy, who was furious that his friend didn't even think to mention the resignation. Hopefully this won't be the end of Dr. Vijay Kapoor. We are sending the best wishes and prayers to Kirron Kher and hope she's doing alright.
Your Daily Blend of Entertainment News
Passionate writer. Obsessed with anything and everything entertainment, specifically movies and television. Can get easily attached to fictional characters.
Your Daily Blend of Entertainment News
Thank you for signing up to CinemaBlend. You will receive a verification email shortly.
There was a problem. Please refresh the page and try again.