How NCIS: New Orleans Will Handle COVID-19 In Season 7 Premiere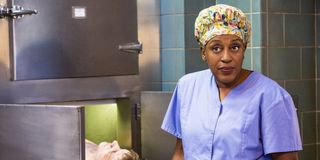 TV productions are slowly starting to resume filming. Scripted series, game shows and reality series like Big Brother All-Stars have returned with several key changes to daily production to ensure the safety and health of all involved. Of course, these changes are being implemented due to the global pandemic, but a number of shows are expected to tackle it as a storyline as well. CCH Pounder recently explained how NCIS: New Orleans will handle COVID-19 in the Season 7 premiere.
As with every show, NCIS: New Orleans had to shut down production in March due to COVID-19. CCH Pounder figured it would be two weeks before production was back up and running but, of course, that didn't end up being the case. The series will resume filming in late August/early September, and NCIS will tackle COVID-19 right out of the gate in the Season 7 premiere. Here's what Pounder told TVLine:
NCIS: New Orleans isn't the only show that will include a storyline about the pandemic given recent events. Grey's Anatomy will also include a COVID-19 arc in Season 17, which makes sense considering it's a medical drama. The Good Doctor will also tackle the pandemic episode, while New Amsterdam's showrunner says it would be "irresponsible" to ignore it in Season 3.
What's more, CCH Pounder's Dr. Loretta Wade will be at the center of the COVID-19 storyline when NCIS: New Orleans returns next season. The story will actually be set in the early days of the pandemic, with Loretta being impacted personally after the body of someone she knows — and whom she had counseled on how best to protect against the coronavirus — arrives at the morgue. Here's what Pounder had to say about her character's arc:
CCH Pounder adds that the NCIS pandemic story will be "reflective" of what happened in New Orleans until the mayor "put her foot down" on restrictions that helped lower the number of COVID cases. All that said, I wonder if the pandemic storyline will be relegated to one episode and how it will impact the overarching plot of the season. I suppose we'll find out soon enough.
NCIS: New Orleans Season 7 does not yet have a scheduled premiere date, but stay tuned to CinemaBlend for updates. In the meantime, be sure to check out our 2020 fall TV premiere schedule for more options.
Your Daily Blend of Entertainment News
Thank you for signing up to CinemaBlend. You will receive a verification email shortly.
There was a problem. Please refresh the page and try again.