Shows Like New Amsterdam: What To Watch If You Love The Medical Drama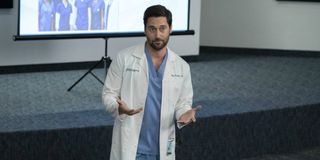 CinemaBlend participates in affiliate programs with various companies. We may earn a commission when you click on or make purchases via links.
Medical dramas. They've been around for decades now, showing what life could be like working in a hospital – while not all the times realistic. Pretty sure not everyone is getting freaky in the sheets of a hospital room. However, that doesn't mean that the shows aren't entertaining at all. One of those shows that has been around since 2018 and has become a leader in medical dramas in New Amsterdam.
The show tells the story of Dr. Max Goodwin, who becomes the director of one of the oldest public hospitals in the United States, wanting to reform the neglected facility by basically rebuilding it anew. But while this show is a lot of fun and full of plenty of emotional beats, there are several other shows like New Amsterdam that you can stream. From big hits like House to newer series' like Transplant, these are the best shows out there for you to watch, from shows on Netflix to ones on Peacock.
Grey's Anatomy (Netflix)
When I think of the term "medical drama," I think of Grey's Anatomy, the medical drama that's been around since 2005. The popular show centers around the life of Meredith Grey, an aspiring surgeon who is the daughter of one of the best surgeons, Dr. Ellis Grey. The series also follows the professional and personal lives of several other characters, all of which work in Grey Sloan Memorial Hospital.
What really makes Grey's Anatomy one of the best shows to watch if you love New Amsterdam is that it pays attention to the character relationships very well. Since the show has been on for so long, there are several seasons where you get to see these characters, especially Meredith, grow and shape themselves over time, coming into their own. While it can be almost a little too dramatic at times, it's worth the watch.
Stream Grey's Anatomy on Netflix here (opens in new tab).
This Is Us (Peacock)
Okay, so it's not a medical drama, but there are several reasons why This Is Us is for New Amsterdam fans. This Is Us tells the story of the Pearson family, a modern American family with triplets – two of which are biological and one who is adopted, and the troubles and tribulations that they all face in their individual lives, as well as when their lives form together.
As I said, there isn't anything super medical on this show unless you count the births of babies (which does seem to happen quite often). However, the reason I put this on here is that the same emotional beats that you'd expect from New Amsterdam come in This Is Us. There are so many moments where all you want to do is jump into the TV screen and hug the characters. You grow so attached to them. It's perfect for the viewer who loves to laugh and cry during the same episode.
Stream This Is Us on Peacock here (opens in new tab).
Chicago Med (Peacock)
Moving back into medical drama territory, Chicago Med is part of the whole One Chicago franchise, which includes Chicago P.D. and Chicago Fire. Chicago Med however focuses solely on the emergency department at the Gaffney Chicago Medical Center, and on the doctors and nurses, working to save the patient's lives.
Personally, this is one of my favorite out of all of them on the list, because honestly, it feels a lot more realistic than many of the medical dramas here. While I do enjoy the classic crazy drama that shows like Grey's Anatomy can provide, there's something so authentic about Chicago Med. It doesn't sugarcoat a lot of the issues or patients that happen in the hospital, and everything feels much more serious as it takes place in the emergency room, where problems happen fast. It's definitely a fun time.
Stream Chicago Med on Peacock here (opens in new tab).
The Good Doctor (Hulu)
Now we head on over to The Good Doctor, a show that tells the story of Dr. Shaun Murphy. Murphy, a surgeon, and has actually been diagnosed with autism and savant syndrome. He relocates from Wyoming to work at the prestigious San Jose St. Bonaventure Hospital.
The Good Doctor became a runaway hit for ABC, now onto its fourth season after its initial first season run back in 2017. While some of the storylines can sometimes seem a little unrealistic (like walking into the OR without a mask, like what?), you can't deny that it's most certainly an interesting aspect. A surgeon with not only autism but savant syndrome really bodes well in terms of creativity, with plenty of memorable characters, and Freddie Highmore has done a great job portraying Dr. Shaun Murphy. For fans of New Amsterdam, you'll like this clever show.
Stream The Good Doctor on Hulu here (opens in new tab).
House (Peacock)
Ah, House. I have fond memories of coming down my stairs in my childhood home and hearing the opening theme of this classic medical drama. House is all about Dr. Gregory House – who, is admittingly, a bit of a mess. He's anti-social, addicted to pain killers, and also witty and arrogant – with half of a muscle in his right leg.
While other shows on this list focus on many aspects of hospital life, House takes a glance at what it's like to diagnose and cure rare and complex diseases. And honestly, Dr. Gregory House is a wonderful anti-hero, he's so messed up in so many ways but he's also such an interesting person with a compounded personality. It's certainly a bit of a change from a show like New Amsterdam, but I have hope that if you like strong protagonists, you'll like House.
Stream House on Peacock here (opens in new tab).
The Night Shift (Netflix)
The premise of The Night Shift is exactly what you would expect it to be about – what working on the quote unquote "night shift" is all about in San Antonio Memorial Hospital, where you would run into some of the strangest and most interesting medical cases.
For fans of New Amsterdam, I feel like The Night Shift is the perfect fit, because a lot of the cases that appear in The Night Shift, remind me of some of the instances in New Amsterdam, due to the severity of some of the situations that occur when someone comes into the hospital late at night. The drama can be a bit over-the-top, but it's nothing that New Amsterdam fans aren't used to at this point. And since there's only a couple of seasons to binge, you'll get through it in no time.
Stream The Night Shift on Netflix here (opens in new tab).
A Million Little Things (Hulu)
Another drama that isn't related to anything medical on this list, A Million Little Things will capture your heart and more. The story takes place in Boston, after a group of friends suddenly loses one of their friends by suicide, and have to figure out how to go about their lives after the horrible loss.
Again, this show has nothing to do with hospitals or medical drama, but it's truly one of the best dramas out there because it deals with a theme that many hospital shows tackle, as well as New Amsterdam – the feeling of loss, of losing someone that you truly love. And A Million Little Things talks about it so beautifully, you'll find yourself learning life lessons from this ABC hit. Friendship isn't one big thing – it's "a million little things."
Stream A Million Little Things on Hulu here (opens in new tab).
Transplant (Peacock)
As the newest entry on this list and probably one of the most unknown, Transplant is a lot of fun for a medical drama. The series focuses on Dr. Bashir Hamed, a doctor from Syria with "battle-tested" skills in emergency medicine, who fled his country with his sister. The first season covers their struggles trying to rebuild a new life in Canada, as well as Hamed's career in medicine.
Renewed for a second season, Transplant is what New Amsterdam fans would love to watch, especially since there is only one season out right now. With the same medical scenes that you would expect, Transplant offers plenty of those and more with a rich storyline that really shows a true rags-to-riches story – in a different kind of way. Bashir really makes you cheer for him, and I'm sure you'll continue to do so as soon as the second season premiers.
Stream Transplant on Peacock here (opens in new tab).
ER (Hulu)
Moving onto another series focused around the emergency room, we take a look at the appropriately named ER. The series, as you would expect, tells the challenges of what the doctors, nurses, and staff face on a daily basis in County General Hospital, a fictional level-one trauma center in Chicago (yet again).
ER is the epitome of what a medical show should be. While it's most certainly a bit more intense than New Amsterdam, it provides just as much drama as you would expect. Plus, ER ran for fifteen seasons, which shows just how popular it was, from 1994 to 2008. Shows like ER are what truly made the medical drama genre so popular, so if you're really into it, definitely check out this iconic series.
Stream ER on Hulu here (opens in new tab).
The Resident (Hulu)
As my last entry on this list, that doesn't mean The Resident isn't brilliantly addicting. The Resident is all about a young doctor who begins his residency at a hospital under the supervision of a senior resident who appears to be a normal, tough, and super smart guy. But inside, he's a cunning, dangerous, and deadly psychopath.
It's most certainly the darkest TV show on this list, but my god is it so much fun. While New Amsterdam is about what you would expect when you think of medical dramas – big operation scenes, emotional moments, strong character development over seasons – The Resident takes all of that and turns it on its heels, upping the stakes more so now that a menacing doctor is a part of the main lineup. With three seasons streaming and a fourth season currently on, now is the perfect time to take a little break from the typical medical drama and step into the dark side.
Stream The Resident on Hulu here (opens in new tab).
Which ones are you looking forward to watching? I know that I'm going to have the check my 2021 TV schedule to make sure I don't miss a single premiere. With how many episodes these medical dramas have, I'm sure you'll be entertained for years to come.