Julia Louis-Dreyfus' Reaction To The Falcon And The Winter Soldier Shocker Pretty Much Says It All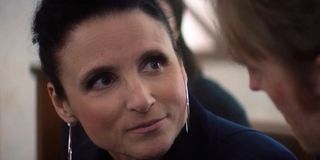 The latest episode of Marvel Studios and Disney+'s The Falcon and the Winter Soldier included multiple shockers. One of these was the introduction of a new character, and possible ally to John Walker, played by Julie Louis-Dreyfus, and the Veep actress' reaction says it all.
Keeping secrets is Marvel Studios' superpower and the latest one came as a major surprise to many fans watching. After John Walker is stripped of his role as Captain America, and as a representative of the United States government and its military, he's hit rock bottom. However, Julia Louis-Dreyfus' mysterious Contessa Valentina Allegra de Fontaine enters. Or to her preference, you can call her "Val," but only in your head. Louis-Dreyfus reacted to her best-kept secret on Twitter, holding a card with Valentina Allegra de Fontaine on it and her shocked expression proves a picture is worth a thousand words:
Although Julia Louis-Dreyfus' scene with Wyatt Russell's John Walker was brief, it was definitely memorable. After introducing herself to the former Captain America, she tells Walker she believes he did the right thing by killing the Flag-Smasher and that she knows he took the super soldier serum. Before he can get a word in, she states that she will be in touch with him and gives him a blank card.
It's unknown what part Val will play in the season finale, if she even appears at all. Some comic fans have noticed that she could be the MCU version of Madame Hydra, which would make her an even more formidable enemy in the future. And whether or not Walker will team up with Val remains to be seen, though it should be interesting to see how things pan out.
La Contessa Valentine Allegra de la Fontaine made her first appearance in "Nick Fury, Agent of S.H.I.E.L.D." for Strange Tales #159 in 1967. She's an espionage agent whose affiliations include Leviathan, Hydra and J.A.N.U.S. along with S.H.I.E.L.D. With Val's history with HYDRA and S.H.I.E.L.D., it's hard to figure out which side she's actually on. Now that Walker's been stripped of everything he ever trained and worked for, that might set him over the edge and lead him to go after something even bigger and more dangerous.
The final episode of the first season of The Falcon and the Winter Soldier drops on Friday, meaning everything is on the line. It's hard to predict will happen, since Marvel has surprised us numerous times in the past. If Val were to return, it would be interesting to see if she and Walker will connect again and discuss more plans for the future. Julia Louis-Dreyfus has already killed it in the brief time she's been on screen, so hopefully she'll be shaking things up in the MCU sooner rather than later.
The Falcon and the Winter Soldier releases its final episode this Friday on Disney+.
Your Daily Blend of Entertainment News
Passionate writer. Obsessed with anything and everything entertainment, specifically movies and television. Can get easily attached to fictional characters.
Your Daily Blend of Entertainment News
Thank you for signing up to CinemaBlend. You will receive a verification email shortly.
There was a problem. Please refresh the page and try again.