Veep Cast: What The Actors Are Doing Now, Including Julia Louis-Dreyfus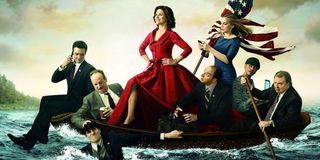 It's hard to believe that nearly two years have passed since HBO's Veep left the air. The widely acclaimed, multi-award-winning political satire created by Armando Iannucci as an American adaptation of The Thick of It became one of the television's sharpest, most biting comedies, resulting in many Emmy wins for Julia-Louis Dreyfus and Tony Hale, while also earning praise for Anna Chlumsky, Reid Scott, Timothy Simons, Matt Walsh, Gary Cole, and Clea DuVall. Now that the show is concluded, however, what is the Veep cast doing now? Let's find out what's next for this award-winning ensemble.
Julia Louis-Dreyfus (Selina Meyer)
As Selina Meyer, our titular Vice President, i.e. "Veep," who eventually campaigns for the presidency, Julia Louis-Dreyfus won nine Emmys — as an actress and producer — for her comical work on HBO's series. The actress is also known for her Emmy-winning performance as Elaine Benes on NBC's beloved sitcom, Seinfeld. She also held the title part on CBS's The New Adventures of Old Christine, which resulted in another Emmy win for the well-recognized performer. Additionally, Louis-Dreyfus was an SNL cast member from 1982 through 1985. Her other TV credits include Day by Day, Curb Your Enthusiasm, and Watching Ellie.
In film, Julia Louis-Dreyfus starred in Enough Said and appeared in Troll, Hannah and Her Sisters, Soul Man, National Lampoon's Christmas Vacation, Fathers' Day, and Jack the Bear. She also lent her voice to A Bug's Life, Planes, and The Simpsons. Most recently, the actress was seen in Downhill, which she also produced, and heard in Onward. Her next project hasn't been announced yet, though she signed a deal with Apple last year.
Anna Chlumsky (Amy Brookhemier)
In the role of Amy Brookhemier, the vice president's chief of staff who later became her campaign manager, Anna Chlumsky played an outspoken woman who knew how to dress people down in a competitive political landscape. She received six Emmy nominations for her standout performance. Outside of Veep, Chlumsky played Vada Sultenfuss in 1991's My Girl and its 1994 sequel. Her other film credits include Blood Car, In the Loop, Uncle Buck, The Good Guy, Bert and Arnie's Guide to Friendship, The End of the Tour, and Apple TV+'s Hala.
Additionally, on television, Anna Chlumsky can be seen in Hannibal and Halt and Catch Fire. Next, the actress appears in Netflix's limited series, Inventing Anna. She'll also lend her voice to Paramount+'s Rugrats.
Tony Hale (Gary Walsh)
Playing the part of Gary Walsh, Selina's personal aide, Tony Hale won two Emmys for his standout role in HBO's Veep. Hale is also known for playing Buster Bluth in Fox/Netflix's Arrested Development. His other television credits include Chuck, ER, Drunk History, A Series of Unfortunate Events, and When the Streetlights Go On. On the big screen, Hale can be seen in The Informant!, The Heat, Alvin and the Chipmunks: The Road Chip, The 15:17 to Paris, Transformers: The Last Knight, American Ultra, Stranger Than Fiction, Unaccompanied Minors, RV, and Love, Simon. He also voiced Forky in Toy Story 4 and Disney+'s Forky Asks a Question. His other voice roles include Harley Quinn, Crossing Swords, and The Angry Birds Movie.
Next, Tony Hale will appear in Clifford the Big Red Dog, Eat Wheaties!, What Josiah Saw, Nine Days, and Being the Ricardos. He'll also be heard in Netflix's Arlo the Alligator Boy. His upcoming TV credits include The Mysterious Benedict Society and voice roles in Fox's Housebroken and Paramount+'s Rugrats.
Reid Scott (Dan Egan)
As Dan Egan, the Vice President's Deputy Director of Communications who temporarily became Selina Meyer's campaign manager, Reid Scott was a cocksure character in HBO's Veep. Outside of this series, Scott played Brendan "Brando" Dorff in TBS's My Boys. The actor also played notable supporting roles in Venom, Home Again, and Late Night. Scott's other film credits include Black and Blue, Dean, Bickford Shmeckler's Cool Ideas, Losing Control, Slow Learners, and I'll See You In My Dreams.
In TV, additionally, Reid Scott can be seen on The Big C, Why Women Kill, Will & Grace, The Secret Life of the American Teenager, American Dreams, and It's All Relative. He also voiced Turbo in Netflix's Turbo FAST. Next, Scott will be seen in Venom: Let There Be Carnage. He'll also star in NBC's drama, Echo.
Timothy Simons (Jonah Ryan)
In the role of Jonah Ryan, the White House liaison between the West Wing and the Vice President's office, Timothy Simons played a noisy character who didn't make the best first (or second...or third) impression. Outside of this series, Simons is known for playing The Eagle in Hulu's Looking For Alaska. His notable film credits include The Interview, Inherent Vice, Draft Day, Goosebumps, Christine, Digging for Fire, The Boss, Gold, The Hustle, Happiest Season, Irreplaceable You, and Yes, God, Yes. He can also be heard in Rise of the Teenage Mutant Ninja Turtles, Big Hero 6: The Series, and Ralph Breaks the Internet.
Next, Timothy Simons will be seen in Shoot the Rooster, Home Alone, and Don't Worry Darling. He'll also be heard in Paramount+'s Rugrats.
Matt Walsh (Mike McLintock)
Playing the part of Mike McLintock, Selina Meyer's VP Director of Communications turned White House Press Secretary during her first term in office, Matt Walsh received two Emmy nominations for his prominent role in HBO's Veep. Away from this series, Walsh was a correspondent on The Daily Show with Jon Stewart. He can be seen in Reno 911!, Dog Bites Man, Human Giant, Players, Little Britain USA, Comedy Bang! Bang!, Hung, Brooklyn Nine-Nine, and Drunk History. Additionally, Walsh is a founding member of the Upright Citizens Brigade, and he co-starred in their original show and their 2015 reboot.
Additionally, Matt Walsh's film credits include Brigsby Bear, Ghostbusters (2016), Old School, Into the Storm, Ted, Life of the Party, Semi-Pro, The Hangover, A Futile and Stupid Gesture, Widows, Office Christmas Party, The Do-Over, Cyrus, The Goods: Live Hard, Sell Hard, Elf, and Mystery Team. Most recently, Walsh starred in the short film, Gravy. Next, he'll be seen in Unplugging, which he co-wrote and produced. Walsh will also appear in Press Play and the upcoming series, Today's Special.
Sufe Bradshaw (Sue Wilson)
As Sue Wilson, the Vice President's personal secretary, Sufe Bradshaw played a direct, no-nonsense personality on Veep for five seasons. She can also be seen in Star Trek (2009), Murder Mystery, Dance Flick, and First One In. Additionally, the actress appeared in Lovecraft Country, The Guest Book, Rizzoli & Isles, Bones, Prison Break, Southland, ER, and Cold Case. Outside of acting, Bradshaw produced 2016's All Out Dysfunktion!
Next, Sufe Bradshaw stars in the new series, Hidden Canyons. She was also seen in Together Together, which premiered at the Sundance Film Festival. The actress will also appear in The Disappearance of Mrs. Wu, Metal Lords, Val, Rise, and Gasoline Alley.
Kevin Dunn (Ben Cafferty)
In the role of Ben Cafferty, the White House Chief of Staff, Kevin Dunn played a depressed but insightful character in Veep starting in Season 2. His other notable credits include Dave, Godzilla (1998), Small Soldiers, Unstoppable, and the first three Transformers movies. Additionally, Dunn can be seen in Nixon, Hot Shots!, Blue Steel, Mississippi Burning, The Bonfire of the Vanities, Chaplin, Little Big League, Snake Eyes, I Heart Huckabees, Vicky Christina Barcelona, Warrior, Jobs, Draft Day, Stir of Echoes, Almost Heroes, and Chain Reaction.
Outside of film, Kevin Dunn appears in True Detective, Code Black, The Night Of, Ghosted, Luck, Samantha Who?, 7th Heaven, Bette, Arsenio, and Day By Day. As a voice actor, meanwhile, he was heard in Fox Kids' Godzilla and Cartoon Network's Scooby-Doo! Mystery Incorporated. Next, Dunn will be seen in Netflix's Thunder Force. He'll also be seen in Catch the Fair One. Additionally, the actor is signed on to appear in Netflix's God's Favorite Idiot.
Gary Cole (Kent Davison)
Playing the part of Kent Davison, the President's Senior Strategist, Gary Cole became a prominent player in Veep starting in Season 2. He received an Emmy nomination for this performance in 2014. An accomplished character actor with nearly 200 credits on his resume, Cole is best known for playing Bill Lumbergh in Office Space, Cotton McKnight in Dodgeball: A True Underdog Story, Reese Bobby in Talladega Nights: The Ballad of Ricky Bobby, and Mike Brady in The Brady Bunch Movie and A Very Brady Sequel. The actor also lends his voice to the title character on Adult Swim's Harvey Birdman, Attorney at Law and Timothy Possible on Disney Channel's Kim Possible.
Additionally, Gary Cole's other notable film credits include One Hour Photo, Pineapple Express, A Simple Plan, The Gift, Blockers, The Ring Two, and Cry Wolf. Cole is also known for his work in The West Wing, Desperate Housewives, Entourage, The Good Wife, Suits, and Chicago Fire. Currently, the actor appears on ABC's mixed-ish. He can also regularly be heard in Fox's Bob's Burgers.
Sam Richardson (Richard Splett)
As Richard Splett, an amiable campaign aide during Selina's book tour, Sam Richardson joined Veep in Season 3. Most notably, Richardson played Sam Duvet in Comedy Central's Detroiters, which he also wrote, produced, and co-created. Recently, Richardson played Paul in Promising Young Woman. His other film credits include Mike and Dave Need Wedding Dates, Neighbors 2: Sorority Rising, Ghostbusters (2016), Good Boys, Game Over Man!, The House, Office Christmas Party, Horrible Bosses 2, Spy, We're the Millers, Hooking Up, and Superintelligence.
Additionally, Sam Richardson's other television credits include The Second City Project (where he also wrote), Rise of the Teenage Mutant Ninja Turtles, I Think You Should Leave with Tim Robinson, and The Office. He can also be heard in Ralph Breaks the Internet, Archer, BoJack Horseman, Hoops, and Woke. Next, Richardson will be seen in The Tomorrow War, Werewolves Within, Shoot the Rooster, and The Afterparty. The actor will also be heard on M.O.D.O.K. and Housebroken.
Sarah Sutherland (Catherine Meyer)
In the role of Catherine Meyer, Selina's reserved daughter, Sarah Sutherland was a frequently dismissed character on HBO's Veep. Outside of this show, the actress can be seen on The Newsroom and Tim and Eric's Bedtime Stories. Additionally, in film, Sutherland appears Shut Up and Drive, Pretty Perfect, Innocence, Beneath the Harvest Sky (which she also produced), and What They Had. The actress also appeared in the short film, Snuggle Bunny: Man's Most Lovable Predator. Most recently, Sutherland was seen in The Kid Detective. Next, the actress appears in Like a House on Fire, which premiered at TIFF.
Clea DuVall (Marjorie Palmiotti)
Playing the part of Marjorie Palmiotti, Selina's lookalike bodyguard, Clea DuVall joined Veep starting in Season 5. Outside of this series, she appeared in But I'm A Cheerleader, Girl, Interrupted, 21 Grams, Argo, Zodiac, She's All That, The Grudge (2004), Identity, The Faculty, Can't Hardly Wait, All About Nina, Ghosts of Mars, The Astronaut's Wife, and Little Witches. Additionally, on TV, DuVall appears in Heroes, Carnivale, The Lizzie Borden Chronicles, American Horror Story: Asylum, The Handmaid's Tale, Broad City, Better Call Saul, and Grey's Anatomy. Additionally, DuVall wrote, directed, starred in, and produced 2015's The Intervention. The actress also directed an episode of Looking For Alaska, as well as Tegan and Sara music videos.
Most recently, Clea DuVall co-wrote and directed Hulu's Happiest Season. Next, DuVall will co-create and lend her voice to the upcoming Fox animated sitcom, Housebroken.
You can stream Veep on HBO Max here (opens in new tab).
Will is an entertainment writer based in Pittsburgh, PA. His writing can also be found in The Playlist, Cut Print Film, We Got This Covered, The Young Folks, Slate and other outlets. He also co-hosts the weekly film/TV podcast Cinemaholics with Jon Negroni and he likes to think he's a professional Garfield enthusiast.