Evil: 5 Things To Remember Before Season 2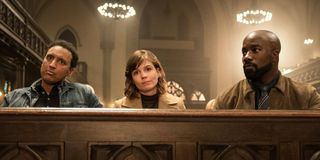 CinemaBlend participates in affiliate programs with various companies. We may earn a commission when you click on or make purchases via links.
I don't know if you realize this, but it's been a looooong time since we were last able to watch Evil on CBS. The freshman drama which dealt in conspiracies, the Catholic church, and maybe some real demonic forces of, well, evil, thrilled viewers right out of the gate and was renewed for Season 2 about a month after its premiere. But, the Season 1 finale aired all the way back in January 2020, meaning that many of the twists, turns and possible possessions could now be lost to the sands of time, even for the most ardent fans.
Basically, I'm saying I know you need help remembering all of the most important things that happened at the end of Evil Season 1. And, luckily, we're here to help! In preparation for Season 2, which will air in the summer of 2021 on Paramount+, here are the five biggest things to remember from Evil Season 1! Let's go!
David Is Seeing Disturbing Visions!
Oh, right. About David and his visions! We spent a large portion of the season watching Catholic priest in training David wrestle with his faith almost as much as he had to deal with Leland's evil plotting, potential possessions, and other oddball, maybe supernatural cases. David was dying so much for signs and help from God, that he frequently resorted to hallucinogenics to try and have receive that assistance.
And, it works, because David does have several visions which lead the group to important answers over the course of 13 episodes. In the finale, though, David gets a taste of the real deal: a vision without being in a drug-induced state. This is one of his more creepifying visions, too. In it, David watches as a certain massive, horned beast is toiling with a scythe in a wheat field. Then, he sees Kristen, wearing a pure white dress in the same field, while she begins to walk towards the beast. What's it all mean? Who knows. But, what came next is certainly a clue...
Kristen Might Be A Killer And Possessed!
Alright, so you will probably remember that Kristen ran afoul of Leland very, very quickly, and that the devious dude (who has more than a few baddies in his pocket) was able to help get serial killer Orson LeRoux released from prison, whereupon he began to terrorize Kristen and threaten her daughters. As you can imagine, the fiercely protective mama bear was having none of that, and while we didn't see exactly what went down between Kristen and Orson, he definitely ended up dead right after our non-believer was seen walking around with a bit of blood on her leg, and not from any wound on her own person.
While that, alone, would be enough to make Evil fans suspect that something went quite awry when Kristen left to confront Orson, well, there's more. The very last scene of Season 1 shows Kristen cleaning herself up in her bathroom (after hearing that Orson was found dead), only for her to take out her rosary, and for the very sacred symbol of the cross to burn the ever loving shit out of her hand. You know, just like what would (supposedly) happen to a person possessed by a demonic power. Add to this the fact that David had that vision of a very specific demon, and Kristen appearing to take a walk on the wild side to meet with him, and things aren't looking great for one of our favorite skeptics.
Leland Is Taking Orders From Someone Scary!
Speaking of that beast, you remember the guy above, right? No? Well, heaven bless your very soul. You successfully blocked him out until now, and for that, I do apologize. As a refresher before you attempt to hide his existence deep within your psyche again, that, folks is Leland's therapist. Yeah, you read that correctly. And, if you thought that maybe Demon Therapist, MD was a swell fellow who's been trying to keep that nasty ol' Leland on the straight and narrow, well, you don't actually watch Evil, do you?
Oh, no. Demon Therapist is in full-ass cahoots with Leland, you guys. In the penultimate episode of Season 1, he met with Leland and was discussing how to deal with Kristen. When last we saw him (I mean, aside from that time he was harvesting his crops by hand and waiting to greet Kristen in David's vision), he was walking right up to Kristen's house and having a chat with one of her darling little girls. You know which one, right?
Kristen's Daughter Lexis Could Be A Demon!
Or, an easily led sociopath / psychopath. Either way, not great! So, one of the major reveals of the Evil Season 1 finale came because of David, Ben, and Kristen's case of the week: a woman pregnant with twins who believes the boy is somehow possessed in utero. Yay! Alright, seriously though, as Ben and David are waiting for her exorcism to wrap up, they realize that she used a fertility clinic, RSM Fertility, and when they head there to investigate see that it's connected to several of their recent cases. And David theorizes that the firm is a front for the (hold on, folks) demon hierarchy on Earth so that they can corrupt souls before they're even born. Yikes on all the bikes!
How does this relate to cute (creepy) little Lexis, you ask? Well, remember how I said Dr. Demon (I just know there's a band somewhere with that name) visited Kristen's home and spoke to one of her kids? It was Lexis, and he told the girl that he was there to take her "to the next level." As to why they would pick Lexis...you know Kristen and her husband, Andy, used RSM Fertility to bring that tiny lunatic into the world, right? Oh, yes! Creeptastic children for the win!
Sheryl And Leland Are Engaged!
Well, that romance escalated quickly, didn't it? Leland didn't even get his hooks (Claws? Hooves?) into Kristen's mom, Sheryl, until Episode 5, but the free-wheeling lady took to him like possession to a vulnerable soul. It wasn't long before she was lying to Kristen to sneak around and see him, and totally letting Leland convince her to undermine her daughter at every turn, even when it came to what she told her granddaughters.
After Kristen has a very bad, no good nightmare, she realizes that her mom has been lying to her about breaking things off with Leland. Kristen tells Sheryl she has to pick her family or Leland, and with them newly engaged, she picks Leland and Kristen tells her to never bother her or the kids again. But, what do you wanna bet that Sheryl and Leland are going to be able to find covert ways to spend time with an adoring Lexis come Season 2?
Evil Season 2 will hit Paramount+ on June 20, and it promises to be filled with even more scares, drama, demons and enough WTF conspiracy moments to make you turn on every light in the house to watch!
Bachelor Nation, Gilmore Girl; will Vulcan nerve pinch pretty much anyone if prompted with cheese...Yes, even Jamie Fraser.
Your Daily Blend of Entertainment News
Thank you for signing up to CinemaBlend. You will receive a verification email shortly.
There was a problem. Please refresh the page and try again.