The 15 Best New TV Characters In 2019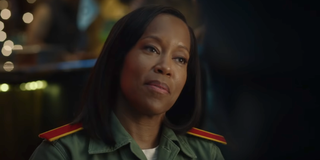 I know it's probably hard for everyone to believe, but we are, indeed, at the tail end of yet another year of television highs, lows, fulfilled hopes and dashed dreams. 2019 has brought us Disney+, Apple TV+ and word of many a new streaming service for the near future. And, as the TV landscape grows ever larger than any of us could have imagined just a few years ago, it will continue to bring all small screen devotees more of the mortifying misses and hypnotizing hits that we can count on for each new year of television.
Sure, many of your favorites probably got cancelled this year, but why dwell on that negativity when we can celebrate everything that went right for TV in 2019? Luckily, one of those things that went right was the introduction of many new characters who made our televisions brighter than they would've been otherwise. So, without further ado, let's get into the best new TV characters of 2019!
Angela Abar / Sister Night - Watchmen
Few shows this year made a bigger, stranger impact than HBO's Watchmen, which gave us many characters to be thankful for, especially Regina King's Angela Abar. Coming from a childhood that was almost as tough as they get, Angela turned her pain into progress and became a cop, who eventually joined others in fighting the good fight against white supremacists and other criminals by becoming the masked officer of the law, Sister Night. Where Angela is kind, loving and dedicated, her alter ego Sister Night is tough, determined and deadly with a set of rosary beads. So, underestimate her at your own peril.
Leland Townsend - Evil
We have plenty of horror shows nowadays, but few series, at all, play around with what might be supernatural and what might be the evil in men's hearts the way that CBS' Evil does. Any show that's looking at the evil that regular individuals do needs an amazing Big Bad, and Evil has that in spades with Michael Emerson's Leland Townsend. The mild-mannered seeming psychologist is pulling the strings behind many disturbed people, leading them to escalating acts of violence, while also trying to take down those who know his secrets and want to expose him. He's creepy, calculating and I'm still not sure he's not really a demon. You can't get much better than when you can't even tell whether a character is actually human or not.
Annie Easton - Shrill
We're no longer shocked by seeing morally bankrupt characters who we're supposed to root for when we turn on our televisions, so much so that watching completely relatable characters can actually be a bit of a shock. This is the case with Annie Easton (Aidy Bryant) from Hulu's Shrill. Annie has spent her life letting people demean, bully and completely ignore her feelings in an effort to be as likable as possible, but we meet her at a time when she's finally sick and tired of not demanding better treatment. We watch Annie try, fail, try again, go too far and come to a nice middle ground...only to have to do it all over the next time someone steps to her incorrectly. And, it's all so much like real life that it's impossible not to root for her.
Princess Margaret - The Crown
OK, here's where we have to cheat a bit, because, as fans of Netflix's The Crown will know, Princess Margaret (Vanessa Kirby) was already a glamorously-wrapped enigma who was beginning to bristle under the weight of her royal duties on the show. But, I think we can all agree that no one was better to take Margaret into a full-on destructive descent of extra-marital affairs, crumbling relationships and alcohol-fueled sadness than Helena Bonham Carter. Her princess loves a smoke-filled good time, and is engaging and vibrant while also being just about as troubled as anyone can be. Whether you've been watching all along or just jump right into Season 3, you won't be able to take your eyes off of her.
Robin - Stranger Things
Sometimes Stranger Things doesn't require much of a character. You show up, get killed in some horrible fashion so we can all see how dire the latest supernatural threat is and that's it. Well, this was not the situation for Robin (Maya Hawke), who started Season 3 as Steve's Scoops Ahoy co-worker and ended as an Upside Down beast fighting, Soviet interrogation surviving, battle-tested Hawkins warrior. Robin is everything we want from a new character on an established show where the heroes always need allies: smart, tough, funny and game to go on an adventure and maybe possibly die! We want more of her in Season 4.
Crazy Jane - Doom Patrol
In a show that is filled to bursting with oddities and characters with a host of weirdo problems to overcome, Jane (Diane Guerrero) is constantly doing the most. Why? Well, they don't call her "crazy" for nothing, as Jane had a very bad childhood which led her psyche to create 64 personalities, many of whom have their own wacky superpowers. And yet, DC Universe's Doom Patrol makes us love (or love to hate) every one we see. Crazy Jane is the character gift that keeps on giving!
Homelander - The Boys
Damn. This guy, amirite? Homelander (Antony Starr), public leader of The 7 and all around apparent good super-powered citizen is actually a damaged, murderous, dangerous psycho who everyone should be very, very afraid of on a daily basis. Amazon's The Boys really delivered when it sought to bring us a twisted (and twisty) superhero tale, and ol' Homelander is right at the center of the story by showing us how deadly someone with almost unlimited power can be, and why it's a good thing to try to take said person down.
Baby Yoda - The Mandalorian
Every now and then a character comes along and eclipses the show that they're on, becoming a cultural touchstone that even folks who don't watch said show can relate to. Such is the case with The Mandalorian's Baby Yoda. Disney+ knew what it was doing when it brought us this adorably old-ass baby (He's 50!) for the eponymous bounty hunter to find and begin to protect. Baby Yoda is small, but smart, has the beginnings of some incredible power and is probably already working on lots of inspirational sayings. Now all we need is to make sure he gets to use them. Old-ass baby for the win!
The Priest - Fleabag
Wait, do you not recognize this character? Well, maybe that's because I referred to him by his actual, given title on Amazon's Fleabag, as opposed to how he quickly became known: Hot Priest. I don't know if any character has ever redefined the way we think about the clergy the way Andrew Scott has with his portrayal of Hot Priest, who curses, drinks, smokes, and definitely gets hot in the pants for lady folk, especially one particular lady. Aside from being a little cutie, the thing that brings Hot Priest to this list is his ability to really see Fleabag, in just the way that everyone wants to be seen. No wonder Fleabag falls for him; we all have.
Nadia - Russian Doll
In a show where a couple of characters are repeating the same day, and dying horribly, over and over again, as things begin to fall apart around them, it would be easy for the story to outshine those characters. But, Netflix's Russian Doll pretty much made that impossible when it sent us Natasha Lyonne's Nadia. She may be stuck in a time loop, but Nadia is ever cynical, cracking-wise as she eventually realizes her predicament, locates someone else who's going through the same thing and tries to figure out how to stop it. There's nothing quite like a character who refuses to stop fighting, even when the war looks to be lost.
Jett - Jett
You know, the excellent Carla Gugino starred in the one-season, non-hit Karen Sisco, which was an Out of Sight spinoff, back in the day and I have long missed the steely confidence, charisma, style and plain damn coolness of Gugino in that role for almost two decades. Luckily, her work as Jett in the Cinemax crime drama show of the same name, offers up the same qualities for us to all feast our eyes on. Let's all enjoy the experience this time around, OK?
Jen - Dead To Me
There are a lot of shows, and characters, who have to deal with grief, but few of them deal with the loss of a loved one with as much snark, sass, sadness and outright anger as Jen (Christina Applegate) on the surprising Netflix hit Dead To Me. After her husband dies from a hit and run, Jen becomes to determined to find the perpetrator when the trail runs cold for the cops, and finds some unexpected solace in a new support group friend. The world might not be a better place if most of us were as honest as Jen is, but it would be more fun to live in.
Simone Grove - Why Women Kill
There are several memorable characters on CBS All Access' Why Women Kill, but none more effervescent, elegant, self-assured and poised than Simone Grove (Lucy Liu). While keeping up appearances matters to Simone way more than it should, her world, and composure, begin to fall apart when she finds out about her husband's cheating ways. Simone's biting wit, big hair and stylish facade never fail to brighten the proceedings, and for that, we thank her.
Wayne Hays - True Detective
There's nothing quite like watching a detective get mired in a difficult investigation, and it's even better when we get to watch a character like True Detective's Wayne Hays (Mahershala Ali) pick his way through the case. Wayne, a Vietnam vet, is a calm and peaceful man who becomes obsessed with figuring out who kidnapped two young siblings in 1980. As the show jumps in time, we can really see the strain that the case has on Wayne, and how it's changed his life, even as an old man dealing with memory loss. The effect is powerful, and landed Wayne on this list.
Abishola Adebambo - Bob Hearts Abishola
CBS' Bob Hearts Abishola is an original in many ways. Part of why this tale of slowly-developing love works is Abishola, the no-nonsense Nigerian nurse played by Folake Olowofoyeku. Abishola, who claims to have no hobbies because "Nigerians don't do useless things," is working hard to create a better life for herself and her son, so she's very leery when her white patient begins to pursue her. We know that Abishola will eventually take to Bob, but part of what makes the journey fun is watching her slowly open her heart (and mind) to someone so different from herself.
That's it; the top new TV characters of 2019 are a wacky, emotional and expressive bunch. Do you think we missed anyone? If so, let us know in the comments below, and be sure to stay tuned to CinemaBlend for the latest in TV, movies and pop culture!
Your Daily Blend of Entertainment News
Yennefer's apprentice, Gilmore Girl; will Vulcan nerve pinch pretty much anyone if prompted with cheese...Yes, even Jamie Fraser.