John Cena Vs. The Rock: A History Of Their WWE Feud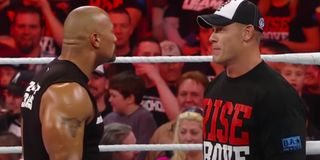 CinemaBlend participates in affiliate programs with various companies. We may earn a commission when you click on or make purchases via links.
It is hard to believe, but it has already been a whole 10 years since John Cena and The Rock, aka Dwayne Johnson, kicked off a heated two-year feud that resulted in electrifying headlining matches at two of the most successful pay-per-view events in WWE history, and live televised sports in general. But, with so much time passing between then and now, especially with both wrestlers-turned-actors landing leading roles various DC Comics properties and the Fast and Furious franchise, there's a chance you have forgotten just how exciting, and sometimes overbearing, their feud was for a stretch of time.
So, in honor one of the biggest professional wrestling angles of a generation celebrating its 10-year anniversary, let's take a step back from everything that's going on in today's WWE and look back at the heated feud between John Cena and The Rock that often found itself blurring the lines between show and reality, creating must-see television in the process.
The Rock Returns To WWE In 2011 To Host WrestleMania 27 And Immediately Trades Barbs With John Cena
In February 2011, nearly seven years after he stepped away from professional wrestling full-time to focus on his acting career, The Rock (finally) returned to WWE to host WrestleMania 27. While addressing his millions (and millions) of fans, he was quick to make fun of John Cena and his signature "You Can't See Me" catchphrase before comparing him to a bowl of Fruity Pebbles. John Cena responded the following week in a throwback to his "Doctor of Thuganomics" days, with a rap calling out The Rock for abandoning the WWE Universe for greener pastures, officially kicking off what would be an epic feud both in the ring and on the mic.
The two would have their first face-to-face at the WrestleMania 27 "Go Home" Raw, an interaction that would end with John Cena giving The Rock an Attitude Adjustment. The Chosen One would have the last laugh six days later, however, as he attacked Cena in the WrestleMania main event, costing him the WWE Championship.
John Cena And The Rock Begin A Heated Yearlong Feud Leading To WrestleMania 28
Hot off their confrontation in the WrestleMania 27 main event, The Rock and John Cena stepped into the ring again; not to duke it out once and for all, but to do something that had never been done before: book a WrestleMania main event match a year in advance. At the time, this seemed impossible with wrestling fans and journalists scoffing at the idea of a one-year build-up, fearing it would lose steam. But, lose steam, it did not.
Even though The Rock would only appear sporadically throughout the year, and John Cena entered a historic feud with CM Punk that resulted in WWE's first five-star match since Stone Cold and Bret Hart at WrestleMania 13, two bitter rivals came back time and time again to trade barbs and blur the line between what was scripted and what was reality. To set the feud into overdrive, The Rock and Cena were forced to work together in a tag-team match against The Miz and R-Truth.
The Rock And John Cena Finally Face Off In The 'Once In A Lifetime' WrestleMania 28 Main Event
After nearly a year of build-up, it was finally time for John Cena and The Rock to square off in the WrestleMania 28 main event match, with nothing more than their pride on the line. The "Once in a Lifetime" match between one of the top stars of the Attitude Era and the WWE's then-prized pony was a vicious affair that went beyond two competitors trying to prove who was the top dog in the ring. A testament to their acting abilities (a few years before Cena really broke out on his own in the film world), these two made it seem like they hated one another throughout the 30-minute contest.
In the end, The Rock reigned supreme over John Cena and earned a hard-fought victory after performing a second Rock Bottom (his signature move) and getting a 1-2-3. But the feud wasn't over yet..
John Cena And The Rock Are Victorious In Their Respective Royal Rumble Matches, Setting Up An Epic Rematch
Thanks to The Rock and John Cena, WrestleMania 28 became WWE's most successful event of all time with 1.3 million pay-per-view buys around the world. With the company raking in tons of cash through PPV and tens of thousands attending in person, everyone knew that the "Once in a Lifetime" moniker wouldn't stick for too long, and we would soon get the most anticipated rematch since The Rock and Stone Cold Steve Austin met at WrestleMania 17 in 2001.
At the 2013 Royal Rumble, The Rock secured his first WWE Championship in more than a decade after ending CM Punk's historic 434-day reign. Earlier that night, John Cena won his second Royal Rumble match, putting him on a collision course with his rival at WrestleMania 29, this time with the WWE title on the line.
The Rock Defends His WWE Championship Against John Cena At WrestleMania 29
In April 2013, The Rock and John Cena faced off for the second time in their rivalry in a WWE Championship match in the main event of WrestleMania 29. Even though The Rock's title was on the line in their electric rematch, the feud wasn't as hot as a year earlier. Despite that, they gave it all they had with both pulling off their respective finishing moves multiple times before Cena finally pinned the champion after a 23-minute affair.
Immediately following the match, the two shook hands and The Rock even went as far as to raise Cena's hand and praise the new champion as the show went off the air. The Rock suffered a legitimate injury during the match when he tore his abdominal and adductor tendons off his pelvis. However, it was all worth it, as WrestleMania 29 grossed an excess of $72 million, WWE's highest grossing event.
John Cena And The Rock Squash Their Real-Life Beef Years After Their Heated Feud Began
In the years following their second and final WrestleMania match, John Cena and The Rock's feud seemed to be water under the bridge, especially after Cena came out to help his former rival fight off the Wyatt Family at WrestleMania 32 (another moment at the expense of Bray Wyatt). That case was further supported in 2018 when John Cena addressed those comments he had made about The Rock abandoning professional wrestling for the movie industry, saying he spoke out of ignorance and saw the error in his ways now that he was going through what Dwayne Johnson went through years earlier.
For a while there, The Rock and John Cena had one of the most heated feuds in professional wrestling and gave fans two of the most electric main events in WrestleMania history in the process. Now that they're both part of the Fast and Furious universe, maybe we'll one day see Luke Hobbs and Jakob Toretto square off on the big screen. In the meantime, now's the perfect time to check out everything from CinemaBlend's rundown of all the 2021 movie premiere dates (including F9) as well as our breakdown of the 2021 WWE Hall of Fame inductees.
Your Daily Blend of Entertainment News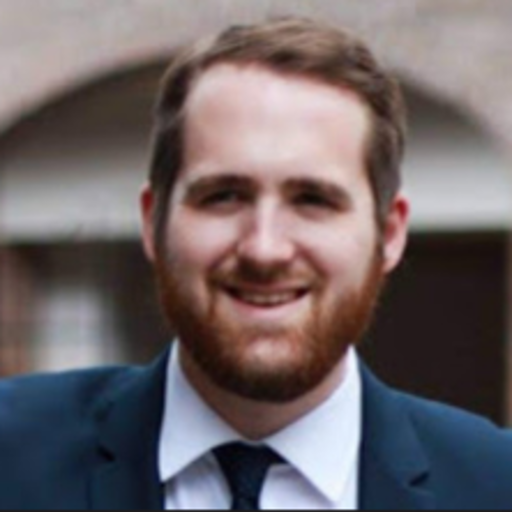 Philip grew up in Louisiana (not New Orleans) before moving to St. Louis after graduating from Louisiana State University-Shreveport. When he's not writing about movies or television, Philip can be found being chased by his three kids, telling his dogs to stop barking at the mailman, or yelling about professional wrestling to his wife. If the stars properly align, he will talk about For Love Of The Game being the best baseball movie of all time.