Dwayne Johnson, John Cena And The Other WWE Wrestlers That Transitioned Into Movie Stars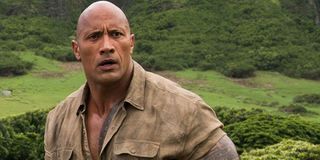 Wrestling for the WWE is one of the top honors any professional wrestler can hope to accomplish, and it can be the beginning of a lifetime of fame and recognition. That's especially true for WWE wrestlers like Dwayne Johnson and John Cena, who both used their legendary runs within the brand to springboard into Hollywood and become big names in the movies as well.
These two are the prime examples working in Hollywood today, but of course, there are plenty of WWE wrestlers who went on to have a successful acting career post and sometimes during their careers. The following is a list of the more successful lot, all of which have had significant roles in a handful of major movies over the years. For that reason, major superstars like Andre The Giant, Roddy Piper and Macho Man aren't on the list, though we'll always cherish their respective contributions to cinema.
To quote Macho Man (who Bruce Campbell has a crazy story about), this list is for the "cream of the crop," filled with wrestlers who have not only proven they belong in the movies, but have managed to stick around for more than a film or two. Ring the bell and get ready for a no holds barred look at some of the major WWE stars who made the successful transition to Hollywood acting.
Dwayne "The Rock" Johnson
Dwayne Johnson, or "The Rock," was billed as the "most electrifying man in sports entertainment," and certainly lived up to that during his phenomenal wrestling career. He held multiple championships, and was one of the only WWE wrestlers of the Attitude Era with a popularity comparable to Stone Cold Steve Austin. The Rock "retired" to pursue acting full-time in 2004, but has popped in and out since then for appearances or short feuds with other wrestlers.
Though Dwayne Johnson didn't pursue acting full time until 2004, he began to establish a presence in films with 2001's The Mummy Returns. He then went on to star in the spinoff The Scorpion King, Starring roles in other films followed, but The Rock's career really seemed to take off when he was introduced as the awesome Luke Hobbs in Fast Five. It seemed to tip the scales into his becoming a major action blockbuster actor, which is more often than not what he's doing now.
Currently, his films either range from him being a no-nonsense badass (Hobbs and Shaw) or badass with a comedic twist (Jumanji: Welcome to the Jungle). Audiences tend to love him either way, and while The Rock hasn't done anything Oscar-worthy, his films tend to make a lot of money. Could an award-winning performance be his next step?
John Cena
Unlike other major wrestling legends, John Cena spent some years towards the bottom of WWE's ladder until he suddenly became about the biggest deal the company has ever seen. Once known as the "Doctor of Thuganomics," Cena is now a household name via his mega fame as one of the WWE's most prolific champions, his philanthropic work with the Make A Wish foundation or the memes about people not being able to see him.
John Cena is still a WWE wrestler on a part-time basis, but he's recently made a bigger push to become a movie star. He actually got some help with that goal via WWE Studios, who gave Cena his start in The Marine. Following that, he found his way into comedic roles via films like Sisters and Blockers, and major action roles like Bumblebee and James Gunn's upcoming The Suicide Squad.
With his recent casting in Fast and Furious 9 and continued jump between action and comedy roles, it feels like John Cena is following the Dwayne Johnson playbook. It's not the worst idea in the world, although one would think doing so will effectively put Cena in contention with his wrestling buddy for a lot of future roles. Unfortunately, Hollywood still has yet to put these two together, but his inclusion in the recent Fast and Furious movie means it could one day happen.
Dave Bautista
Dave Bautista wrestled in the WWE as "Batista," and is known as one of the more recent living legends of the brand. His popularity within the WWE wasn't quite at the levels of which Dwayne Johnson and John Cena rose, but he was still a pretty popular star as a World Heavyweight Champion and WWE Champion. After a few stints in the WWE, Bautista officially announced his retirement in 2019 which officially made his jaunt into acting a full-time affair.
Dave Bautista's first credited film role came with Werner Herzog's My Son, My Son, What Have Ye Done? in which he played a police officer. Bautista had a couple more roles between that, but it wasn't until he played Drax The Destroyer in Guardians of the Galaxy that his acting career really took off. Since then he's appeared as Drax in other MCU films, and has had roles in films like Blade Runner: 2049, Spectre and Hotel Artemis.
Dave Bautista's comfort zone tends to be in smaller character roles, although Hollywood recently took a chance on him with a leading role in the comedy Stuber. It's a relatively new direction for Bautista in Hollywood, and it seems like a test to see if his comedy skills translate beyond his fantastic portrayal as Drax. If not, he's still a great small role guy in major motion pictures, and could maintain a decent career off that alone.
Kevin Nash
Kevin Nash started under the World Championship Wrestling organization, became one of the WWE's wrestlers, went back to WCW and eventually found his way back again to the WWE. In that time, Nash became a legend wrestling alongside major names like Shawn Michaels, Hulk Hogan and Scott Hall, just to name a few. He's one of the brand's most legendary "big men" and has several championships to show for it.
Kevin Nash's film career is about as long as his wrestling career as he first got his start as Super Shredder In Teenage Mutant Ninja Turtles II: The Secret of the Ooze. Given he's nearly seven feet tall, Nash has found success playing roles that emphasize his physique like "The Russian" in The Punisher and a guard in The Longest Yard and Rock of Ages. Oh yeah, and he was Tarzan in the Magic Mike franchise and Francis In John Wick as well.
As long as Hollywood needs strong and silent older guys, Kevin Nash is going to find work in Hollywood. He may never be a leading man in major films, but he'll surely pop up in a few more surprising films over the next few years and remind the world he still has that acting magic.
Hulk Hogan
It's impossible to know about pro wrestling and not be vaguely aware of who Hulk Hogan is. Hulkamania thrust the WWE (then named WWF) into the mainstream and helped turn it into the mega corporation that it is today. His accolades as a WWE wrestler are numerous, and while he was temporarily ousted from the organization amidst controversy, Hogan has recently been welcomed back into the brand and has made some television appearances.
The Hulkster hasn't had a lot of major film roles in recent years, but had a fair few of high profile roles in movies throughout the '80s and 90s. It started as Thunderlips in Rocky III, and transitioned into roles like he had in Mr. Nanny, Suburban Commando and 3 Ninjas: High Noon At Mega Mountain. His latest role came doing voice work in Gnomeo & Juliet back in 2011, but there hasn't been much since then.
Hulk Hogan's roles have typically been the comedy strong man type, or roles that play off his real-life persona. Odds are Hogan's personal controversies and age will prevent him from appearing in any movies in the near future, although Chris Hemsworth is set to play him in a biopic about his life. Perhaps there's a cameo for Hogan somewhere within that?
Jesse Ventura
Jesse "The Body Ventura has had a hell of a career in general, to the point that wrestling has become a bit of a footnote for him. He's one of the memorable names of the early era, though primarily as a wrestler who often lost against the bigger names like Hulk Hogan and Bob Backlund. He then transitioned into commentary, where he remained until litigation and strained relationships with Vince McMahon caused him to leave. Ventura since reforged those bonds and is presently on solid terms with the WWE.
After exiting the WWE, Jesse Ventura had a rather explosive debut in film with action roles in Predator and The Running Man. Future appearances included roles in Demolition Man, Batman & Robin and Major League II. There was a gap period between roles in which Ventura served as a mayor and Governor of Minnesota. After that, he resurfaced in the twin comedy Stuck On You, and was also in Johnny Knoxville's The Ringer.
Much like Hulk Hogan, I don't really envision Jesse Ventura to suddenly start competing with Dwayne Johnson and John Cena for roles. He has his own share of different controversies that may make him an iffy addition to a cast, but is also at an age where he can't really play the action type character he once did. Still, we'll still have the good old days to revisit and look back on!
Playing With Fire Trailer: Watch John Cena and Keegan-Michael Key's Bumbling Firefighters
Who will be the next person from the current squad of WWE wrestlers to be a major Hollywood star? Throw all suggestions for those with star potential down in the comments below, and continue to stick with CinemaBlend for the latest in movie and television news.
Mick likes good television, but also reality television. He grew up on Star Wars, DC, Marvel, and pro wrestling and loves to discuss and dissect most of it. He's been writing online for over a decade and never dreamed he'd be in the position he is today.
Your Daily Blend of Entertainment News
Thank you for signing up to CinemaBlend. You will receive a verification email shortly.
There was a problem. Please refresh the page and try again.