2021 WWE Hall Of Fame Inductees: The Full List Of Wrestlers Being Added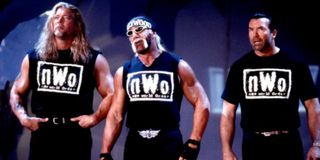 Since its creation following the death of André the Giant in 1993, the WWE Hall of Fame has become a place where the titans of the wrestling industry are remembered for their accomplishments and impact on sports entertainment. Over the years, legends like Bobo Brazil, Gorilla Monsoon, Stone Cold Steve Austin, and even Pete Rose have been enshrined during the annual ceremony. And soon enough, the WWE Hall of Fame class of 2021 will join those who came before them and their legacies will be forever remembered.
There are multiple changes to this year's WWE Hall of Fame, however, as the 2020 induction ceremony was cancelled due to COVID-19 and its inductees have been added to the 2021 class along with other names whose impact on professional wrestling has earned them a spot in its hallowed halls (though no physical location exists). Here's everyone (wrestlers and celebrities) alike who'll be inducted in 2021.
John "Bradshaw" Layfield
To younger audiences, John "Bradshaw" Layfield is the brash, and oftentimes annoying on-again off-again commentator and WWE host, but to the rest of us, he's one of the toughest wrestlers to step into the ring. Over the years, Layfield wrestled as one of the Blackjacks, one of Undertaker's Acolytes, and a member of the tag-team APA with Ron Simmons before breaking out on his own in the final years of his in-ring career. The former WWE Champion armed with his brutal "Clothesline from Hell," JBL is more than deserving of a spot in the Hall of Fame.
The British Bulldog
Unfortunately, The British Bulldog Davey Boy Smith is one of the many wrestlers to be posthumously inducted into the Hall of Fame. The dynamic wrestler who captured the Tag Team Championship on two occasions (first with Dynamite Kid and then again with the late Owen Hart) and the Intercontinental Championship against his brother-in-law Bret Hart in his native England at SummerSlam '92, passed away in May 2002, leaving behind a legacy as one of the sport's all-time greats. It's just a shame it took nearly 20 years after his passing for Smith to get inducted.
Jushin Thunder Liger
Though Jushin Thunder Liger only officially wrestled in one WWE match (the curtain jerker at NXT TakeOver: Brooklyn in 2015), the Hall of Fame often honors those who made a mark on wrestling as a whole instead of just focusing on those who spent their careers with the company. The masked Japanese wrestler, who retired in January 2020 following a 35-year career, remains one of the most recognizable and beloved figures in the sport's history. There are few professional wrestlers who have accomplished as much as Liger has throughout his remarkable career.
The New World Order
Say what you will about the New World Order (NWO) and how its members may or may not have helped doom WCW before its slow death-march into solvency, but the heel stable formed by "Hollywood" Hulk Hogan, Kevin Nash, and Scott Hall -- and later Syxx (Sean Waltman) -- in 1996 was one of the biggest things going in the Monday Night Wars. And yeah, the group's numbers and influence behind the scenes became way too much in its later years, but we're talking about the group that came into fruition when Hogan turned his back on millions of little hulksters around the world.
The Bella Twins
The Bella Twins are one of the more polarizing tandems in modern WWE history, and were never the best of wrestlers, but the team of Nikki and Brie Bella has done a tremendous job of giving wrestling a great deal of exposure since becoming reality television stars. The E! series Total Divas and its spinoff Total Bellas (which at one time featured some hilarious John Cena moments) have turned the former wrestlers into superstars both in and out of the ring, and continues to grow in popularity and give even more female superstars a platform to express themselves.
Molly Holly
Two-time WWE Women's Champion Molly Holly is one of the most deserving inductions into this year's Hall of Fame for everything she has done for the wrestling industry. In addition to her multiple championships, memorable run as the superhero Mighty Molly in 2001, and being a part of the Holly Cousins stable prior to that, Holly has also done a lot behinds the scenes. During Beth Phoenix's Hall of Fame induction speech in 2017, "The Glamazon" revealed that Holly not only inspired her to start wrestling but helped make her dream come true.
Eric Bischoff
There are polarizing figures in wrestling and then there are people like Eric Bischoff. The former World Championship Wrestling executive who turned Monday Nitro into must-watch television in the 1990s is beloved by some and hated by others, but you can't deny his impact on the wrestling industry. Even after WCW closed its doors in 2001, Bischoff continued to push wrestling to the next level, including the introduction of the Elimination Chamber, a demonic and pain-inducing structure and match-type that continues to push wrestlers to their limits today.
Kane
Kane is without a doubt the biggest name to get inducted into the WWE Hall of Fame this year and for good reason. Ever since making his debut (well, at least as the masked character) at Badd Blood 1997 when he broke through the door of the Hell in a Cell and started a blood feud with his brother, the Undertaker, Kane has been a mainstay. Whether it be as WWE Champion, tag champs with the likes of Daniel Bryan, or even as Corporate Kane as a lackey for the Authority, he's had one hell of a career.
The Great Khali
The Great Khali, while not the greatest wrestler to ever lace up a pair of boots, had a fairly remarkable career in WWE. When he won the World Heavyweight Championship in 2007, Khali became the first Indian world champion in the company's history, and even had a great run of things following his short time at the top. Due to his size, presence, and undeniable charisma, Khali became a massive hit with the younger audience and still gets a pop when he returns from time to time.
Rob Van Dam
Rob Van Dam could get in the WWE Hall of Fame for his run with the company from 2001 to 2007, a span that included a Money in the Bank victory, a WWE Championship run, and multiple Intercontinental Championship reins, but the "Whole F'n Show" will always be remembered for his work in Extreme Championship Wrestling from 1996 to the promotion's closure in 2001. One of the biggest draws to the Philadelphia-based promotion, Van Dam had a cool demeanor but one hell of a move-set including his famed "Five-Star Frog Splash."
Titus O'Neil - Warrior Award
The Warrior Award, which was introduced in 2015 as a way to honor the legacy of the late Ultimate Warrior, is given out each year to someone who exhibits "unwavering strength and perseverance" while also leading a life with "courage and compassion" in everything they do. This year's recipient is WWE superstar and Global Ambassador Titus O'Neil, who helped create The Bullard Family Foundation, which helps provide families and children in need with programs and resources for a better life. O'Neil, who plays a large role in various organizations in addition to his community-minded organization, confirmed the news on Twitter saying he was "humbled and honored."
William Shatner
Each year, the WWE Hall of Fame includes a big name into its Celebrity Wing. This year's honor goes to William Shatner, the 90-year-old pop culture icon known for everything from Star Trek to the Rescue 911 and everything in between. Shatner has been a big part of WWE programming over the years, appearing on multiple occasions and even hosting the WWE Network series Breaking Ground. There are few celebrities more deserving of a spot in the Hall of Fame than William Shatner.
Ozzy Osbourne?
Well, it looks like the Prince of Darkness, aka Ozzy Osbourne will be joining the WWE Hall of Fame's Celebrity Wing at the 2020/2021 combined ceremony. Per a report from the Wrestling Observer's Dave Meltzer (via frwonline) (the prolific wrestling writer who was featured in Beyond the Mat) Osbourne will provide a recorded message at the induction ceremony in lieu of appearing in person. The Rock and Roll Hall of Famer has appeared in WWE multiple times over the years, most notably at WrestleMania 2 where he appeared as one of the managers for the British Bulldogs. Now we just need to get Lemmy Kilmister in the Hall of Fame.
All of these names and more will be honored at the 2021 WWE Hall of Fame Induction Ceremony when it airs April 6 on WWE Network on Peacock just days before WrestleMania 37 takes to the streaming platform for a special two-night event.