NSYNC's Lance Bass Completed Viral 'It's Gonna Be May' TikTok Challenge And I Can't Get Enough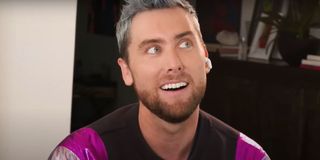 (Image credit: Netflix)
The iconic '90s boy band NSYNC shattered records, and a few young girls' hearts, in its heyday. But the power of their synchronized dance choreography has found new life in modern social media shenanigans. Their chart-topping 2000 hit "It's Gonna Be Me" has been spoofed into the viral "It's Gonna Be May" TikTok challenge that saw even former NSYNC member Lance Bass participating – and my '90s kid feelings can't get enough.
As the calendars slowly turn from April 30 to May 1, the masses can't wait to bust out their ever-hilarious play on NSYNC's "It's Gonna Be Me" into "It's Gonna Be May." The TikTok challenge shows fans paying tribute to the illustrious NSYNC's original dance moves. But seeing Lance Bass also take on the challenge, complete with their signature pump-action maneuvers, literally sent me over a cliff to an early grave of happiness. See Bass' version below:
Countless fan versions of the "It's Gonna Be May" TikTok challenge have also cropped up. Enlisted U.S. Army soldiers took a stab at NSYNC's famous choreography. There are also extremely dedicated, hilarious versions that mimic the style of the times with precision.
Fan participation is one thing, but it's a whole different experience to see original NSYNC members approve and take part. So we have to just say what we all know to be true: Lance Bass owned that TikTok challenge. It invokes very strong nostalgia for my No Strings Attached CD and the corresponding music video that hilariously saw the group as waxy dolls with puppet-inspired dance moves.
This wouldn't be the first time Lance Bass had made light of his NSYNC days. He actually previewed the "It's Gonna Be May" challenge weeks ahead of May 1 in a spoof clip for The Tonight Show Starring Jimmy Fallon. He also joked about the "hideous outfits" for their 1997 anthem "Tearin' Up My Heart" on TikTok a few days ago.
The '90s and early aughts fashion definitely raise a few eyebrows nowadays. But at that time, matching track suits and ballads were undeniably a thing. As seen by the viral TikTok challenge, though, some things live on eternally in pop culture – regardless of the ensembles.
It seems, though, that Lance Bass is making it his life's mission for us all to love NSYNC forever. Beyond his May Day TikTok challenge, Sony Pictures is moving forward with Bass' film pitch about the true story of two NSYNC superfans who followed them around the country while on tour. Crazy Ex-Girlfriend creator Rachel Bloom is attached to write the screenplay.
These social media challenges and viral memes are making it hard to find a day that isn't attached to some pop culture reference. October 3 was the noteworthy day that Aaron asked Cady what day it was on Mean Girls. Miss Congeniality's "idea of a perfect date" passed recently on April 25 (because all you need is a light jacket). Likewise, the coming of May is reserved forever for us NSYNC superfans, with Lance Bass as our leader.
Freelance writer. Favs: film history, reality TV, astronomy, French fries.
Your Daily Blend of Entertainment News
Thank you for signing up to CinemaBlend. You will receive a verification email shortly.
There was a problem. Please refresh the page and try again.