Star Wars: The Bad Batch Reactions Are Live, Here's What Critics Are Saying About The Clone Wars Spinoff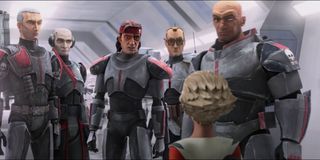 Disney +'s ever-expanding content selection has grown quite a bit since the platform launched back in 2019. The latest show heading to the streamer is Star Wars: The Bad Batch, a Clone Wars spinoff series that follows Clone Force 99 in the aftermath of Order 66. The animated series is set to release on Disney + starting May 4th (Star Wars Day, of course). However, some critics have already seen the first two episodes and took to social media to share their thoughts.
While the critics have only seen the first two episodes of Star Wars: The Bad Batch - and late embargo lifts usually indicate more disastrous projects - it sounds like fans can look forward to a promising follow up to Clone Wars, as CinemaBlend's Adam Holmes shared as much on Twitter:
Honestly, that sounds like great news. Fans have been eagerly waiting for Dave Filoni's follow-up series since Clone Wars wrapped up its long-awaited final season last year. Even Sam Witwer, who voiced fan favorite Maul on Clone Wars, accidentally let his excitement for the series slip on a Twitch live stream last year. ComicBook.com's Brandon Davis shared in Witwer's excitement, noting the world building, characters and animation of The Bad Batch:
Charlie Ashby, host of The Imperial Senate Podcast, shared in the hype for The Bad Batch. He made sure to point out that fans of Clone Wars will probably enjoy the series, especially the familiar animation, but The Bad Batch is a completely different show from a story perspective.
That being said, Adam Frazier, who has written for Slashfilm and FirstShowing.net, noted that a character featured in the early days of Clone Wars has made a surprise appearance early in The Bad Batch. So, while it sounds like the story will be fresh, there are still familiar faces along the way.
Fortunately, it looks like fans are in for a wonderful follow up to the wildly popular Clone Wars. Although critics have only seen the first two episodes of The Bad Batch, the social reviews have been resoundingly positive. It looks like Disney + may have another Star Wars hit on their hands. Whether it will perform as well as The Mandalorian remains to be seen, but if these early reviews are any indication I think it's safe to say there will be quite a few eyeballs on The Bad Batch tomorrow.
Fans can check out Star Wars: The Bad Batch on Disney + (opens in new tab) tomorrow, May 4th 2021. The show will follow a misfit group of Clone Troopers as they adventure across the galaxy far, far away. The Bad Batch picks up after the events of Clone Wars and will reportedly run for 16 episodes.
Your Daily Blend of Entertainment News
Into tracksuits by Paulie Walnuts, the Criterion Channel and Robert Eggers.
Your Daily Blend of Entertainment News
Thank you for signing up to CinemaBlend. You will receive a verification email shortly.
There was a problem. Please refresh the page and try again.