8 Times Brooklyn Nine-Nine Found The Perfect Guest Star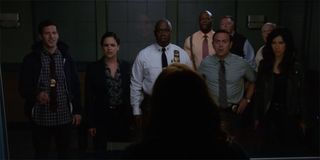 Brooklyn Nine-Nine features an outstanding roster of talent in its main cast. The wonderful Andy Samberg is backed by one of the best supporting ensembles currently on television, with Andre Braugher, Melissa Fumero, Joe Lo Truglio, Terry Crews, Stephanie Beatriz, Dirk Blocker, Joel McKinnon Miller, and Chelsea Peretti all delivering massive laughs year after year. The show would still be one of the funniest shows around if every episode solely focused on the characters they play – but one of the best aspects of the series is that it is constantly bringing in excellent guest stars who do some amazing work, including the likes of Danny Trejo, Lin-Manuel Miranda, and Katey Sagal.
That in mind, we've taken a look back at the series' eight year history and culled together this list of the best special appearances that have been featured – only focusing on those who have appeared in fewer than five episodes (sorry, Cadillac Bandit). From family members, to crooks, to crossover appearances, here are eight times that Brooklyn Nine-Nine successfully found the perfect guest star.
Katey Sagal And Bradley Whitford As Jake's Parents
One of the cool things about practically any sitcom is the capacity to do a bit of stunt casting when it comes to the actors playing the lead characters' parents, and Brooklyn Nine-Nine has consistently hit it out of the park over the years – with the greatest example being Bradley Whitford and Katey Sagal as Jake Peralta's parents. As described by Jake in the Season 5 Thanksgiving episode "Two Turkeys,' Roger Peralta is "a selfish drunken slut" and Karen Peralta is "a flighty weirdo," but their personalities combine to very much explain their son as a person, and they both have made multiple hilarious appearance over the years (both together and separately).
Sterling K. Brown As Philip Davidson
Season 5's "The Box" is easily one of the best episodes of Brooklyn Nine-Nine that we've seen (if not the best), and while the majority of the credit has to go to the writing for establishing and executing a wonderful ticking clock/locked doors situation, Sterling K. Brown's performance is another massive factor in its excellence. Because it's a comedy, the show tends not to spotlight a large number of evil sociopaths, but Brown delivers an utterly delicious turn as Dr. Philip Davidson, a slippery dentist suspected of murdering his business partner. Not only is it one of the best guest appearances (it earned the actor an Emmy nomination), but it opens the door for Andy Samberg and Andre Braugher to do some of their best work on the series as well.
Zooey Deschanel As Jessica Day
When Brooklyn Nine-Nine and New Girl crossed over in the former show's fourth season, it was the latter show that definitely got most of the juice, as while the New Girl episode featured appearances by Andy Samberg, Andre Braugher, and Chelsea Peretti, Brooklyn Nine-Nine only has Zooey Deschanel in one scene. That being said, it still makes for a wonderful bit, as a hobbled Jake Peralta needs to commandeer Jessica Day's car while in pursuit of a criminal. It's brief, but Deschanel's dialogue does include the line, "You want to commandeer this vehicle then you are going to have to commandeer this ass," and that alone qualifies it for this list.
Lin-Manuel Miranda As Amy's Brother
Amy Santiago's high-strung personality clearly stems from the fact that she hails from a family full of aggressively Type A nut jobs, and it should be known that Jimmy Smits as Victor Santiago was a strong contender for this list (especially given his NYPD Blue history), but Lin-Manuel Miranda is just too amazing as David Santiago, Amy's ridiculously perfect brother in Season 6's "The Golden Child." Miranda's remarkable talents in real life certainly feed into his performance, making it easy to empathize with his sister's frustration over constantly living in his shadow, and the back-and-forth one-upmanship in the episode is super funny – reaching its peak when it's revealed that there is one thing the Santiagos can't do well at all: dance.
J.K. Simmons As Frank Dillman
While perhaps not the most traditional pair, J.K. Simmons and Andy Samberg have done some wonderful work together over the years, having played father-son/best friends in I Love You, Man, and enemies trapped in a time loop in Palm Springs. In Season 7 of Brooklyn Nine-Nine, the history of that collaboration only grew stronger, as Frank Dillman makes a great foil for Jake Peralta. Considered to be one of the two best detectives Raymond Holt has ever worked with (at least at the start of the episode), Dillman shows off some crazy investigative skills after he is called in following what appears to be a prank-gone-wrong in the precinct, and the Oscar-winning Simmons sells every ounce of it with fantastic authority.
Kathryn Hahn As Eleanor Horstweil
Through the first few seasons of Brooklyn Nine-Nine, Charles Boyle talks quite a lot about the horrible relationship that he has with his ex-wife, and when the episodes were airing it seemed that the character was being approached akin to Maris Crane on Frasier or Vera Peterson from Cheers – a.k.a. she would never actually show her face on screen. That changed in Season 3's "Hostage Situation," and the revelation of Kathryn Hahn as Eleanor Horstweil is incredible. Not only does the actor's wonderful brashness fit well with everything that Boyle says about her, but she makes for quite a formidable foe as the food-loving cop tries to retrieve his "Boyle Oil" so that he can have a biological child with his wife.
Danny Trejo As Rosa's Dad
Rosa Diaz will forever be a mystery wrapped in an enigma, with a backstory that somehow includes studying at a ballet academy, a stint in juvenile detention, and three years of medical school, but one thing that Brooklyn Nine-Nine has made clear is that being a badass is in her blood. Why else cast the brilliantly intimidating Danny Trejo as her father, Oscar Diaz? We've only seen him in one episode to date – namely Season 5's "Game Night" – but he delivers a wonderful performance, first scaring the hell out of Jake Peralta when he turns out to be the only person who doesn't ignore the silly police officer's nervous rambling, and then later when he tells Rosa that he has accepted her sexual identity. We're definitely keeping our fingers crossed he makes a return now that the show is coming to an end.
Marshawn Lynch As Himself
Casting sports stars in acting roles can always be a risky proposition, as some of them turn out to be not so great on camera. This was absolutely not the case when Marshawn Lynch appeared as himself in Season 4's "The Fugitive, Part 1." Rosa Diaz is initially ecstatic at the idea of questioning the football star as a witness during a manhunt for some escaped convicts, believing that he has a disposition similar to hers (evidenced by his relationship with the press), but she is ultimately horrified to discover that he instead is the kind of person who never shuts up and just babbles on and on. But who among us hasn't been disappointed when we find out that our quesadilla doesn't have any pico de gallo?
In reality, this list only accounts for a fraction of the great guest stars that have been featured on Brooklyn Nine-Nine, and we have every expectation that wonderful tradition will continue in the show's final season. While we don't know quite yet when Season 8 will air, you can check out what's ahead on the small screen by checking out our 2021 Summer TV schedule.
Your Daily Blend of Entertainment News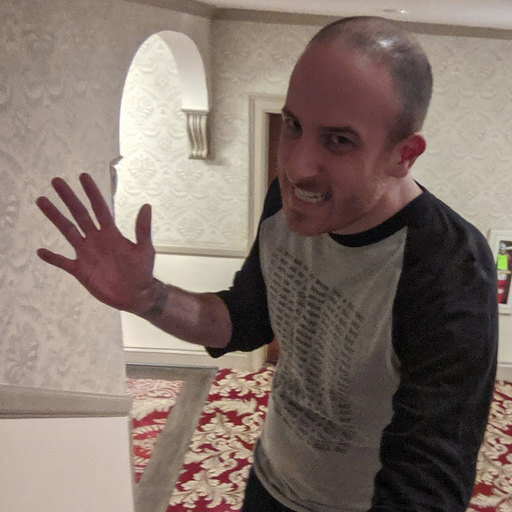 Assistant Managing Editor
NJ native who calls LA home and lives in a Dreamatorium. A decade-plus CinemaBlend veteran who is endlessly enthusiastic about the career he's dreamt of since seventh grade.