All The Big TV Shows Cancelled Or Ending In 2021 Including NCIS: New Orleans, Last Man Standing And More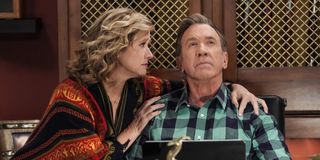 As recent years have passed, TV viewers have witnessed a staggering growth in the number of original series released on a yearly basis, thanks to new networks and new streaming services eager to deliver unending content in the hopes of drawing new customers. Of course, every series that debuts has to end at some point, and the number of show cancellations and pre-planned endings only seems to grow yearly. Understandably, 2021 is no different, with the pandemic weighing heavily into many TV decisions, with shows such as GLOW and Stumptown learning in 2020 that their previous renewals would go unfulfilled.
Below, we've rounded up all the big shows that learned of their cancellations in 2021, and shows that are ending this year. (There's some overlap in that respect, for shows such as NCIS: New Orleans.) Check out the full list, and fingers cross none of your favorite shows make it on there.
Animal Kingdom (TNT)
In mid-January 2021, a month after its fifth season had finally finished production following COVID-related delays, TNT's Animal Kingdom was granted a renewal for a sixth and final season to wrap up the Cody family's crime-filled storylines. As of now, though, the Ellen Barkin-free fifth season has yet to premiere on TNT.
Atypical (Netflix)
Back in February 2020, Netflix granted a fourth and final season renewal to its dramedy Atypical, which focuses on the life of Keir Gilchrist's on-the-autism-spectrum Sam Gardner. No dates have been announced for Season 4's premiere, but it's expected to debut in 2021.
Baroness Von Sketch Show (IFC / CBC)
In 2020, it was announced that the award-winning sketch comedy series Baroness Von Sketch Show would be ending with its fifth season, which will kick off once more when the midseason premiere hits IFC on February 25, 2021.
Better Call Saul (AMC)
AMC drama worlds will collide when Better Call Saul airs its sixth and final season at some point in 2021. The final batch of episodes will presumably bookend the events of Breaking Bad both with Saul's prequelized events and its flash-forward sequences, and will hopefully contain tons of cameos.
Big Hero 6: The Series (Disney XD)
The Marvel and Disney TV spinoff of Big Hero 6 was in the midst of its third season when it was announced the animated action-adventure wouldn't be continuing beyond Season 3, which ended on February 15, 2021. The news wasn't entirely surprising, considering Disney+ previously ordered up a Betamax-centric spinoff.
Black Lightning (The CW)
With Cress Williams' Jefferson Pierce having crossed over into The CW's main Arrowverse with the "Crisis on Infinite Earths" event, Black Lightning will be saying goodbye to all universes with the conclusion of its currently-airing fourth season.
The Bold Type (Freeform)
Having already lost two Season 4 episodes due to COVID-related shutdowns, Freeform's female-fronted dramedy The Bold Type was renewed for its fifth and final season on January 21, 2021, with the final six episodes set to air at some point later in the year.
Bosch (Amazon Prime)
Titus Welliver's crime drama Bosch, based on the character created by Michael Connelly, is Amazon Prime's longest-running original series, with the renewal for the seventh and final season being ordered in February 2020. It's currently unknown when Season 7 will air in 2021.
Brooklyn Nine-Nine (NBC)
In the months since Season 7 ended, Brooklyn Nine-Nine faced not only COVID delays, but also a push to refresh its approach to policing on television with its eighth season. On February 11, 2021, it was announced that B99 will end with Season 8, which will only deliver ten episodes as opposed to the 13 and 18 episodes from previous years on NBC.
Carmen Sandiego (Netflix)
With Gina Rodriguez voicing the classic video game character, Netflix's Carmen Sandiego dropped its third season in October 2020 and the day after that release, Netflix announced that its fourth season of high-stakes thievery would be the final one. It was released on January 15, 2021.
Claws (TNT)
Fans have been waiting to see Niecy Nash & Co. returning for the fourth season of Claws ever since August 2019, and knew it would be the final season since October of that year. With the delayed production having been completed in November 2020, Season 4 is set to hit TNT at some point in 2021.
Conan (TBS)
After more than a decade of celebrity interviews, globe-trotting, and silly, experimental comedy on TBS, Conan O'Brien revealed his Conan talk show would be ending with the conclusion of Season 10 in June 2021. Not that his fans should worry about him leaving TV altogether, as the comedian and host signed an overall deal with WarnerMedia for a new show on HBO Max.
Dead To Me (Netflix)
After two seasons of drama-heightening thrills, Christina Applegate and Linda Cardellini's Dead to Me is bringing its grieving to a close with Season 3, as announced by Netflix in July 2020. It's presumably going to air in 2021, though likely not in the same May release window shared by the first two seasons.
Dear White People (Netflix)
Like a variety of shows listed here, Netflix's Dear White People was renewed for its final season months before all the production shutdowns throughout 2020 – in October 2019 to be more exact – and fans are waiting to see how Logan Browning's Samantha White will fare in the final ten episodes when they debut at some point in 2021 (though without former co-star Jeremy Tardy).
DuckTales (Disney XD)
One of the more critically acclaimed TV reboots to come about in recent years, Disney's DuckTales was in the midst of its third world-building season when the big bosses announced (in December 2020) that the show would be ending with Season 3's finale, which is set to air on March 15, 2021.
F Is For Family (Netflix)
Rare as it can be for Netflix to go five full seasons with one of its original series, Bill Burr and Michael Price's raunchy animated series nailed that hallmark when the streaming service announced in October 2020 that the fifth season would be the '70s-set family comedy's last run with the Murphy family. Frank probably had some choice words to say when he heard.
Feel Good (Netflix / Channel 4)
The UK dramedy Feel Good, which co-stars Lisa Kudrow, debuted on Netflix in March 2020, and the streaming service announced in December of the same year that the addiction-based series was renewed for a second season to air in 2021, though it would already be the final one.
Goliath (Amazon Prime)
Just over a month after Billy Bob Thornton's popular legal drama Goliath premiered its third season, Amazon made the announcement in November 2019 that the show would be ending with its fourth season, which is presumably going to make its all-at-once debut in 2021.
Grace And Frankie (Netflix)
Back in September 2019, a few months before Season 6 debuted, Grace and Frankie was revealed to be coming to an end with a super-sized Season 7, which will see Jane Fonda and Lily Tomlin's titular characters getting feisty for 16 more episodes, rather than the usual 13.
The Haves And Have Nots (OWN)
As OWN's first scripted series, The Haves and Have Nots debuted back in 2013, and the soapy crime drama is currently set to wrap things up for the Cryer, Harrington, and Young families when the back eight episodes of Season 8 start the fireworks back up again on May 25, 2021.
Insecure (HBO)
Issa Rae's talent-oozing comedy Insecure was renewed for Season 5 back in May 2020 in the midst of Season 4's run, but HBO announced on January 13, 2021 that the fifth season will serve as the fictional Issa's final run of socially poignant episodes, as the real-life Issa continues to build up her cinematic career.
Judge Judy (Syndicated)
Having spent over two decades heading up the syndicated courtroom series Judge Judy, its namesake Judy Sheindlin revealed she was hanging up her gavel after Season 25 ends in 2021, but she'll be back on TV soon for Amazon's Judy Justice.
Keeping Up With The Kardashians (E!)
2021 marks the end of a reality TV era, with Keeping Up with the Kardashians' titular family members (and the Jenners) announcing in September 2020 that the long-running series would be coming to an end with Season 20, set to debut on March 18, 2021. The family is now locked into a deal with Disney and Hulu, so don't expect them to be gone from your TVs for very long.
The Kominsky Method (Netflix)
The Big Bang Theory co-creator Chuck Lorre made a successful jump to streaming with the Golden Globe-winning The Kominsky Method, which was revealed in July 2020 to be renewed for its third and final season, which will be without star Alan Arkin.
Last Man Standing (Fox)
Tim Allen's sitcom Last Man Standing made it three seasons on Fox after its prior cancellation at ABC, and it was revealed in October 2020 that the previously ordered Season 9 would be the show's last run. The 21-episode season debuted on January 3, 2021, and thankfully gave fans a big Home Improvement crossover before bowing out completely.
Lost In Space (Netflix)
Netflix's big-budget Lost in Space made its share of fans during the first two seasons, but the lack of major buzz likely influenced the streaming service's decision in March 2020 to renew the sci-fi series for a third and final season. It's not yet clear when Lost in Space Season 3 will debut in 2021.
Lou Dobbs Tonight (Fox Business)
The political and financial chat show Lou Dobbs Tonight was on the verge of making it a full ten years on Fox Business Network, but after Dobbs was named as part of a defamation lawsuit against Fox News by the voting machine vendor Smartmatic, Fox Business cancelled the show on February 5, 2021.
Lucifer (Netflix)
Having already come to an "end" on Fox in 2018, Lucifer lived on at Netflix, where it was initially cancelled after Season 5, but Netflix not only added episodes to the fifth season order, but the streaming service later reneged on its decision and ordered up a sixth and final season of episodes in June 2020. While the second half of Season 5 has yet to air, it's possible the final ten episodes will debut on Netflix in late 2021.
Mom (CBS)
Not very long before Mom's production was scheduled to begin after prior delays, star Anna Faris suddenly announced in September that she was leaving the show, and even though Season 8 has been doing fine in the ratings, CBS announced prior to the eighth episode that the show was cancelled and would be ending with the current batch of episodes.
Money Heist (Netflix)
Also known as La casa de papel, Netflix's intense Spanish crime drama Money Heist has been one of the most successful non-English series in the streaming service's library, so you can bet a ton of viewers will be tuning in for the fifth and final batch of episodes, which Netflix ordered in July 2020. No premiere date for 2021 has been set yet.
NCIS: New Orleans (CBS)
With its latest season taking a dip in the ratings compared to previous years, NCIS: New Orleans will be coming to an end with its shortened seventh season, shocking many fans who have come to expect the NCIS franchise to continue sticking around. Interestingly enough, it was revealed the day before the cancellation news broke that CBS is looking to develop the new spinoff NCIS: Hawaii.
On My Block (Netflix)
Netflix's teen dramedy On My Block earned much critical and fan acclaim over the course of its first three seasons, so it was something of a blessing and a crime when Netflix finally announced on January 29, 2021 that the series was renewed for its fourth and final season. It's not clear when it'll air, but at least Netflix gave On My Block ten episodes to bow out on instead of the eight that made up Season 3.
Ozark (Netflix)
Jason Bateman's work in front of and behind the camera have played a big role in Ozark's success on Netflix, and while some might have expected it to go on for many more years, the streaming service announced in June 2020 that the money-laundering crime drama will close out with its fourth season, which will be divided into two seven-episode halves. At least the first half is expected to air in 2021.
Peaky Blinders (Netflix / BBC)
Another high-profile series whose final season was impacted by COVID-related delays, Peaky Blinders last delivered new episodes in August 2019, and it was revealed on January 18 that the in-production Season 6 will give viewers the star-studded gangster drama's final six installments. Creator Steven Knight is already teasing a follow-up project, also.
Shameless (Showtime)
The longest-running scripted series in Showtime's history, Shameless made it through a full season without exiting star Emmy Rossum before the channel announced in January 2020 that the offbeat family drama was renewed for its eleventh and final season. After going through production delays that altered the final season, Shameless debuted Season 11 in December 2020, and it will wrap at some point in early 2021.
Shrill (Hulu)
Fans of SNL's Aidy Bryant and her Hulu series Shrill were pumped when the streaming service announced in March 2020 that the comedy would be returning for an eight-episode third season, but things took a more disappointing turn on January 27, 2021, when it was announced that the upcoming Season 3 will be Shrill's last. It's set to debut on May 7, 2021.
Supergirl (The CW)
The CW renewed Supergirl for a sixth season back in January 2020, but nine months later, made the call that the 20-episode Season 6 would be the Arrowverse drama's final one. It's still unclear when Supergirl will return for those episodes, but there's the additional hope that Melissa Benoist's superhero will appear in the new spinoff Superman & Lois.
Superstore (NBC)
One of the relatively rare network sitcoms to survive without a focus on traditional family life, Superstore delighted audiences for years with its big-box family, but NBC announced over the loudspeakers in December 2020 that Superstore would be ending with its currently airing sixth season, which is set to air its finale on March 25, 2021.
Truth Seekers (Amazon Prime)
Co-created by the comedy duo of Simon Pegg and Nick Frost (among others), Truth Seekers was a fright-filled comedy about paranormal investigators and spooky conspiracies that apparently didn't quite win over enough living and breathing viewers to convince Amazon to order up a second season. Frost announced on February 11, 2021 that the show was cancelled.
Van Helsing (Syfy)
From the wacky-concept mind of creator Neil LaBute, Van Helsing and its titular heroine played by Kelly Overton have been hunting down vampires and other monstrous being for four seasons, but Syfy revealed in December 2019 that the fantasy horror would be returning for a fifth and final season, though it has yet to debut.
Wynonna Earp (Syfy)
Much like Van Helsing, Syfy's Wynonna Earp's survival is largely due to a relatively small but extremely passionate group of fans who have been patiently waiting through financial and then COVID-related delays to see the entirety of Season 4, which was ordered back in July 2018. The first six episodes finally aired in Summer 2020, and Syfy announced on February 5, 2021 that the show was cancelled, with the final six episodes debuting on March 5, 2021.
Year Of The Rabbit (IFC / Channel 4)
Perhaps the most visually and narratively distinct entry on this list, the UK's Year of the Rabbit was a Victorian-era detective comedy headed up by the hilarious Matt Berry, and though Channel 4 renewed the show for a second season in February 2020, the network announced a reversal of that decision on January 21, 2021, citing COVID-related budget issues. It's possible another network or streaming service will step up to help with production costs.
Younger (TV Land)
Back in July 2019, TV Land renewed Younger for its seventh season, making it the longest-running original program in the network's history. Filming only finished on those episodes in early 2021, due to COVID-related delays, and while it hasn't been made 100% official by TV Land, star Debi Mazar reveled in February 2021 that she'd filmed her final scenes on the show, sparking beliefs that Season 7 is indeed the end.
Since we're still in the early days of 2021, audiences should have few doubts that this already sizable list of shows will grow even longer, so remember to keep checking back for updates as more big shows fall onto, and off of, the chopping block.