Lawsuit Alleging James Charles Asked Ex Producer To Shave His Butt And More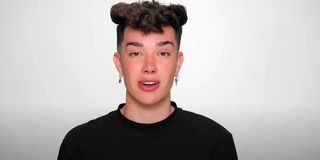 YouTube's James Charles dealt with a loss of revenue last month when allegations arose claiming he had been flirting with teenaged boys during his time as an adult social media star. This month he's back in the presses following accusations from a former assistant and producer for his YouTube work who says Charles asked her to shave his butt among other notable requests before being let go. Kelly Rocklein is now suing, alleging wrongful termination, discrimination and retaliation.
The lawsuit in question from Kelly Rocklein says the two worked together for six months in 2018. Two years ago, Rocklein filed a lawsuit stating that she suffered a head injury during her employment. She says she was hospitalized after the incident and that James Charles was not understanding when her work wasn't timely and she was terminated. The lawsuit also states that James Charles was uninhibited around her and would walk around naked. The suit also alleges he called Kelly Rocklein "bitch" and ahead of Coachella, asked her to help him shave his butt.
The idea of James Charles shaving his butt is not totally unprecedented for the YouTube star. It has been a topic James Charles has mentioned on social media before, though never in relation to Rocklein. Charles has previously shown off his own smooth derrière to boot.
For his part, James Charles paused his hiatus on social media to respond to the accusations. He spoke out in a lengthy video posted to Twitter about the "ongoing lawsuit," saying the team is small and "well taken care of" and that Rocklein would have made $72,000 dollars a year as a producer when the YouTube account was just starting to really grow had she been able to stick with the job. Per Charles:
In the video, James Charles asserts that the accusations are untrue and that there has been two years for the other party to speak out while the lawsuit has continued, also saying that since he has not settled yet, it feels like "pressure" this is all coming out now. Rocklein's lawyer told NBC News that the lawsuit in question was not an example of blackmail, saying "There is no truth to any blackmail."
The news comes one month after James Charles took to YouTube to say he would be taking a break from social media. The controversial social media figure is currently on an apology tour of sorts, noting in a "holding myself accountable" post at the beginning of April that more work needed to be done.
Since then, James Charles has been largely silent on all social media platforms, but made an exception earlier this week to address the claims in the lawsuit. Charles also cracked that his followers are probably tired of this type of video at this point. We'll keep you updated as the lawsuit progresses through the court system.
Reality TV fan with a pinch of Disney fairy dust thrown in. Theme park junkie. If you've created a rom-com I've probably watched it.
Your Daily Blend of Entertainment News
Thank you for signing up to CinemaBlend. You will receive a verification email shortly.
There was a problem. Please refresh the page and try again.