Chicago P.D. Boss Talks How Far The Team Could Go To Save Burgess, Upton And Halstead's Relationship And More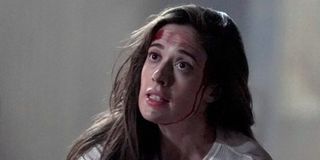 (Image credit: NBC)
The eighth season of Chicago P.D. is coming to an end, and the finale promises to be an intense and "dirty" hour of television. Burgess was kidnapped in the final moments of the penultimate episode by some people who already proved willing to kill, and it remains to be seen whether her friends and fellow officers in Intelligence will be able to save her. Plus, the relationship with Upton and Halstead hit some rough waters not too long ago, so there are big questions heading into the finale. Luckily, showrunner Rick Eid delivered some answers.
The Season 8 finale of Chicago P.D., called "The Other Side," will see Voight and Intelligence fighting to take down a deadly crime ring and save Burgess in the process. It directly follows an episode where Intelligence was unable to stop that crime ring due to Samantha Miller's insistence on doing everything according to protocol, with deadly but by-the-book results. The cops of Intelligence were willing to follow Miller's direction when it was her son who was missing, but will those same rules apply now that Burgess is the one who has been taken? Showrunner Rick Eid weighed in:
The cops of Intelligence were able to follow the rules when it was Darrell Miller's life on the line, even if they (with the exception of Atwater) weren't thrilled about it. With Burgess in the hands of a crime ring that has already killed more than one person, it's easy to see why all bets could be off for at least some of them. LaRoyce Hawkins previously shared with CinemaBlend that Atwater still feels strongly about embracing reform, even after the tragic death of Darrell, so it's probably safe to say that he'll be one of those inclined to play it by the book.
If that leads to conflict with Ruzek... well, it wouldn't be the first time in Season 8. In fact, the various members of the Intelligence team have had opposing viewpoints on multiple fronts in Season 8, for better or worse. Rick Eid continued on the subject of how far they would go to save Burgess in the Season 8 finale:
There can be no doubt that Ruzek and Atwater both love Burgess, and there's no way the others could work with her for so long and go through so much with her without having strong feelings about getting her back safely. Even Upton, for all that she and Burgess don't have the closest relationship within the unit. Besides, after everything Burgess has gone through after the past two seasons, she of all people could probably use a break. As for whether or not Burgess has a breaking point, Rick Eid explained:
Burgess has survived some of the worst personal tragedies of any Chicago P.D. character over the past couple of seasons, but that doesn't mean that she's going to break in her circumstances in the Season 8 finale. The fact that the show recently went out of the way to make sure that young Makayla will still have a guardian even if the worst should happen to Burgess makes it hard not to worry about her fate by the end of the finale, but as Rick Eid said, she is strong and tough.
As for what's up with Upton and Halstead by this point in Season 8, their relationship ran into a rough patch not too long ago when Voight's influence on Upton started to cause some problems. Upton may not be breaking bad in Season 8 as much as she was in Season 7 when she got herself sent over to FBI on CBS, but she is far from the straight and narrow, which put her in conflict with Halstead at work. Rick Eid previewed how much of a factor Voight is in their relationship after his conversation with Upton:
Assuming Voight is still around by the end of the Season 8 finale and Upstead are still in a relationship, this particular issue might still be hanging over them heading into Season 9, but we can only speculate at this point. The good news is that whatever happens in the Season 8 finale, Chicago P.D. has already been renewed for Season 9 (and Season 10), so there is no need to worry that P.D. won't be able to continue telling all of these stories in the fall.
The Season 8 finale of Chicago P.D. airs on Wednesday, May 26 at 10 p.m. ET on NBC, following the Season 9 finale of Chicago Fire at 9 p.m. and the Season 6 finale of Chicago Med (which will say goodbye to two original cast members) at 8 p.m. ET. The Dick Wolf universe is still getting bigger as well, with another Law & Order series on the way to NBC and a second FBI spinoff coming to CBS.
Resident of One Chicago, Bachelor Nation, and Cleveland. Has opinions about crossovers, Star Wars, and superheroes. Will not time travel.
Your Daily Blend of Entertainment News
Thank you for signing up to CinemaBlend. You will receive a verification email shortly.
There was a problem. Please refresh the page and try again.